BREAKING NEWS ITEMS [2008]
"Oldest African Chimp Dies"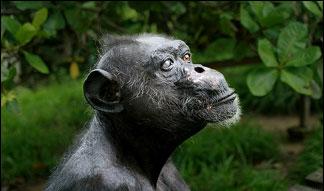 December 23, 2008; Tchimpunga, Sanctuary, Democratic Republic of the Congo; Click on the photo for details. Most chimps never make it past 40 yo in the wild; however, on December 17th, Grigoire, the oldest chimp in Africa, passed away at the age of 66 yo.
FYI, the oldest chimpanzee in captivity is Cheeta, of Tarzan movie fame from the 1930's, who turned 76 yo on April 12, 2008 and currently lives in Palm Springs, CA (not FL, as misstated in the video clip associated with the link under the photo). For a photo of Cheeta, check the GRG news entry for April 22, 2007.

February 12, 2009; Scott Gold of the LA Times reports that Cheeta may have been born in 1960, not in 1932! See April 22, 2007 for details.
---
"Biological Clocks"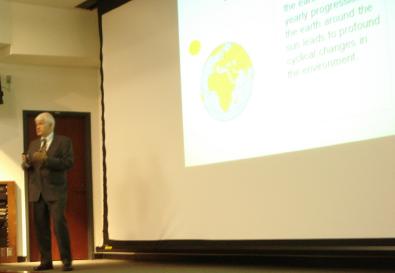 Friday, December 5, 2008; [1 - 3] PM; Chancellor Gene D. Block, Ph.D., Chancellor of UCLA, Professor of Psychiatry and Bio-behavioral Sciences in the David Geffen School of Medicine, UCLA, and Professor of Physiological Science in the College of Letters and Science, UCLA
spoke in the UCLA Fowler Lenart Auditorium on the topic of his research on the Physiology of Biological Clocks, Aging, and Sleep-Related Biological Research as part of the UCLA Marschak Colloquium Series.
Abstract:
Both animals and plants have evolved internal chronometers with periodicities that match major geophysical cycles. The most common of these biological clocks is the "circadian clock" which exerts a profound effect on physiology and behavior. Few biological processes escape regulation by the circadian timing system, which is composed of many distributed oscillators controlled by a central clock located within the hypothalamus in mammals. Consequently, the proper functioning of the clock system is critical for proper human physiology.
The circadian system is challenged by modern travel across time zones and continuous factory operations involving shift work. The system is also affected by aging, as the aging process leads to deterioration in the strength and regularity of behavioral rhythms. Research conducted over the past two decades has revealed much about the underlying molecular and cellular mechanisms of the circadian clock, and a more complete understanding of the circadian timing system should provide insights into age and disease-related deterioration of the sleep wake cycle in humans.
Chancellor's Biography:
Dr. Gene Block became chancellor of UCLA on August 1, 2007, taking the helm of a world-class institution comprising 37,000 students and 27,000 faculty and staff, with an annual budget of $3.8 billion. As Chief Executive Officer, he oversees all aspects of the university's three-part mission of education, research and service. A champion of public universities, Chancellor Block has called for UCLA to deepen its engagement with Los Angeles, a city that offers a microcosm of the global community, and to increase access for students from underrepresented populations. An advocate of interdisciplinary scholarship, he emphasizes broad-based, campus-wide planning. Returning to the West Coast after 29 years at the University of Virginia, Chancellor Block holds UCLA faculty appointments in Psychiatry and Bio-Behavioral Sciences in the David Geffen School of Medicine and in Physiological Science in the College of Letters and Science. A Fellow of the American Association for the Advancement of Science, he heads a research laboratory on campus that is funded by the National Institutes of Health (NIH). His academic specialization, circadian biology, deals with the functioning of 24-hour rhythms in higher organisms.
Previously, Dr. Block served as Vice President and Provost of the University of Virginia, where he held the Alumni Council Thomas Jefferson Professorship in Biology and directed the National Science Foundation's Science and Technology Center for Biological Timing. He also headed an NIH graduate training program aimed at increasing the number of scientists from underrepresented groups. Chancellor Block joined the faculty of the University of Virginia in 1978. He served as the university's Vice Provost for research from 1993 to 1998 and then as Vice President for Research and Public Service until his appointment as Vice President and Provost in 2001. In 1998, he received the Commonwealth of Virginia's Outstanding Public Service Award for his work with Virginia's business community.
A native New Yorker, Chancellor Block holds a Bachelor's Degree in Psychology from Stanford University and a Master's and Ph.D. in Psychology from the University of Oregon. He completed a Postdoctoral Fellowship at Stanford, studying with Colin Pittendrigh, "the father of biological timing," and Donald Kennedy, who later served as president of Stanford. The inventor of a number of devices, Chancellor Block holds a patent for a non-contact respiratory monitor for the prevention of Sudden Infant Death Syndrome (SIDS). He is an avid collector of vacuum-tube radios and has restored a number of high-performance cars.
---
"Protein Recycling As a Cause of Disease"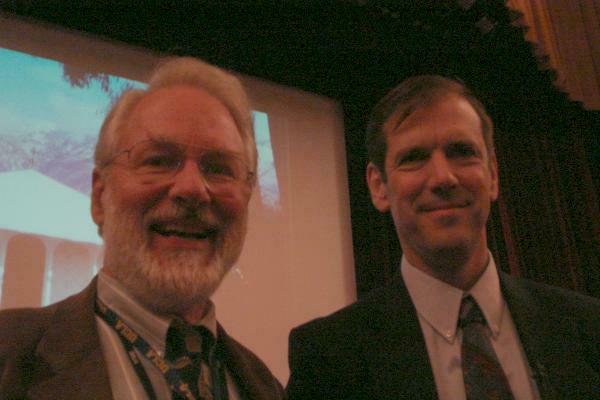 Stephen Coles (L) with Prof. Raymond J. Deshaies, Ph.D., Professor of Biology and Executive Officer for Molecular Biology at CalTech and Howard Hughes Medical Institute Investigator
December 3, 2008; 8:00 PM; Prof. Raymond J. Deshaies spoke on "Protein Recycling: Its Role in Human Biology and Disease" to a Beckman Auditorium public audience of ~200 persons. Muscle cells differ from nerve or skin cells because each cell type expresses a different repertoire of proteins. This was thought to be determined largely by selective protein production in different cell types, but we now know that selective elimination, or recycling, of proteins also sculpts a cell's compendium of proteins. Protein recycling eliminates damaged proteins and proteins that have performed their chemical tasks and become unnecessary. This crucial aspect of cell metabolism goes awry in a number of debilitating diseases, including neurodegenerative illnesses and cancer. Drugs targeting protein recycling can extend lifespan in some cancer patients and may be useful in treating immune system diseases.
Dr. Deshaies was introduced by his mentor at CalTech, Prof. Alexander Varshavsky, who told me privately after the lecture that "...with age, all somatic-cell structural proteins slowly misfold and must be systematically replaced (by first attaching a short chain of Ubiquitin tags and sending the protein to be sliced up in a cylindrical Proteosome, sort of like a Cuisinart Food Processor located in the cytoplasm, such that individual amino acids can then be recycled). If the molecular machines (sets of enzymes) that do the replacement themselves misfold with age then the entire function of the cell will slowly be degraded to the point where it is forced to undergo apoptosis. The only rescue for this dilemma of the tissue become increasingly frail would be cellular replacement by existing adult stem cells located nearby, assuming that such remain in tact."
"What Causes DNA Mutations in Our Cells?"
by
Dr. Paul Sternberg, Prof. of Biology at CalTech
In virtually all cases of mitotic cell division, the sequence of DNA nucelotides making up a gene is copied accurately. The accuracy of this process ensures that each daughter cell will grow up to be just like its parent.
The bad news is that DNA is under continual attack by (1) free radicals resulting from normal metabolism; (2) cosmic radiation; and (3) the corrosive nature of entropy, when molecules bump into one another randomly. These attacks result in a set of problems ranging from single-point mutations to complete double-stranded breaks in one of the chromosomes.
The good news is that cells counteract these systematic attacks by correcting essentially all of the damage, by means of a host of complex molecular-editing machines. But a mutation remains when a cell fails to repair its DNA damage or does so incorrectly. When such a cell divides, it passes on the mutated gene to its progeny. Eggs and sperm (the germ line cells), which come together during fertilization to form an embryo, are themselves the product of cell division and thus likewise subject to errors in DNA synthesis. These mutations would then be inherited by our children in the next generation.
Of course, somatic cells in our bodies are also subject to DNA mutation. These mutant cells could in turn become neoplastic. Mutations in DNA-repair genes are especially pernicious. Those mutations occur in the genes that are responsible for building the repair machinery itself. When this sort of thing happens, a mutant cell will more easily continue to mutate making it even more susceptible to becoming a cancer. For example, synthesizing the enzyme telomerase when the cell shouldn't be is how it could escape from the normal anti-cancer controls imposed by shortened telomere lengths.
Editor's Note: It is important to realize that if the DNA-copying machinery were 100 percent accurate so as to prevent cancer, a species could never evolve and would therefore be subject to extinction in a rapidly changing environment. Therefore, a certain small number of copy errors per replication may have survival value for Darwinian evolution as a whole. So, tuning (or titrating) the error rate to the rate-of-change in the environment must be continually adjusted over time.
---
"World's Oldest Person Dies at Age 115"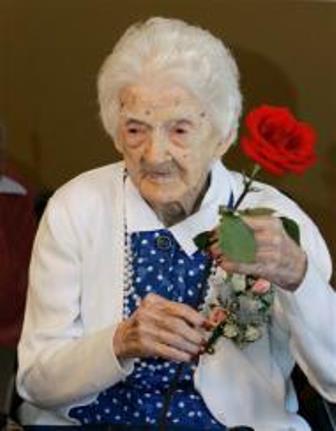 Edna Parker holds a rose that she was given during a birthday party for her.
November 26, 2008; Edna Parker, who became the world's oldest person more than a year ago, has died at age 115. "UCLA Gerontologist Dr. Stephen Coles said Parker's Great-Nephew notified him that Parker died Wednesday at a nursing home in Shelbyville, IN [1]. She was 115 years, 220 days old, said Robert Young, a Senior Consultant for Gerontology for Guinness World Records. Parker was born April 20, 1893, in central Indiana's Morgan County and had been recognized by Guinness World Records as the world's oldest person since the 2007 death in Japan of Yone Minagawa, who was four months her senior. Coles maintains a list of the World's Oldest People and said "Parker was the 14th oldest validated Supercentenarian in history. Maria de Jesus of Portugal, who was born September 10, 1893, is now the World's Oldest Living Person, while Gertrude Baines is the oldest American," according to the Gerontology Research Group."
Refs.:

1. AP, "Indiana Woman Dies at 115 As World's Oldest Person" News.Yahoo.com (November 27, 2008).

2. AP, "Edna Parker, World's Oldest-Known Person, Dies in Indiana Nursing Home at 115 Years, 220 Days" The Chicago Tribune (November 27, 2008).

3. Elaine Woo, "Edna Parker Dies at 115; Former Teacher Was World's Oldest Person" The Los Angeles Times, p. B8 (November 28, 2008).

4. "Indiana: World's Oldest Person Dies," The Wall Street Journal, pp. A1, 10 (November 28, 2008).
---
"Congressman Howard Berman at UCLA"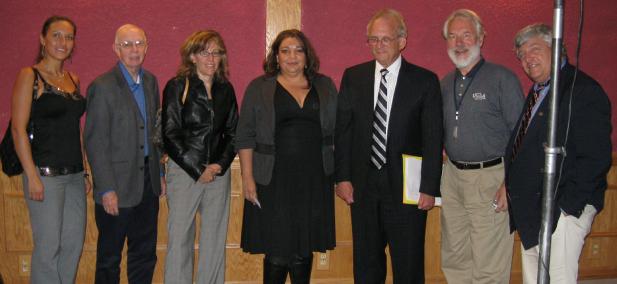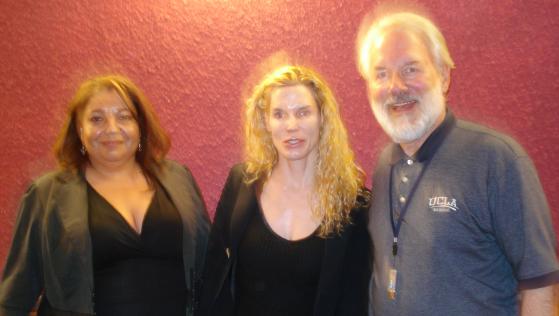 November 12, 2008; Congressman Howard Berman, Chair of the House Committee on Foreign Affairs, spoke to 50 guests at the UCLA Faculty Club for dinner this evening on "America's Global Security and Challenges for the New Administration." Physicians for Social Responsibility was a co-sponsor for this event. Ms. Denise Duffield is the Associate Director for PSR Los Angeles.
---
"Testing for hGH Abuse in Professional Sports"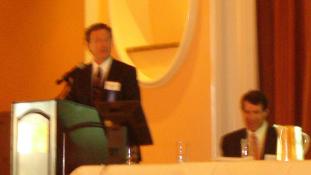 November 10, 2008; Beverly Hills, CA; Prof. Tom Perls, M.D. of Boston University presented the case for making off-label prescriptions of hGH illegal (it has three legal FDA-approved indications: (1) Pediatric Dwarfism; (2) AIDS Wasting; and (3) Pituitary Ablation), so as to prevent its abuse as a performance-enhancing drug in professional sports, such as apparently occurred with New York Yankees Baseball Pitcher Roger Clemens denial that he self-administered hGH when he testified under oath before Congress on February 13, 2008. His coach, also under oath, sitting next to him contradicted the pitcher, saying, "... but you told me to inject you with hGH." So one of them was not telling the truth. This presumed perjury case is still pending before the Committee.
[Editor's Remark: This strikes me as a little like "throwing out the baby with the bath water," as it would prevent the potentially-legitimate use of hGH as a therapy in geriatric patients or as a therapy in patients over 60 with very low IGF-1 levels. Perls remarked that sports figures were the victims' of unscrupulous anti-aging doctors who initiated the process of off-label use of hGH." But it became clear in the rest of the all-day conference that it is the sports figures themselves who are at the cutting edge of medicine not the anti-aging doctors. - - LSC.]
---
"AMMG Presents 2008 Alan P. Mintz Award to L. Stephen Coles, M.D., Ph.D."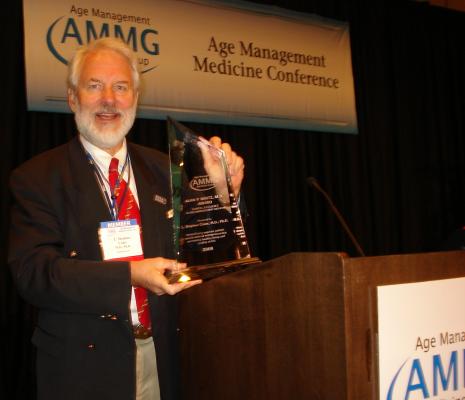 November 7, 2008; Story by Mr. Jeff Morris, Editor of the AMMG e-Journal
The 2008 Alan P. Mintz, M.D. Award for Clinical Excellence in Age Management Medicine was presented on Friday, November 7th to L. Stephen Coles, M.D., Ph.D. The presentation took place at the Age Management Medicine Conference at the Red Rock Hotel in Las Vegas, NV.
The Age Management Medicine Group created this award of distinction to honor Dr. Alan P. Mintz as a friend, mentor and true medical professional, who did much to advance this new medical specialty. The Alan P. Mintz, M.D. Award is presented annually to a physician reflecting Dr. Mintz's clinical excellence in patient care, healthy living, quality of life and entrepreneurship. As a mentor, innovator, and visionary, Dr. Mintz inspired many with his brilliant insights into Age Management Medicine, fueled by his desire to help others live a vital life. He forged new medical frontiers, embraced the spirit of determination and exemplified medical excellence.
Dr. L. Stephen Coles is a Visiting Scholar at the UCLA Department of Computer Science. He was a co-founder of the Los Angeles Gerontology Research Group in 1990, as well as a Director and Treasurer of the Supercentenarian Research Foundation, which studies persons who have lived to be 110 years or older. The Gerontology Research Group serves as an important vehicle for dissemination of information to researchers and medical professionals and serves as an outlet for discussion and new ideas in many areas of medicine, including gerontology and Age Management Medicine. Dr. Coles' work with the Supercentenarian Research Foundation has involved extensive cataloging and research of deceased and living persons aged 110 and older, both in the U.S. and internationally. This Foundation has begun research that includes post mortem examinations and lifestyle assessments, in the world's first attempt to answer the eternal question, "Why do these people live to be the oldest on earth?" Dr. Coles is the author of 125 scientific papers and holds two patents. He has published a number of papers and articles on topics related to Age Management Medicine. He served as Conference Program Chairman for the predecessor of the AMMG Conferences which were held in Las Vegas and Miami four years ago.
Dr. Coles received his B.S. in Electrical Engineering from Rensselaer Polytechnic Institute in Troy, NY, his Master's in Mathematics from the Carnegie Institute of Technology, and his Ph.D. in Systems and Communication Sciences from Carnegie- Mellon University in Pittsburgh, PA. His thesis advisor, Prof. Herbert A. Simon, was a Nobel Prize winner in Economics. After attending Stanford University Medical School, Dr. Coles completed his Clinical Internship in OB/GYN at the Jackson Memorial Hospital of the University of Miami Medical School, where he delivered hundreds of babies. After teaching at Stanford and UC Berkeley, Dr. Coles served as a Visiting Scientist for the US Intelligence Community's Office of Research and Development in Washington, D.C. He has worked for the NASA CalTech/JPL Facilities in Pasadena on a variety of space missions, taught Artificial Intelligence and Expert Systems in the Computer Science Department at USC, and served as a Chief Technologist for Computer Sciences Corporation in El Segundo, CA. He serves as a Member of the Medical Advisory Board to the Cenegenics Education and Research Foundation (CERF).
---
"Round Table Talk in Austin, Texas"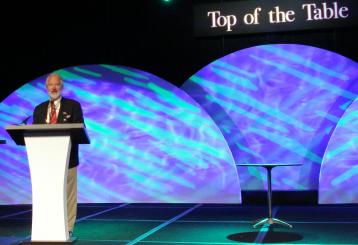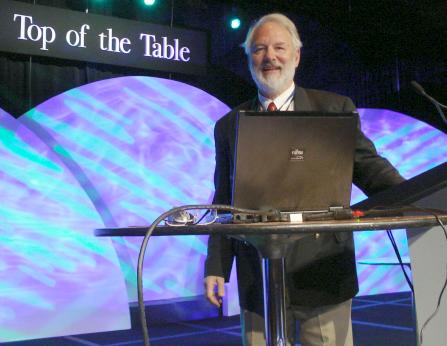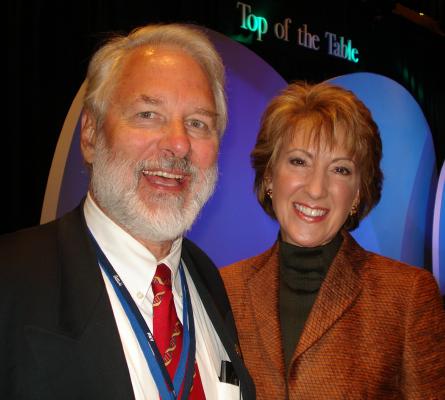 October 25, 2008; L. Stephen Coles spoke on "Maximum Life" to an audience of 250 executives from 21 countries at the Hyatt Regency Lost Pines Resort and Spa in Austin, Texas. Former CEO of Hewlett Packard from [1999-2005], Ms. Carly Fiorina also addressed the audience on "The Challenge of Globalization." Ray Kurzweil spoke on Friday morning, October 24th on "The Acceleration of Information Technology."
---
"Talk on Supercentenarians to UCLA Anderson School of Business"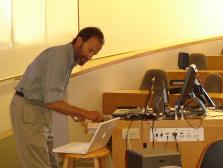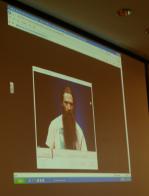 October 16, 2008; [1:00 - 4:00] PM PDT; Prof. Martin Greenberger teaches a class on Life Extension Interventions to 25 MBA students in a course entitled "Technology of Tomorrow" at the UCLA Anderson School of Business. The topic for this lecture was "Amyloidosis and Supercentenarians" by Prof. Coles as guest lecturer.
---
"Gerontology Lecture at UC Irvine on Supercentenarians"
October 7, 2008; [12:30 - 1:50] PM PDT; Prof. Terry Webster teaches a class on Gerontology at UC Irvine. The topic for this lecture was the Demographics of Supercentenarians by Prof. Coles as guest lecturer.
---
"Nobel Prizes for 2008"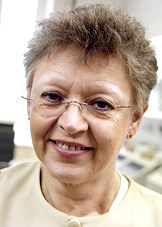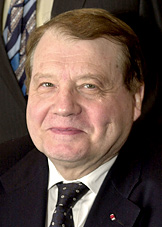 October 6, 2008; Profs. Harald zur Hausen of the German Cancer Research Center in Heidelberg (discovery of the Human Papilloma Virus that causes cervical cancer in women), Francoise Barre-Sinoussi of the Pasteur Institute of the Pasteur Institute in Paris and Luc Montagnier of the World Foundation for AIDS Research in Paris (for their discovery of the Human Immunodeficiency Virus, HIV) received the 2008 Nobel Prize in Physiology or Medicine. In making its choice, the Nobel Committee snubbed Dr. Robert C. Gallo, M.D. of the University of Maryland who proved that HIV causes AIDS.
Drs. Osamu Shimoumura of the Marine Biological Laboratory in Woods Hole, MA, Martin Chalfie of Columbia University, and Roger Y. Tsien of UCSD won the Prize for Chemistry for the discovery of the Green Fluorescent Protein (GFP) and its development as a visual tag in cellular microscopy.
Ref.:

"The 2008 Nobel Prizes," Scientific American, Vol. 299, No. 6, p. 42 (December 2008).
---
"CGI Graduation Commencement"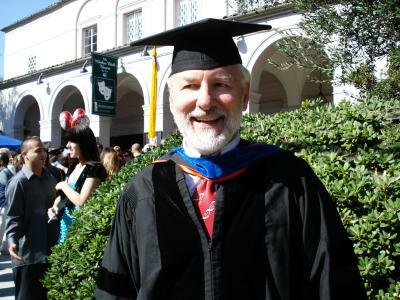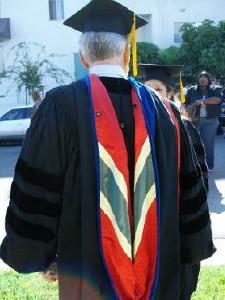 Sunday, September 28, 2008; [1:00 - 3:30] PM; Wilshire Ebell Theatre; 4401 West Eighth Street; Los Angeles, California
Click on the top left photo for the short, 10-minute version of Dr. Coles's Commencement Keynote Address on the topic of Supercentenarians.
Click for the full-length (30-minute) version of his Commencement Address that was not given due to lack of time. This version is a much more philosophical charge to the new graduates.
---
"Supercentenarian Research in Science Magazine"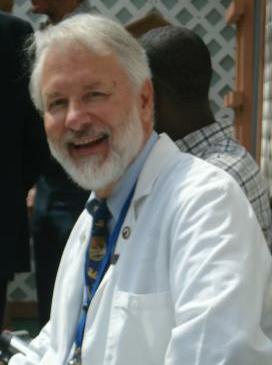 September 26, 2008; Click on the photo for an article in today's issue of AAAS Science by Mitch Leslie, "Aging: Searching for the Secrets of the Super Old," Vol. 321, No. 5897, pp. 1764-5. This photo was taken on the occasion of the 114th birthday party of Mrs. Gertrude Baines at her nursing home near downtown Los Angeles on April 6th. FYI, scroll down for additional photos for the news item on that date.
---
"A New Big Bang Cosmology of Time and Space"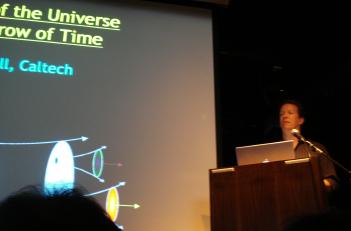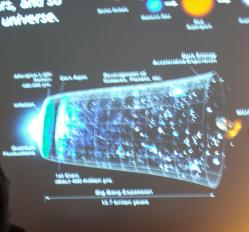 Sunday, September 21, 2008; 11:00 AM; Prof. Sean Carroll of the CalTech Astronomy Department presented a talk on Cosmology at the Steve Allen Theater at the Skeptics Society in Hollywood, CA. Click for Prof. Carroll's blog cosmicvariance.com. Scroll down for a short YouTube video clip to help illustrate the concept of Entropy and The Second Law of Thermodynamics, depicting the intentional, dramatic collapse of 30,000 colored dominos.
---
"One-Day PSR-LA Seminar at USC"



Saturday, September 20, 2008; The Los Angeles Chapter of Physicians for Social Responsibility (PSR) conducted a one-day seminar on Nuclear Disarmament and Non- Proliferation at USC. Prof. G. Wayne Glass, Ph.D., of the USC School of International Relations and Pepperdine University, lectured on the topic of Nonproliferation and lobbying Congress.
---
"Proteostais and Aging Lecture at CalTech"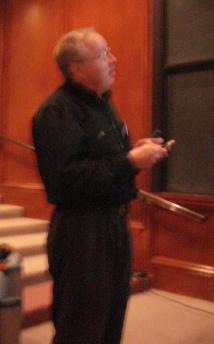 September 16, 2008; Dr. William Balch of the Department of Cell Biology of the Scripps Research Institute in La Jolla, CA gave a one-hour General Biology Seminar at the Beckman Institute Auditorium at CalTech in Pasadena at 4:00 PM this afternoon. His title was "Balancing Traffic with Proteostasis in Aging and Folding Diseases," Profs. Henry Lester and David Baltimore (former President of CalTech and Nobel Laureate) were in attendance. By definition Proteostasis is the homeostasis of the proteome in the human body. Dr. Balch mentioned dozens of known human diseases that are characterized by misfolding errors in the chaperone system that facilitate biological protein folding (secondary, tertiary, and quarternary structures) from a linear polypeptide chain created from the mRNA sequence as opposed to "chemical" folding which is what would happen to the polypeptide chain in a test tube in which the hydrophobic regions were allowed to fold according to their Gibbs Free Energy and the Michaelis Menten Kinetics and governing Differential Equations. The family of chaperone enzymes that mediates the folding process appears to be extremely similar in all histiologically different cells, such as liver, pancreas, lung, heart, and so on. It's just that their dynamics is different that limits the rate of protein synthesis. Dr. Balch focused on Cystic Fibrosis as a classical folding-problem disease. He works closely with Dr. Jeff Kelly of Scripps who is also interested in the folding problem, especially regarding TTR Amyloidosis, and their recent paper in Science is cited below.
Ref.:
Review: "Adapting Proteostasis for Disease Intervention"
William E. Balch [1], Richard I. Morimoto [2], Andrew Dillin [3], and Jeffery W. Kelly [4]*

The protein components of eukaryotic cells face acute and chronic challenges to their integrity. Eukaryotic protein homeostasis, or proteostasis, enables healthy cell and organismal development and aging and protects against disease. Here, we describe the proteostasis network, a set of interacting activities that maintain the health of proteome and the organism. Deficiencies in proteostasis lead to many metabolic, oncological, neurodegenerative, and cardiovascular disorders. Small-molecule or biological proteostasis regulators that manipulate the concentration, conformation, quaternary structure, and/or the location of protein(s) have the potential to ameliorate some of the most challenging diseases of our era.

1. Department of Cell Biology and the Institute for Childhood and Neglected Diseases, The Scripps Research Institute, 10550 North Torrey Pines Road, La Jolla, CA 92037; USA.
2. Department of Biochemistry, Molecular Biology, and Cell Biology, Rice Institute for Biomedical Research, Northwestern University, 2205 Tech Drive, Hogan 2-100, Evanston, IL 60208 3500; USA.
3. Salk Institute for Biological Studies, 10010 North Torrey Pines Road, La Jolla, CA 92037; USA.
4. The Skaggs Institute for Chemical Biology and the Department of Chemistry, The Scripps Research Institute, 10550 North Torrey Pines Road, La Jolla, CA 92037; USA.

* To whom correspondence should be addressed. E-mail: jkelly@scripps.edu

Science, Vol. 319, No. 5865, p. 916-9 (February 15, 2008).
---
"Harvard Reprograms Exocrine Pancreatic Cells to Secrete Insulin"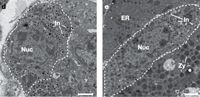 Standard beta cells (left) and beta cells produced by reprogramming (right). In terms of shape and structure, researchers called them "indistinguishable."
August 27, 2008; Scientists have transformed one type of fully-developed adult cell directly into another inside a living animal, a startling advance that could lead to cures for a plethora of illnesses and sidestep the political and ethical quagmires that have plagued embryonic stem cell research. Through a series of painstaking experiments involving mice, the Harvard biologists pinpointed three crucial molecular switches that, when flipped, completely convert a common cell in the pancreas into the more precious insulin-producing ones that diabetics need to survive. [10]
August 27, 2008; Nature advance on-line publication August 27, 2008 | doi:10.1038/nature07314;
Received: June 26, 2008; Accepted: August 6, 2008; Published on-line: August 17, 2008

"In Vivo Reprogramming of Adult Pancreatic Exocrine Cells to Beta-Cells"
by
Qiao Zhou [1], Juliana Brown [2], Andrew Kanarek [1], Jayaraj Rajagopal [1], and Douglas A. Melton [1]

1. Department of Stem Cell and Regenerative Biology
Howard Hughes Medical Institute
Harvard Stem Cell Institute
Harvard University
7 Divinity Avenue
Cambridge, MA 02138; USA

2. Department of Pathology
Children's Hospital, Boston
Harvard Medical School
Harvard Stem Cell Institute
300 Longwood Avenue
Boston, MA 02115-5724; USA

Correspondence to: Douglas A. Melton
Correspondence and requests for materials should be addressed to D.A.M.
(E-mail: dmelton@harvard.edu).

Abstract:

One goal of regenerative medicine is to instructively convert adult cells into other cell types for tissue repair and regeneration. Although isolated examples of adult cell reprogramming are known, there is no general understanding of how to turn one cell type into another in a controlled manner. Here, using a strategy of re-expressing key developmental regulators in vivo, we identify a specific combination of three transcription factors ( Ngn3 (also known as Neurog3) Pdx1 and Mafa) that reprograms differentiated pancreatic exocrine cells in adult mice into cells that closely resemble Beta-cells. The induced Beta- cells are indistinguishable from endogenous islet Beta-cells in size, shape and ultrastructure. They express genes essential for beta-cell function and can ameliorate hyperglycemia by remodelling local vasculature and secreting insulin. This study provides an example of cellular reprogramming using defined factors in an adult organ and suggests a general paradigm for directing cell reprogramming without reversion to a pluripotent stem-cell state.
______________________________
Refs.:

1. Howard Hughs Medical Institute.

2. CNN, "Cells Transformed in Promising Research" CNN.COM (August 27, 2008).

3. John Gever, Staff Writer, "Insulin-Producing Cells Created Directly from Other Adult Cells" MedPage Today (August 28, 2008).

4. AP, "Cell Switch Is Stem Toward Tissue Repair," The Walls Street Journal, pp. A1,D3 (August 28, 2008).

5. Karen Kaplan, "Scientists Transform Cells, Open Possible Path Against Diseases," The Los Angeles Times, pp. A1,9 (August 28, 2008).

6. TIME.com: "Scientists Reach Stem-Cell Milestone"

7. Nicholas Wade,"Researchers Report Advances in Cell Conversion Technique," The New York Times p. A2,A16 (August 28, 2008).

8. Dan Vergano, and Malcolm Ritter, "Regular Pancreas Cells Switched into Insulin-Producing Kind" USA Today p. 8D (August 28, 2008).

9. "One Cell Becomes Another: No Stem Cells Needed," Wired (August 28, 2008).

10. Rob Stein, "Stunning Advance Allows for Reprogramming of Adult Cells: Research Could Lead to Bevy of Cures, Sidesteps Debate Over Embryonic Stem Cells," The Washington Post (August 28, 2008).

11. Constance Holden, "News of the Week CELL BIOLOGY: Biologists Change One Cell Type Directly Into Another," Science, Vol. 321, No. 5893, p. 1143 (August 29, 2008).

12. "Scientists Report Converting Cells to New Type Directly," World Science (August 27, 2008).

13. "Insulin-Producing Cells Created from Adult Pancreatic Cells" Drug Discovery and Development (August 28, 2008).
---
"Lecture at Scripps Translational Science and Genomics Medicine Institute"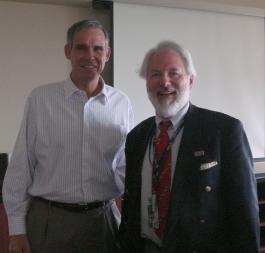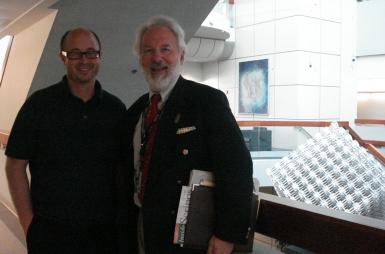 August 12, 2008; Noon - 3:00 PM PDT; Steven M. Kaye and Stephen Coles of the GRG and SRF visited the Scripps Health Institute in La Jolla, CA this afternoon. Dr. Eric J. Topol, is a cardiologist directing a study of healthy octogenarians. Dr. Jeffrey Kelly is a Cofounder of FoldRx Pharmaceuticals, Inc. of Cambridge, MA that is working on interventions to combat TTR-amyloidosis and a newly- formed company called Proteostasis Therapeutics.
---
"American Woman Overjoyed with First Commercially Cloned Dogs"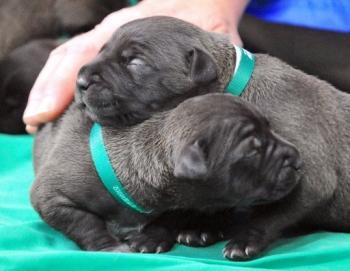 August 5, 2008; Seoul, SOUTH KOREA (AFP) An American woman blinked back tears of joy Tuesday as she cuddled puppies cloned in South Korea from her beloved former pit bull terrier. "This is a miracle," said Bernann McKinney from Hollywood, CA, hugging five clones of Booger at Seoul National University's veterinary school.
RNL Bio, the company which arranged the re-creation of Booger through his refrigerated ear tissue, hailed the event as the world's first commercial cloning of a pet dog. "This is my first birthday present. These guys gave me the best present," said McKinney, a film scriptwriter who turns 58 on Wednesday.
"The five clones were born from two surrogate mothers on July 28th," said Ra Jeong-Chan, CEO of RNL Bio which has launched a commercial dog cloning service in cooperation with the Seoul National University (SNU) scientists.
"They are perfectly the same as their daddy. I am in heaven here. I am a happy person," McKinney said, recalling her years with Booger who saved her life by chasing off a ferocious mastiff which bit her severely. She said she would consider training some of the pups as service dogs for the handicapped or elderly when they arrive at her home in September. McKinney said she had contacted South Korean experts after a US company (Genetic Savings & Clone) failed to re-create Booger.
The operation was launched in May by a SNU team led by Professor Lee Byeong-Chun. He played a key role in creating the world's first cloned dog, an Afghan hound named Snuppy, on a non-commercial basis in 2005. Ra's company originally charged US$150,000 to clone Booger. But it agreed to come down to US$50,000 to celebrate what it calls the first commercial deal for a pet dog. Ra said Booger's case opens the way for global commercial cloning services for pet lovers since the success rate for dogs is high. He said his company could clone up to 300 dogs next year for wealthy animal lovers in the US and elsewhere. The RNL Bio CEO said he will contest claims by a US dog-cloning firm, BioArts International, that it is infringing on its patent. Ra said the university would undertake an ethical review of his firm's business to prevent indiscreet cloning. "For my next project, I will consider cloning camels for rich people in the Middle East," he said.
---
"Dr. Aubrey de Grey at UCLA"



Monday, August 4, 2008; 6:30 PM PDT; Dr. Aubrey de Grey, Ph.D., Chief Scientist for the Methuselah Foundation returned to UCLA to give a lecture to a group of 18 attendees, including UCLA undergraduates, on the topic "How Would a Post-Aging World Work? And How Should We Therefore Act Today?" in Bunche Hall, 4th Floor, Portola Plaza, UCLA Westwood Campus. A student chapter of the Methuselah Foundation at UCLA will be formed in the next two weeks.
---
"Prof. William Clark on Bioterrorism"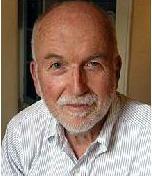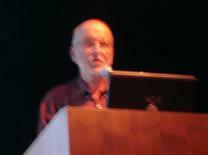 Sunday, August 3, 2008; 11:00 AM PDT; Prof. Emeritus at UCLA David Geffen School of Medicine, William R. Clark, Ph.D., an immunologist and former guest lecturer to the LA-GRG (February 9, 1998) spoke on the topic of his new book Bracing for Armageddon? The Science and Politics of Bioterrorism in Amrerica (Oxford University Press, New York; 2008) at the Center for Inquiry -- Los Angeles "Feed Your Brain" Lecture Series in Hollywood, CA. The CFI publishes Skeptical Inquirer Magazine. This lecture was especially relevant in that, earlier this week, a former microbiologist at the Army Medical Research Institute for Infectious Diseases at Fort Detrick, MD, Dr. Bruce E. Ivins, allegedly committed suicide in connection with his being a suspect in the FBI Postal Anthrax case of 2001.
---
"Supercentenarian Lecture at the California Graduate Institute in Westwood"
Wednesday, July 30, 2008; 1:00 PM PDT; Westwood, CA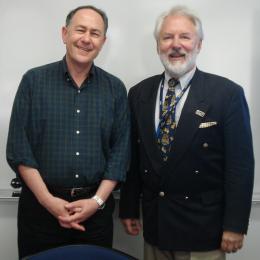 Prof. Don Schultz, Ph.D. with Steve Coles at the CGI Supercentenarian Lecture in Westwood.
---
"Supercentenarian Lecture at the Buck Institute for Age Research"
Friday, July 11, 2008; 9:30 AM PDT; Novato, CA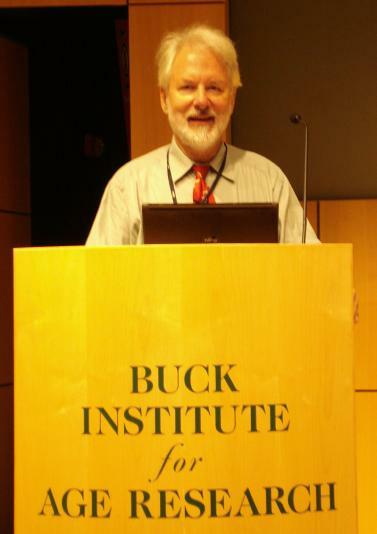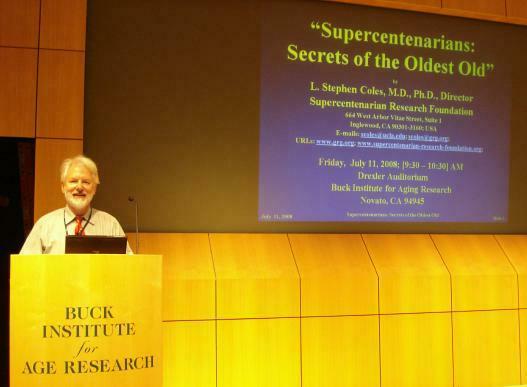 Photos by Natalie S. Coles
---
" Aging 2008 at UCLA"
June 27-29, 2008; 40 Candid photos from the Aging 2008 Conference at UCLA. An audience of 543 persons attended the public meeting at Royce Hall on Friday afternoon.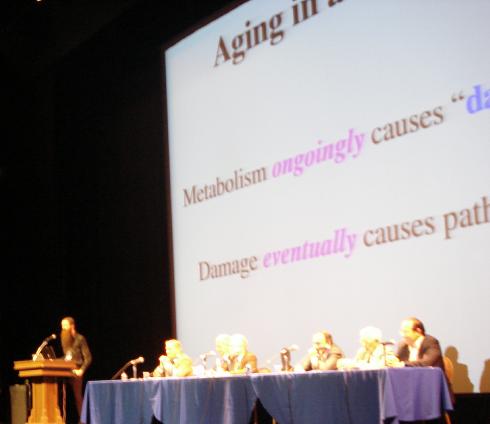 Dr. Aubrey de Grey welcomes attendees to the public session.



Friday Evening Speakers (L to R): Dan Perry, Bernard Siegel, Greg Stock, Aubrey de Grey, Michael West, Bruce Ames, and William Haseltine



Dr. William Haseltine


Dr. Bruce Ames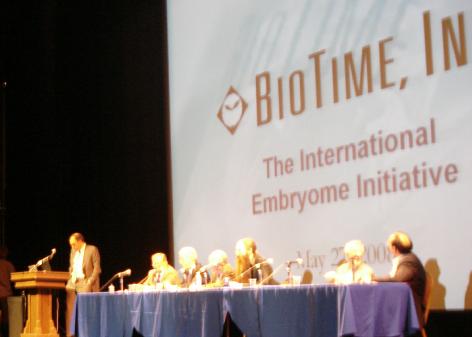 Dr. Michael West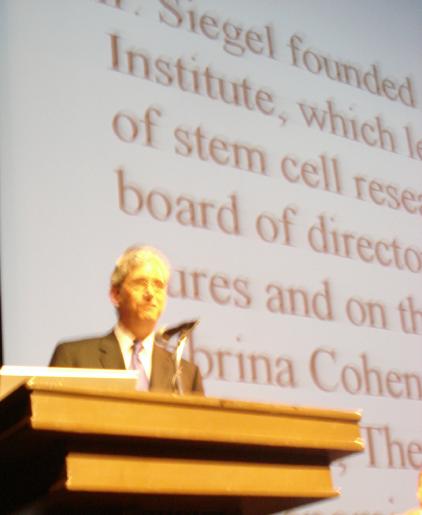 Bernard Siegel, Esq.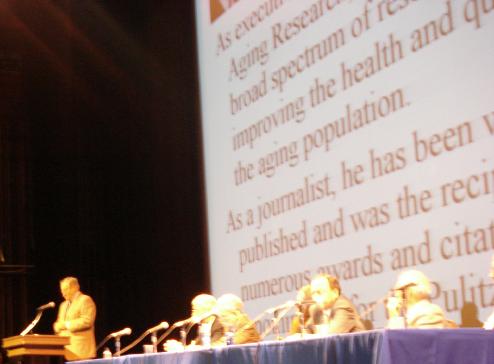 Dan Perry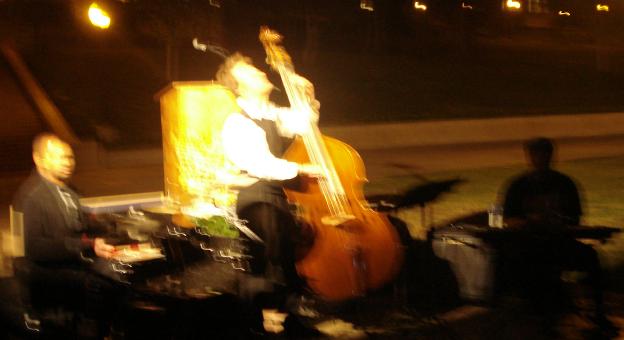 Dinner Music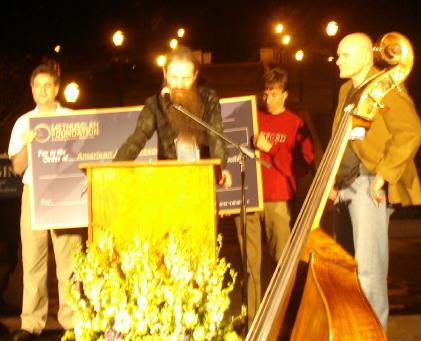 Dr. Aubrey de Grey gives check to AGE accepted by Dr. Chris Heward.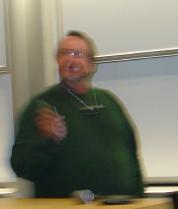 Adam Arkin, Lawrence Berkeley National Labs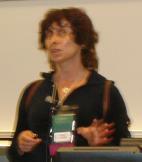 Dr. Irina Conboy of UC Berkeley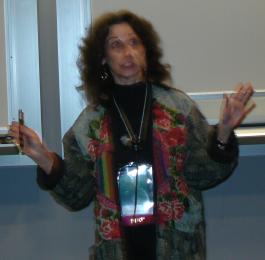 Dr. Judith Campisi of UC Berkeley and the Buck Institute for Aging Research in Novato, CA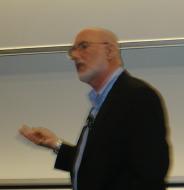 Prof. Jerry Shay, University of Texas, Southwestern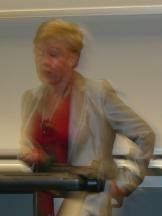 Dr. Jan Vijg's Wife Chairing a Session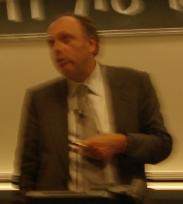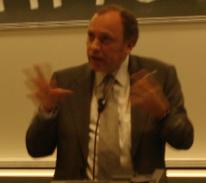 Dr. Michael West, CEO, BioTime, Inc. and UC Berkeley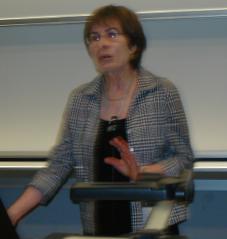 Prof. Rita Effros, UCLA Pathology and Laboratory Medicine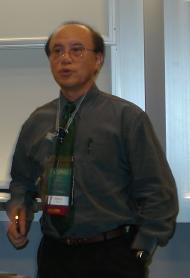 Dr. Zheng Cui, Wake Forest University School of Medicine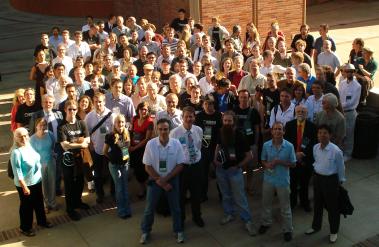 Here is the Conference Group Photo that was taken on Sunday afternoon.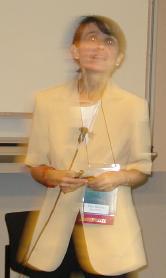 Dr. Ana Maria Curervo, Albert Einstein College of Medicine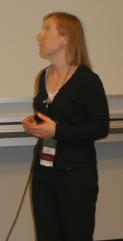 Prof. Amy Wagers, Joslin Diabetes Center, Harvard University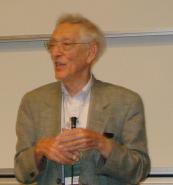 Dr. Bruce Ames, Children's Hospital Oakland Research Institute and UC Berkeley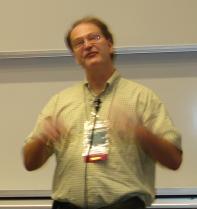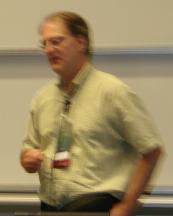 Dr. Bruce Rittmann, Arizona State University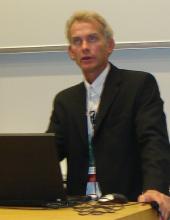 Dr. Christiaan Leeuwenburgh, University of Florida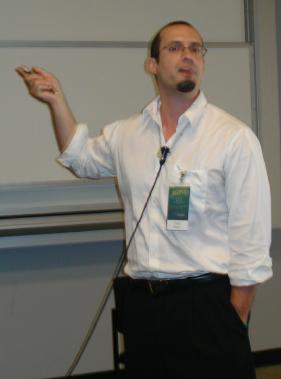 Dr. Chris Vinci, UCLA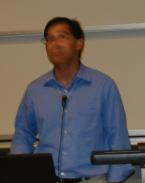 Dr. David Schaffer, UC Berkeley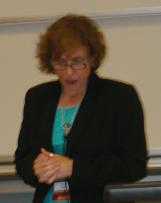 Prof. Doris Taylor, University of Minnesota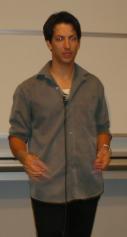 Dr. Gilad Lehmann, Ben-Gurion University of the Negev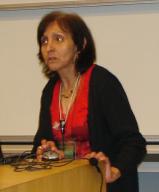 Dr. Marisol Corral-Debrinski, Universite Pierre et Marie Curie, FRANCE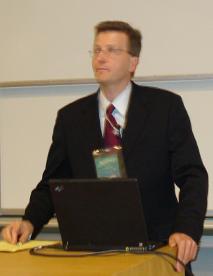 Dr. Matthias Stelzner, VA Greater Los Angeles Health Care System and UCLA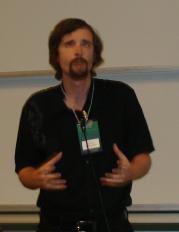 Dr. Nason Schooler, University of Louisville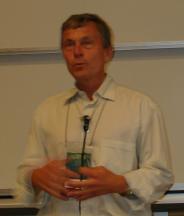 Dr. Stephen Badylak, McGowan Institute for Regenerative Medicine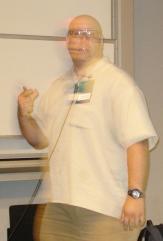 Dr. Sam Schriner, UC Irvine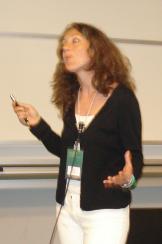 Dr. Sonya Vasto, University of Palermo, ITALY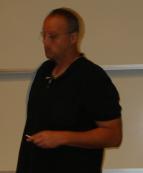 Dr. Tony De Tomaso, Stanford University School of Medicine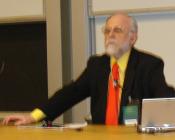 Dr. Trevor Marshall, Murdoch University
---
"Philosophy in LA Discussion Group"
Sunday, June 22, 2008; [5:15 - 7:45] PM PDT; Dr. Aubrey de Grey spoke on the topic of "Near Immortality for Us All?" at the June Meeting of the Philosophy in LA Discussion Group at the Yahoo Center Community Room in Santa Monica, CA.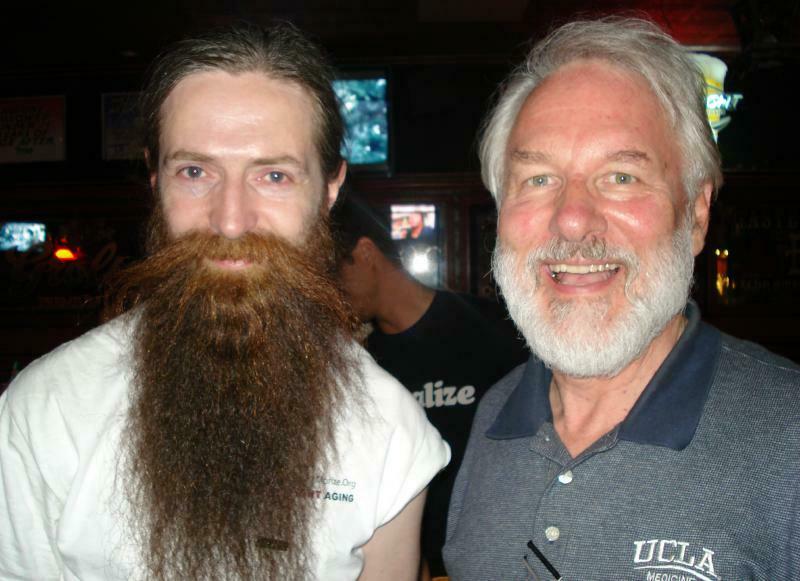 Dr. Aubrey de Grey asked the audience of ~60 persons if society at large has a moral obligation to vastly increase the resources dedicated to curing [the disease of] "biological aging"? The clear answer to this rhetorical question is, of course, "Yes." The real problem is how to convince our political decision makers who are largely followers and not leaders of public opinion. According to de Grey, it will take someone like Oprah Winfrey to set the stage, who in turn will sway public opinion, and thus move our political leaders to action. And how will Oprah be favorably influenced? Answer: By a consensus of scientists who believe the time is now right. This group of scientists will not necessarily consist of traditional gerontologists who are interested in "understanding aging" but hardly interested in "doing anything about it." For example, see the recent book by Dr. Robert Butler, the first Director of the NIA entitled The Longevity Revolution: The Benefits and Challenges of Living a Long Life (553 pp.; New York, PublicAffairs; 2008. $30. ISBN: 978-1-58648-553-5). Typical venture capitalists will not be interested in funding this research, since the payoff times are too far into the future. Thus, in the mean time, it will be up to a small number of wealthy individuals, without a public constituency to control their spending, to slowly drive our agenda forward. (The paradox of traditional gerontology not being very interested in proposing interventions is best illustrated by the metaphor of the meteorologist whose charter it is to predict the weather, but not necessarily to do anything about it.)
The philosophers (and one alchemist) in the audience brought up a number of interesting questions: How can we become immortal if all of our tissues were to systematically change through stem cells or whatever? For philosophers, this paradox goes under the name of Ship of Theseus. According to Greek legend, the component parts of this ship were systematically replaced. Ultimately, we must ask when is this ship a new ship and not the same old ship? The argument applies equally to classic cars manufactured before 1905, which are entered in contests and are still registered to drive on public roads. Obviously, there has been a lot of part replacement to keep the car running, and not all of it is cosmetic. Aubrey answered that just as the ship is still the ship and not a new ship, our own biological parts are still turning over at a rapid clip (depending on the granularity of the parts from 'atoms' to organs' and we are still the same person. If you get a heart transplant you're still the same person. However, if you get a brain transplant, you're not the same person, so we need to be careful about the level of granularity of replacement in our discussion.
It was especially appropriate to hear Dr. de Grey in California, since this is the home of Prop. 71 (The Stem-Cell Initiative) now finally getting implemented after a long drawn out litigation opposing the constitutional authority of CIRM to operate in California.
---
"Twin Grand Piano Recital"
Saturday, June 21, 2008; 8:30 PM...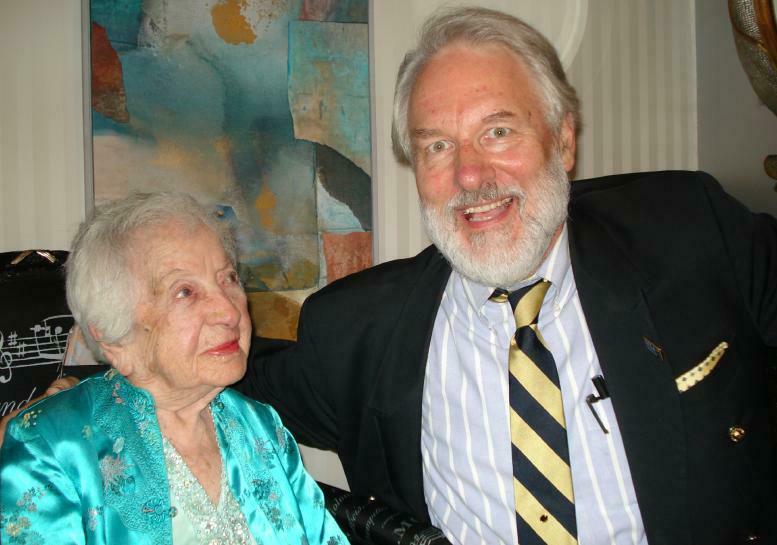 Mrs. Sally Gappell, 109 attended the black-tie classical piano recital at the Los Angeles home of her daughter Millicent. Sally, born March 1, 1899 in New York, continues to serve as a control subject in our ongoing Alzheimer's Research Protocol at UCLA.
---
"UCLA 13th Annual Research Conference on Aging"
Wednesday, June 18, 2008; The following photos were taken at the 13th Annual Research Conference on Aging held this morning at the UCLA Faculty Club...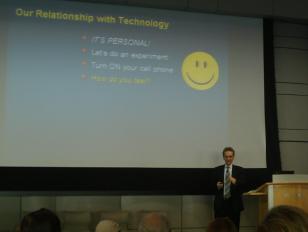 Dr. Gary Small, M.D., Director of the UCLA Center on Aging moderated the meeting.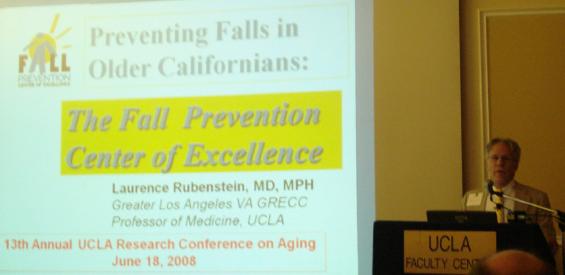 Dr. Laurence Rubenstein, M.D. spoke on "Preventing Falls in Older Californians."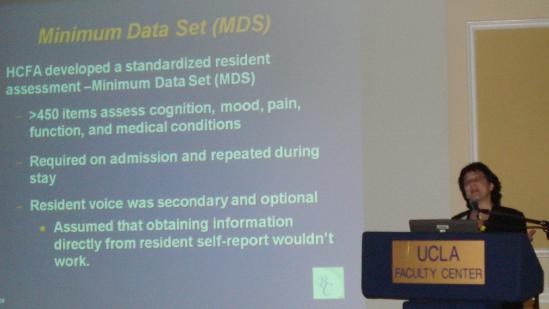 Dr. Debra Saliba, M.D. spoke on "Listening to Nursing Home Patients: They said It Wouldn't Work."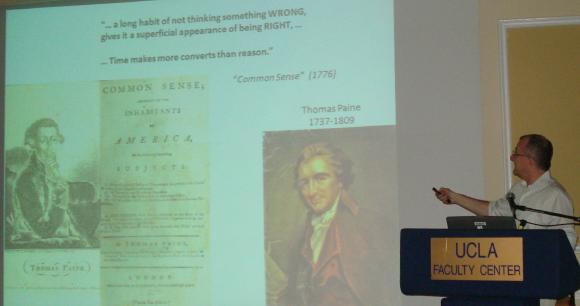 Dr. Michael V. Sofroniew spoke on "The Surprising Capacity for the Nervous System to Reorganize after Injury."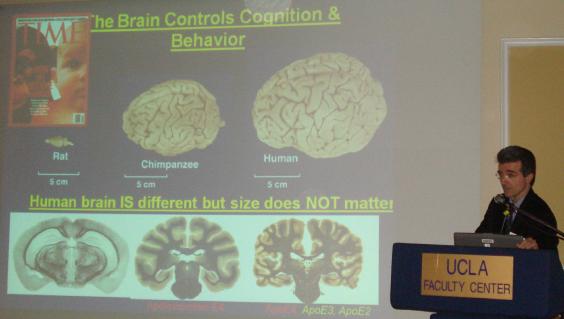 Dr. Bartzokis spoke on "Brain Myelin and Aging: Implications for Preventing and Treating Alzheimer's Disease."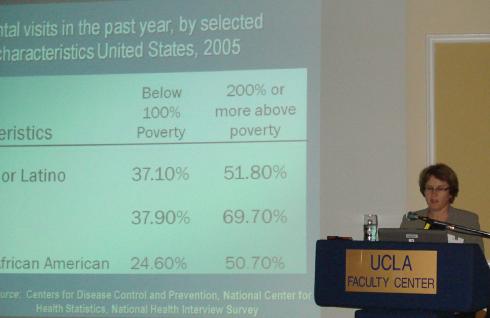 Dr. Atchison spoke on "Assuring Oral Health for the Elderly,"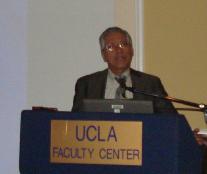 Dr. Fernando Torres-Gil spoke on "The Politics of Aging: Clinton, McCain, Obama, and Baby Boomer Retirement."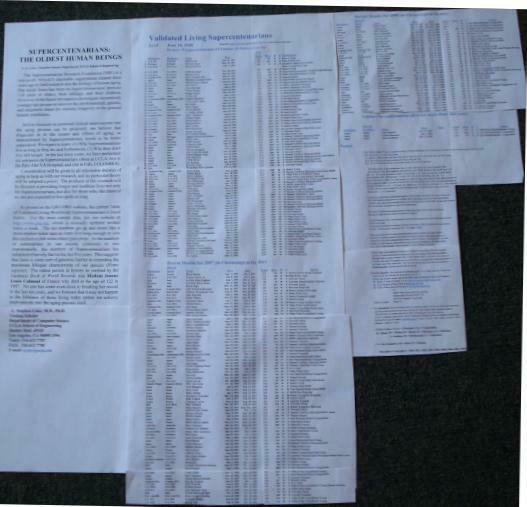 Poster of Table E presented at the UCLA Aging Research Conference.
---
"Sr. Daniel Guzman Garcia [1897 - 2008]"
Friday, May 23, 2008; Cali, COLOMBIA - The Supercentenarian Research Foundation (SRF) supported a research autopsy for Sr. Daniel Guzman Garcia in Cali, COLOMBIA, age 111 years. Click on the middle photo of Sr. Daniel Guzmán- Garcia to read the English translation of the Spanish-language newspaper Obituary from El Tiempo...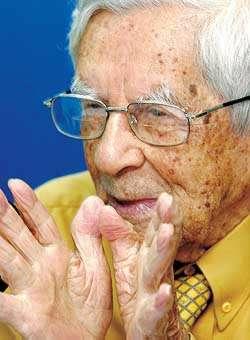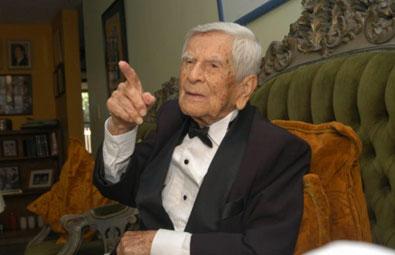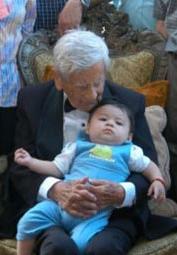 ---
"SRF Session at AMMG Conference"
Saturday, May 17, 2008; [9:00 AM - Noon] EDT - - 20 persons heard presentations at the Supercentenarian Research Foundation Session "Supercentenarians: Secrets of the Oldest Old" at the Age Management Medical Group (AMMG) Conference in Boca Raton, FL. Four photos follow: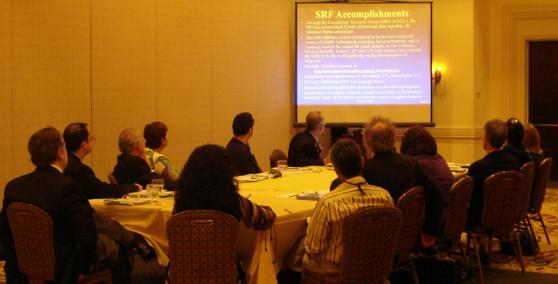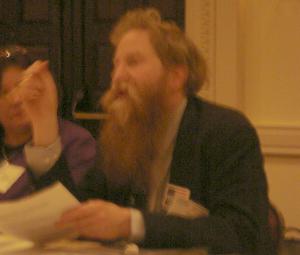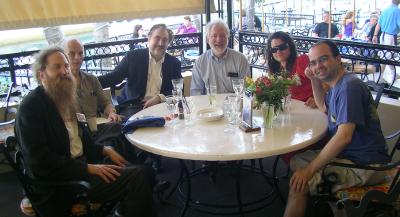 ---
"UCLA Technology and Aging Conference"
Friday, May 9, 2008; [8:30 AM - 5:00 PM]; at the Skirball Cultural Center
Five selected photos follow...


UCLA Chancellor Gene Block spoke on "Circadian Biology and How It Affects the Aging Population." He stated that our 24-hour diurnal rhythm is implemented biologically by means of a network of oscillators that range from the Suprachiasmatic Nucleus (SCN) in the brain to individual cells with their own internal molecular cycles. However, these clocks become increasingly desynchronized as we age. The molecular clocks appear to remain stable, but the cells in the SCN become unstable with age, as he has observed by studying these cells in vitro in older mice. [Speculation: This observation indicates that these cells might well be a focus for intervention using stem cells from younger congenic mice.] The effects on sleep with age are particularly noticeable when we change multiple time zones by flying to Europe. Flying back in the Westerly direction is far less stressful, however.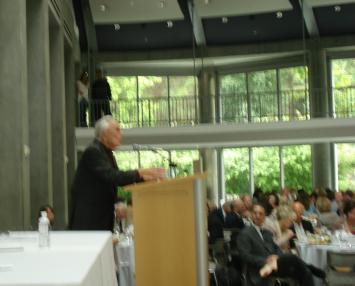 Legendary Actor (more than 80 films) and Author (more than eight books) Mr. Kirk Douglas was the luncheon keynote speaker.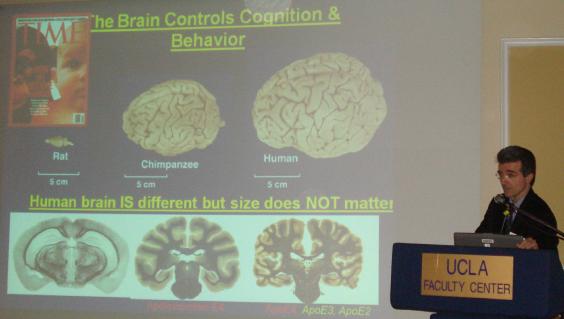 Prof. George Bartzokis, M.D., UCLA Dept. of Neurology spoke on Alzheimer's Disease and Age-Related Memory Loss." The systematic loss of myelin in the brain may be a significant contributor.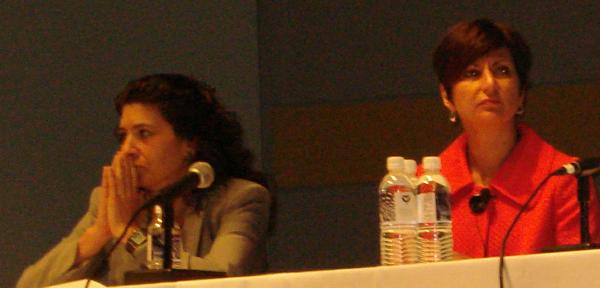 Prof. Deborah Estrin of the UCLA Department of Computer Science (L) spoke on "Leveraging the Power of Technological Innovations." In the future, simple cell-phone technology may revolutionize health care in the home.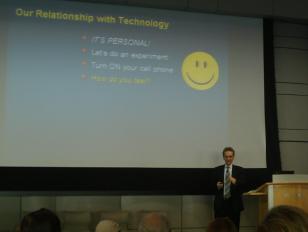 Prof. Gary W. Small, M.D., Parlow-Solomon Professor on Aging and Director of the UCLA Center on Aging spoke on "New Technology and the Aging Brain." Prof. Small served as Conference Chairman.
---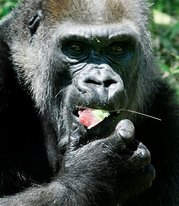 Jenny, a Western Lowland Gorilla, is the world's oldest captive gorilla. Click on the photo for more details.
May 9, 2008; Dallas, TX (by Linda Stewart Ball of AP) - - A gorilla recognized as the world's oldest in captivity celebrated her 55th birthday by munching down a four-layer frozen fruit cake and banana leaf wrapped treats. Jenny's caretakers at the Dallas Zoo say she's having a few joint issues and her eyesight isn't what it used to be, but she still looks good for an old ape... So, to what does Jenny attribute her longevity? She's not saying. But her vegetarian diet couldn't hurt: seeds, cereal, and one of her favorites - - banana peels.
Mr. Robert Young of Atlanta, GA adds, "Interestingly, the four living gorillas aged 50 or over are all female."
---
"CIRM OK's $271 Million for New Facilities"
Wednesday, May 7, 2008; (Ron Leuty of the San Francisco Business Times) - - Wednesday, May 7, 2008; (San Francisco Business Times) California will spend $270.9 million to help build 12 stem-cell research facilities that could bring scientists closer to stem cell treatments, cures and tests for diseases ranging from diabetes to Alzheimer's. The Board that oversees the California Institute for Regenerative Medicine (CIRM) -- the stem- cell agency supported by a $3 billion voter-approved bond issue -- voted Wednesday morning to award grants for the projects.
That cash will combine with institutional contributions and philanthropy to construct $832 million in stem-cell research facilities from Sacramento to San Diego. In all, it is the largest-ever outlay for the construction of medical research facilities. The decision, topping a process with its roots in President Bush's restrictions on Federal stem-cell research in August 2001, means that scientists will begin moving into labs within 30 months.
More importantly, stem-cell research advocates say, the decision will attract 1400 stem cell researchers to California and move science closer to discovering more about cancers, diabetes, Alzheimer's, Parkinson's, and a plethora of other medical conditions, because the facilities will be unencumbered by the Bush Administration restrictions.
Bob Klein, Chairman of CIRM's Governing Board, said the 12 projects create a "portfolio of excellence" that is a substitute for lack of Federal research funds. "This is the place it's going to happen," Klein said. The 12 facilities are as follows:

* Stanford University's $200 million, 200,000-square-foot Stanford Institute for Stem Cell Biology and Regenerative Medicine will receive nearly $43.6 million in CIRM money.

* A $94.5 million, 74,832-square-foot Institute for Regenerative Medicine at the Parnassus campus of the University of California, San Francisco. CIRM will provide $34.8 million toward the project.

* The Li Ka Shing Center for Biomedical and Health Sciences at UC Berkeley. The center will be located in 59,600 square feet of the 200,000-square-foot building. CIRM will fund $20.2 million of the $78.6 million stem cell part of the project.

* A 65,708-square-foot building at the Buck Institute for Age Research in Novato. CIRM will fund $20.5 million of the $70.1 million project.

* Renovation of 54,200 square feet at UC Davis' Sacramento medical campus -- a $61.8 million project that will get $20.1 million in CIRM funds.

* A $115.2 million, 130,907-square-foot facility planned by a consortium of institutions in the San Diego area: UC San Diego, the Burnham Institute, the Salk Institute, and the Scripps Research Institute. CIRM will commit $43 million toward the project.

* The Eli and Edyth Broad CIRM Center for Regenerative Medicine at the University of Southern California, a $82.6 million, 81,537-square-foot facility that will receive $29 million in CIRM funds.

* A $60.5 million, 61,575-square-foot facility at UC Irvine. CIRM will provide $27.2 million.

* The Broad Stem Cell Research Center, a $41.8 million, 34,587-square-foot project at UCLA. It will receive $19.8 million in CIRM funds.

* A $12.9 million, 19,829-square-foot facility at UC Santa Cruz will receive $7.2 million in CIRM funds.

* A "foundry" at UC Merced to custom design devices for single-cell analyses. The $7.5 million renovation of 8,180 square feet at the school's Atwater campus will receive $4.4 in CIRM funding.

* Renovation of 16,581 square feet at UC Santa Barbara, a $6.4 million project that landed $3.2 million from CIRM.
CIRM President Alan Trounson said the facilities pulled together disparate resources and scientists to produce "a natural cauldron of excitement." Stem-cell research itself remains wrapped in controversy, mainly on religious grounds. Many opponents of embryonic stem-cell research argue that it destroys life.
CIRM also has faced opposition from taxpayer advocates that have bird-dogged the agency's policies and spending. Those groups allied in court to delay the state bond sale. Even the final awards came down to the wire. CIRM had $262 million earmarked for large facilities grants, and in the end moved $9 million to an equipment fund. Klein over the past month negotiated a voluntary 9 percent grant award discount with eight institutions that agreed to take their CIRM awards early. That shed $17.6 million from CIRM's outlay, allowing the stem cell agency to hit a $262 million target. CIRM is capped in large facilities funding to the $262 million figure. But governing board members also have said they don't want to spend more on bricks and mortar at the expense of research projects. CIRM considered equally cutting all the projects, but some oversight board members argued that would hurt smaller institutions.
The eight institutions that took the discount were Stanford, UCSF, UC Berkeley, UC Davis, UC Irvine, UC Santa Barbara, UCLA, and USC. That will put some pressure on those institutions to raise more donations for their projects; on the other hand, CIRM won't cut their funds further and receiving the CIRM cash early allows them to collect interest on that money and win construction savings. "The goal was to fund as much as possible that met the scientific threshhold of quality," said CIRM Governing Board member David Serrano Sewell of San Francisco.
Seventeen requests were submitted for CIRM's pot of money -- the largest group of grants awarded by the agency -- and working groups of CIRM's oversight board had already slimmed those to 12 requests for $336.2 million.
---
"CIRM Appoints New Chief Scientific Officer"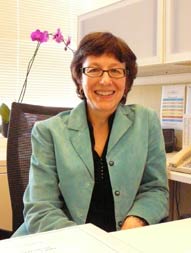 May 3, 2008; Click for an interview with Prof. Marie E. Csete, M.D., Ph.D., the new Chief Scientific Officer (CSO) of the California Institute of Regenerative Medicine (CIRM). In addition to affiliations with Emory University in Atlanta, UCSF, Columbia, Princeton, and CalTech (her Ph.D.), she is an anesthesiologist in her spare time! Her research specialty is stem-cells and aging.
---
"The World's Oldest Living Tree Discovered in Sweden"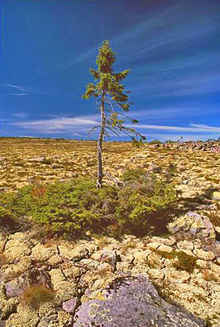 This 9,550 year old spruce has been discovered in Dalarna, SWEDEN. A favorable climate has produced an upright trunk since the beginning of the 1940's. [1] Photo: Leif Kullman
April 16, 2008; The world's oldest recorded tree is a 9,550 year-old spruce in the Dalarna province of SWEDEN. The spruce tree has shown to be a tenacious survivor that has endured by growing between erect trees and smaller bushes in pace with the dramatic climate changes over time.
For many years the spruce tree has been regarded as a relative newcomer in the Swedish mountain region. "Our results have shown the complete opposite, that the spruce is one of the oldest known trees in the mountain range," says Leif Kullman, Professor of Physical Geography at Umeå University.
A fascinating discovery was made under the crown of a spruce in Fulu Mountain in Dalarna. Scientists found four "generations" of spruce remains in the form of cones and wood produced from the highest grounds. The discovery showed trees of 375, 5,660, 9,000, and 9,550 years old and everything displayed clear signs that they have the same genetic makeup as the trees above them. Since spruce trees can multiply with root-penetrating branches, they can produce exact copies, or clones. The tree now growing above its finding place and the wood pieces dating 9,550 years have the same genetic material. The actual age has been tested by Carbon-14 dating at a laboratory in Miami, FL; USA. Previously, pine trees in North America have been cited as the oldest at [4,000 - 5,000] years old.
In the Swedish mountains, from Lapland in the North to Dalarna in the South, scientists have found a cluster of around 20 spruces that are over 8,000 years old. Although Summers have been colder over the past 10,000 years, these trees have survived harsh weather conditions due to their ability to push out another trunk as each one died. "The average increase in temperature during the Summers over the past hundred years has risen by 1 degree C in the mountain areas," explains Leif Kullman. Therefore, we can now see that these spruces have begun to straighten themselves out. There is also evidence that spruces are the species that can best give us insight about climate change.
The ability of spruces to survive harsh conditions also presents other questions for researchers. Have the spruces actually migrated here during the Ice Age as seeds from the East 1,000 Km over the in-land ice that then covered Scandinavia? Do they really originate from the East, as taught in school? "My research indicates that spruces have spent winters in places West or Southwest of Norway where the climate was not as harsh in order to later quickly spread northerly along the ice-free coastal strip," says Leif Kullman. "In some way, they have also successfully found their way to the Swedish mountains."
The study has been carried out in cooperation with the County Administrative Boards in Jåmtland and Dalarna.
For further information contact:

Prof. Leif Kullman,
Professor of Physical Geography
Umeå University
Telephone: +46 90-786 68 93, 070-5641848
E-mail: leif.kullman@emg.umu.se
____________________
Ref.:

1. Although this tree looks to be twice as old as the famed Bristle Cone Pine Trees of California, it's like comparing apples and oranges. The Methuselah Tree in the White Mountains of the Eastern California Sierra Nevada range in the Inyo National Forest [not far from the California state border with Nevada] is now 4,735 years old, and it's age has been confirmed by dendrochronology, not by Carbon Dating. The Swedish trees are really all new "clones" of the original tree. The only thing old about them is their underground root system; they are simply not autonomous, independently-living creatures. -- Steve Coles
---
"US Mortality and Life Expectancy for the Year 2005"
April 12, 2008; The CDC in Atlanta has now posted preliminary statistical data on US longevity for 2005, broken down by gender and age [1],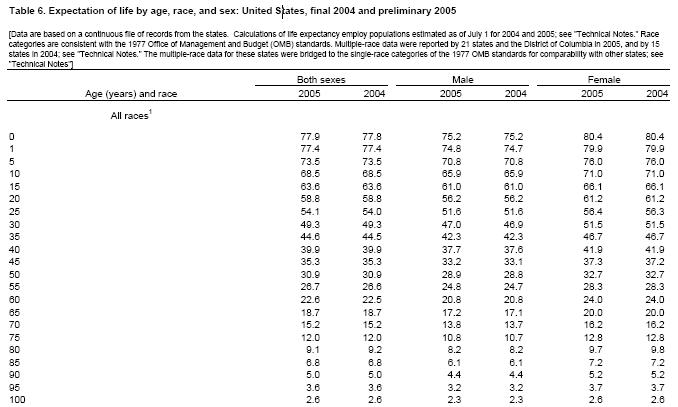 So, for example, a US female centenarian in 2005 has 2.6 years of life remaining, on average, while a male has only 2.3 years remaining. This Table is consistent with a positive-slope linear log-mortality curve built, as a side effect, right into our Homo sapiens species' genome, providing that the genome has a chance to express its full potential.

Ref. 1. Table 6 with additional breakdowns by race (White, Black).
Note: This data supercedes the data in this News Section for April 23, 2006 and September 5, 2003.
---
"Gertrude Baines Celebrates 114 in Los Angeles"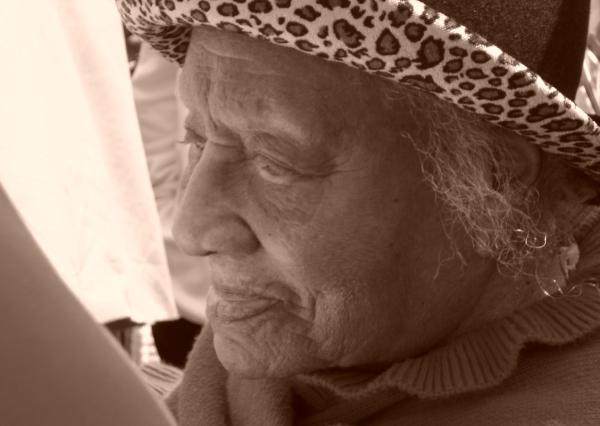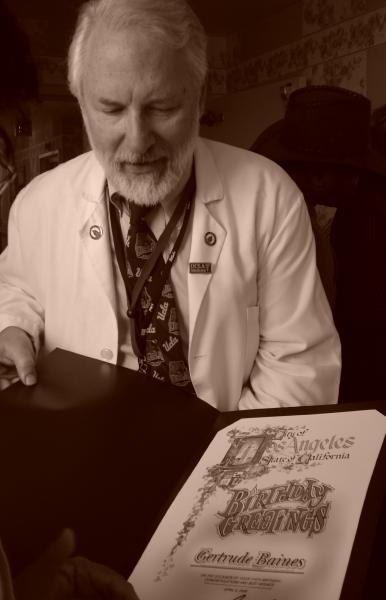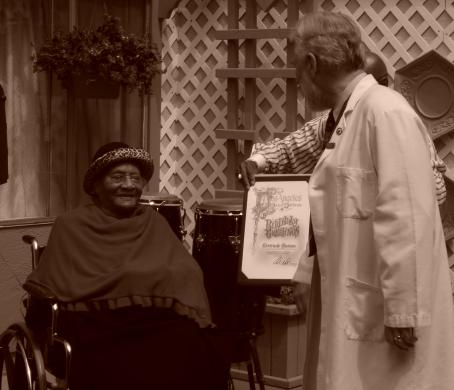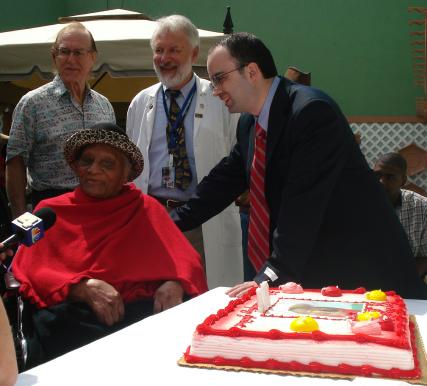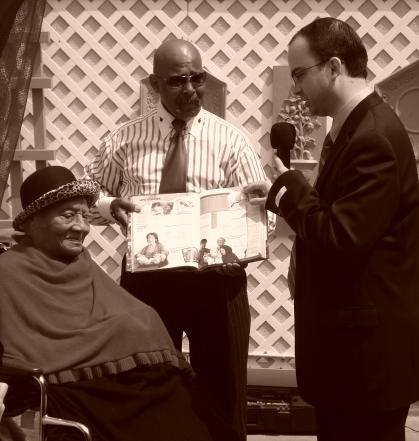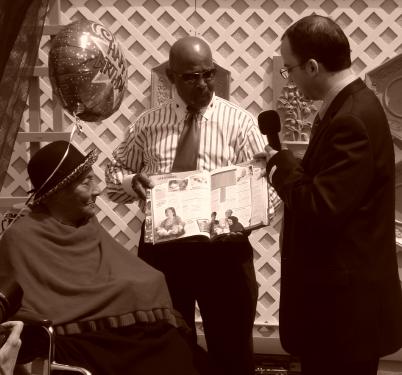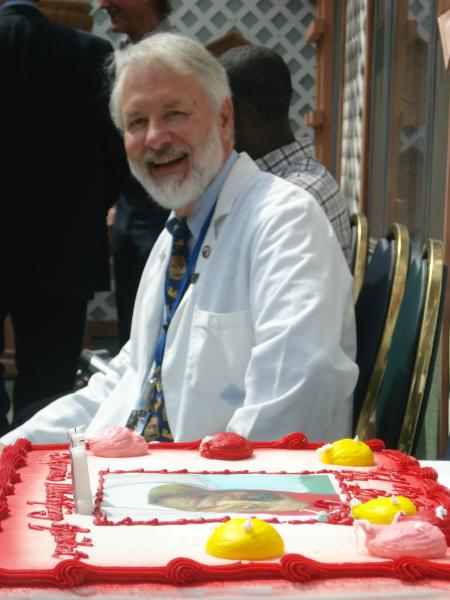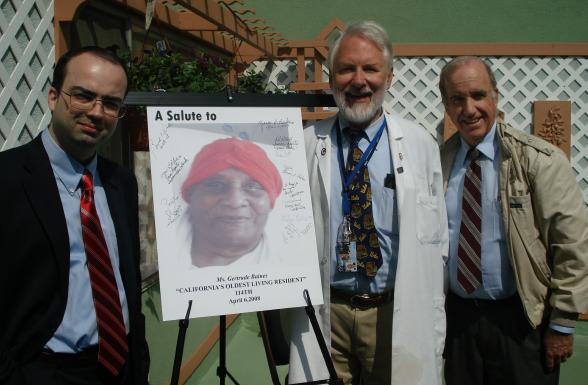 Photos by Natalie S. Coles
Sunday, April 6, 2008; The eight photos above were taken on the occasion of Mrs. Gertrude Baines 114th Birthday Celebration surrounded by her numerous friends and supporters at the Western Convalescent Hospital near downtown Los Angeles. The Certificate presented by the LA-GRG was signed by our Los Angeles Mayor Antonio R. Villaraigosa. Robert Young of Atlanta, GA presented Mrs. Baines with her own copy of the Guinness Book of World Records that lists her name in the top ten. Mrs. Baines is currently the oldest person in Los Angeles, the oldest person in the State of California, the second oldest American, and the third-oldest person in the world.
Refs.:

1. Maria L. La Ganga, "She Makes 114 Look So Easy: Healthy and Content, Gertrude Baines, The World's Third-Oldest Person, Celebrates her Birthday at a Los Angeles Nursing Home," Los Angeles Times, pp. B1,8 (April 7, 2008).

2. Cindy Hu, Chinese Daily News (April 6, 2008).

3. NBC-TV News.

4. Chris Eales, "California's Oldest Person now 114: American Woman Gertrude Baines Celebrates Her 114th birthday," Suite101.com (April 6, 2008).
---
"UC San Francisco Course on Interstitial Lung Disease"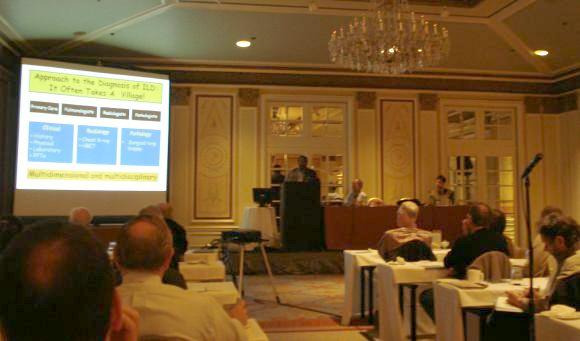 Saturday, April 5, 2008; At this one-day CME-Credit Course taught by faculty from the UCSF campus on the topic of Interstitial Lung Disease, TGF-Beta has again been implicated in the aging process. This time TGF beta stimulates fibroblasts to synthesize excess collagen in the lungs leading to Interstitial Fibrosis and Pneumonia (Note: UIP [or Usual Interstitial Pneumonia] is an old term used by pathologists and is no longer in favor). Note that this form of pneumonia was implicated in the deaths of two of the five Supercentenarians the GRG autopsied in the last five years. We have now learned that this form of Interstitial Lung Disease does not respond to steroid or NSAID treatment and is therefore not a conventional inflammatory process. It appears that the fibroblasts secreting excess collagen migrate to the lungs from other locations in the body (secondary to injury?) and do not normally reside in the lungs. In a clinical trial, Interferon Gamma that normally inhibits TGF-beta doesn't provide any clinical relief for patients with this condition.
---
"CHI Stem Cell Congress in San Francisco"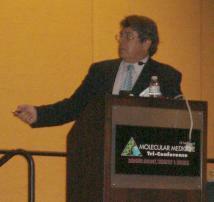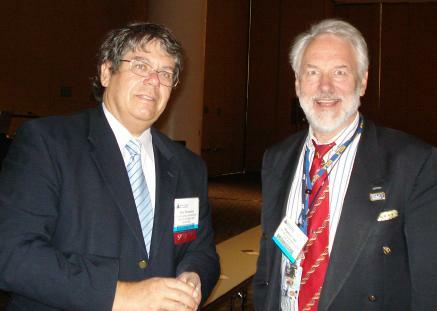 March 26, 2008; Dr. Alan Trounson, Ph.D., newly appointed President of the California Institute for Regenerative Medicine (CIRM), presented at the Cambridge Health Care Institute (CHI) Stem Cell Congress at the Moscone Center in San Francisco.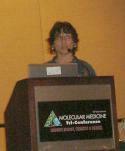 March 28, 2008; Dr. Irina Conboy, Ph.D., of UC Berkeley presented at the Stem Cell Congress at the last session on Friday afternoon on the topic "Understanding and Reversing Stem Cell Aging: Pathways to the Fountain of Youth." TGF-beta appears to be implicated in shutting down telomere activity in older Satellite Cells by [20 - 25] percent. For reference, Satellite Cells are the precursors to new multinucleated skeletal myocytes, the cells that normally hypertrophy with strenuous exercise. But this observation is not related to the length of the telomeres themselves, as different strains of mice start off with very different telomere lengths.
---
"Sir Arthur Clarke [1917 -- 2008]"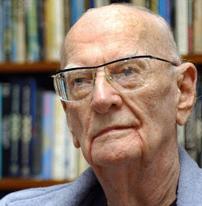 March 18, 2008; One of Sir Arthur's most famous quotes was that "Any sufficiently advanced technology is indistinguishable from magic."
Refs.:

1. Dennis McLellan, "Arthur C. Clarke [1917 - 2008]: Scientific Visionary Wrote 2001: A Space Odyssey'," The Los Angeles Times, pp. A1,12 (March 19, 2008).

2. Ed Park, "An Appreciation: Clarke's Universal Sci-Fi Magic," The Los Angeles Times, pp. E1,10 (March 20, 2008).

3. "Died: Arthur C. Clarke, 90, Visionary Writer of More Than 100 Science-Fiction and Nonfiction Books, in Sri Lanka," The Wall Street Journal, p. A1 (March 19, 2008).

4. John J. Miller, "Arthur C. Clarke: The Master of Science and Mysticism," The Wall Street Journal, p. D7 (March 20, 2008).

5. "Sci-Fi Guru Clarke To Have Secular Funeral," CNN (March 19, 2008.

6. Sir Arthur Clarke's Final Video.
---
"UCLA Seminar on Systems Biology"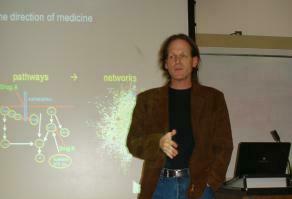 March 13, 2008; Prof. James Heath, Ph.D., Elizabeth W. Gillon Professor and Professor of Chemistry and Biochemistry at CalTech and Professor of Molecular and Medical Pharmacology, UCLA, Director of the National Cancer Institutes' Nano Systems Biology (NSB) Cancer Center gave a Noon Research Seminar for the UCLA Jonsson Comprehensive Cancer Center on the topic of "Systems Biology Driven In Vitro Diagnostics and Measurement Technologies for Cancer."
Good News: In a hallway conversation after the talk, Prof. Heath stated that his nanotechnology research on CMOS indicates that Moore's Law could easily continue for another 15 to 16 years with the ideas that he has already published in Science and Nature with his UCLA students.
---
"The Inventor of LISP Lectures in San Diego"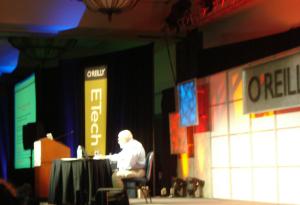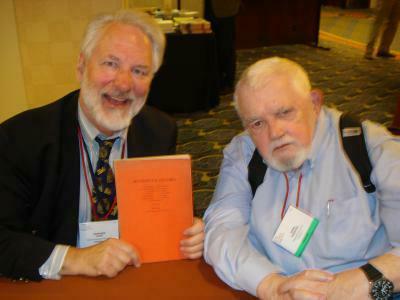 Wednesday, March 5, 2008; Prof. Emeritus John McCarthy of Stanford University, inventor of the term "Artificial Intelligence" at the Dartmouth Conference in the Summer of 1956 and subsequently the programming language LISP delivered a key-note address to 800 attendees this morning at the O'Reilly E-Tech (Emerging Technologies) Conference at the Marriott Hotel in San Diego, CA on the topic of "The Logical Formalization of Common Sense Reasoning." I first met Prof. McCarthy at MIT in November 1961. His office mate at 545 Technology Square in Cambridge, MA at that time was Prof. Marvin Minsky.
He moved to Stanford the next year while I moved from CMU to Stanford in 1967. Over the years, our paths crossed in Dubrovnik, Yugoslavia, Tiblisi, USSR, and Edinburgh, Scotland.
The orange colored paper-back book I am holding up in the photo is a copy of Automata Studies (Princeton University Press, New Jersey; 1956) that McCarthy co-edited with Claude E. Shannon. During our luncheon in San Diego we discussed a range of topics from nuclear weapons treaties, famous mathematicians in history, to HAL-9000 from the Stanley Kubrik/Arthur Clarke film 2001: A Space Odyssey.
- - Steve Coles
Ref.:

Patrick J. Hayes and Leora Morgenstern, "On John McCarthy's 80th Birthday, in Honor of His Contributions, AI Magazine, Vol. 28, No. 4, pp. 93-102 (Winter 2007).
---
"Functional Regeneration in the Peripheral Nervous System"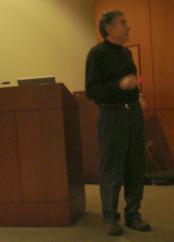 February 21, 2008; UCLA Prof. Michael V. Sofroniew, M.D., Ph.D. introduced Dr. Jerry Silver, Ph.D. of Case Western Reserve University in Cleveland, OH who presented a talk on "Functional Regeneration Beyond the Glial Scar" to 35 Faculty, PostDocs, and Graduate Students of the UCLA Department of Neurobiology at 3:00 PM in the Neurobiology Research Building (NBS) Auditorium. Silver is a superb experimentalist and his work with rat spinal cord was truly groundbreaking. (His slides [in Keynote on a Mac, not Microsoft PowerPoint] with videos consumed 5.7 GB of memory and took 30 minutes to download onto my 16 GB PC Mobile Drive.) LA-GRG Members Steven Kaye and Bobby Brooke were in attendance.
---
"Stem Cell World Congress in Palm Springs"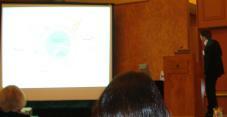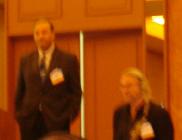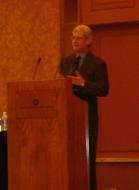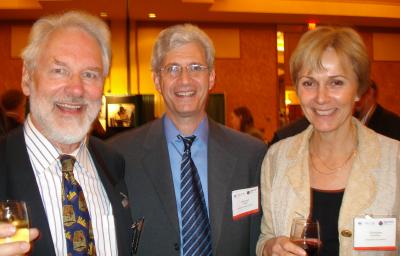 February 11-12, 2008; The Second Annual Stem Cell World Congress was held at the Wyndham Hotel in Palm Springs, CA (the first conference was in La Jolla, CA) for approximately 80 attendees. The first speaker was Prof. Thomas Skutella of Tuebingen University in Germany talking about Male Germ-Line Stem Cells (Spematogonia). Bernard Siegel, Esq. Executive Director of the Genetics Policy Institute of Wellington, FL gave the Keynote Address at the end of the first day. Prof. Guoping Fan of UCLA gave the last talk on methylation patterns in pluripotent stem cells. It was truly an international event with the great majority of the talks coming from European researchers.
---
"HGPS Can Serve As a Model for Natural Aging"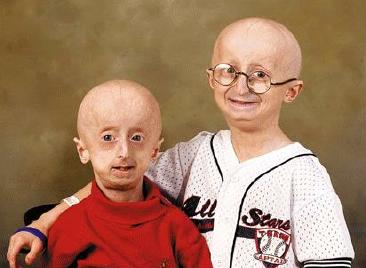 Two 8-yo boys afflicted with Hutchinson-Gilford Progeria Syndrome (HGPS). Contrary to the notion that HGPS is only a 'cartoon of aging', it may well "serve as a model for the normal aging process in all humans."
February 7, 2008; FOCUS ON RESEARCH:
1. Bruce Korf, M.D., Ph.D., Birmingham, AL
"Hutchinson Gilford Progeria Syndrome, Aging, and the Nuclear Lamina,"
NEJM, Vol. 358, No. 6, pp. 552-5 (February 7, 2008).
"We are living in a time that will probably be remembered as a golden age of discovery in human genetics. Most of the recent excitement has focused on the identification of genes that contribute to the risk of common diseases, so it is easy to forget how much can be learned from the study of rare "single-gene" disorders..."

2. "Phenotype and Course of Hutchinson-Gilford Progeria Syndrome,"
Melissa A. Merideth, M.D., M.P.H., Leslie B. Gordon, M.D., Ph.D., Sarah Clauss, M.D., Vandana Sachdev, M.D., Ann C.M. Smith, M.A., Monique B. Perry, M.D., Carmen C. Brewer, Ph.D., Christopher Zalewski, M.A., H. Jeffrey Kim, M.D., Beth Solomon, M.S., Brian P. Brooks, M.D., Ph.D., Lynn H. Gerber, M.D., Maria L. Turner, M.D., Demetrio L. Domingo, D.D.S., Thomas C. Hart, D.D.S., Jennifer Graf, M.S., James C. Reynolds, M.D., Andrea Gropman, M.D., Jack A. Yanovski, M.D., Ph.D., Marie Gerhard-Herman, M.D. Francis S. Collins, M.D., Ph.D., Elizabeth G. Nabel, M.D., Richard O. Cannon, III, M.D., William A. Gahl, M.D., Ph.D., and Wendy J. Introne, M.D.
NEJM, Vol. 358, No. 6, pp. 592-604 (February 7, 2008).


Abstract:


Background: Hutchinson Gilford Progeria Syndrome is a rare, sporadic, autosomal- dominant syndrome that involves premature aging, generally leading to death at approximately 13 years of age due to myocardial infarction or stroke. The genetic basis of most cases of this syndrome is a change from Glycine GGC to Glycine GGT in codon 608 of the Lamin A (LMNA) gene, which activates a cryptic-splice donor site to produce abnormal Lamin A; this disrupts the nuclear membrane and alters transcription.

Methods: We enrolled 15 children between [1 - 17] years of age, representing nearly half of the world's known patients with HGPS, in a comprehensive clinical protocol between [February 2005 - May 2006].

Results: Clinical investigations confirmed sclerotic skin, joint contractures, bone abnormalities, alopecia, and growth impairment in all 15 patients; cardiovascular and central nervous system sequelae were also documented. Previously unrecognized findings included prolonged prothrombin times, elevated platelet counts and serum phosphorus levels, measured reductions in joint range of motion, low-frequency conductive hearing loss, and functional oral deficits. Growth impairment was not related to inadequate nutrition, insulin unresponsiveness, or growth-hormone deficiency. Growth-hormone treatment in a few patients increased height growth by 10 percent and weight growth by 50 percent. Cardiovascular studies revealed diminishing vascular function with age, including elevated blood pressure, reduced vascular compliance, decreased ankle brachial indexes, and adventitial thickening.

Conclusions: Establishing the detailed phenotype of HGPS is important because advances in understanding this syndrome may offer insight into normal aging. Abnormal Lamin A (Progerin) appears to accumulate with aging in normal cells.
---
"Understanding Stem-Cell Self-Renewal and Quiescence"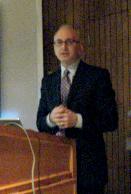 February 6, 2008; Prof. Stephen D. Nimer, M.D., Head of the Division of Hematologic Oncology at Memorial Sloan-Kettering Cancer Center of New York City gave the weekly Noon Hematology Case Conference at UCLA on the topic of Chronic Leukemias. He noted that the Extra Cellular Matrix in the bone marrow provides a relatively quiescent niche that is protected from exposure to free radicals. Whenever a stem cell is stimulated to divide, if it divides horizontally with both daughter cells touching the stroma, they will both become stem cells. However, if the division takes place vertically, the cell not touching the stroma will break off and differentiate into a progenitor cell fated to migrate into the blood stream. Non-quiescent stem cells will naturally differentiate along a pre-determined direction unless a particular genomic network is expressed that retains both daughter cells in a multipotent state.
---
"Vigorous Exercise Slows the Erosion of Telomeres"
January 28, 2008;
"The Association Between Physical Activity in Leisure Time and Leukocyte Telomere Length,"
Lynn F. Cherkas, Ph.D., Janice L. Hunkin, B.Sc., Bernet S. Kato, Ph.D., J. Brent Richards, M.D., Jeffrey P. Gardner, Ph.D., Gabriela L. Surdulescu, M.Sc., Masayuki Kimura, M.D., Ph.D., Xiaobin Lu, M.D., Tim D. Spector, M.D., FRCP, and Abraham Aviv, M.D.,
Archives of Internal Medicine, Vol. 168, No. 2. pp.154-8 (2008).
Abstract:
Background: Physical inactivity is an important risk factor for many aging-related diseases. Leukocyte telomere dynamics (telomere length and age-dependent attrition rate) are ostensibly a biological indicator of human aging. We therefore tested the hypothesis that physical activity level in leisure time (over the past 12 months) is associated with leukocyte telomere length (LTL) in normal healthy volunteers.
Methods: We studied 2,401 white twin volunteers, comprising 2,152 women and 249 men, with questionnaires on physical activity level, smoking status, and socioeconomic status. Leukocyte telomere length was derived from the mean terminal restriction fragment length and adjusted for age and other potential confounders.
Results: Leukocyte telomere length was positively associated with increasing physical activity level in leisure time (P < .001); this association remained significant after adjustment for age, sex, body mass index, smoking, socioeconomic status, and physical activity at work. The LTLs of the most active subjects were 200 nucleotides longer than those of the least active subjects (7.1 and 6.9 kilobases, respectively; P = .006). This finding was confirmed in a small group of twin pairs discordant for physical activity level (on average, the LTL of more active twins was 88 nucleotides longer than that of less active twins; P = .03).
Conclusions: A sedentary lifestyle (in addition to smoking, high body mass index, and low socioeconomic status) has an effect on LTL and may accelerate the aging process. This provides a powerful message that could be used by clinicians to promote the potentially antiaging effect of regular exercise.
Author Affiliations: Twin Research and Genetic Epidemiology Unit, King's College London, St. Thomas' Hospital Campus, London, UK (Drs. Cherkas, Kato, Richards, and Spector and Mss Hunkin and Surdulescu); and The Center of Human Development and Aging, University of Medicine and Dentistry of New Jersey, New Jersey Medical School, Newark, NJ; USA (Drs. Gardner, Kimura, Lu, and Aviv).
________________________
Refs:

1. Rob Stein, "Exercise Could Slow Aging Of Body, Study Suggests," The Washington Post, p. A1 (January 29, 2008).

2. "People Who Exercise Are up to Nine Years Biologically Younger Than Those Who Don't, a UK Study Found," The Wall Street Journal, p. A1 (January 29, 2008).

3. Andrew T. Ludlow, Jo B. Zimmerman, Joseph W. Hearn, Sarah Witkowski, Bradley D. Hatfield, and Stephen M. Roth, "Relationship Between Exercise Energy Expenditure and Telomere Length and Telomerase Activity," The FASEB Journal (2007).

4. "Live Long and Perspire: Exercise May Slow Aging at Chromosomal Level," Science News, Vol. 173, No. 5, p. 69 (February 2, 2008).
---
"President Bush's Inconsistent Logic on Stem Cells in the State of the Union Address"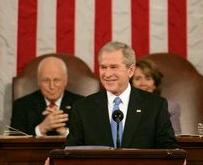 January 28, 2008; Below is a selected quote from President George W. Bush's remarks in his last State-of-the-Union Speech delivered to the US Congress tonight regarding the topic of stem cells [1]...

"On matters of life and science, we must trust in the innovative spirit of medical researchers and empower them to discover new treatments while respecting moral boundaries. In November, we witnessed a landmark achievement when scientists discovered a way to reprogram adult skin cells to act like embryonic stem cells. This breakthrough has the potential to move us beyond the divisive debates of the past by extending the frontiers of medicine without the destruction of human life." [Applause.]

"So we're expanding funding for this type of ethical medical research. And as we explore promising avenues of research, we must also ensure that all life is treated with the dignity it deserves. And so I call on Congress to pass legislation that bans unethical practices such as the buying, selling, patenting, or cloning of human life." [Applause.]
GRG Editorial...
iPS cells are good. But destroying preimplantation SCNT-derived blastocysts is bad. But what if iPS and hESC's are in the same indistinguishable equivalence class of totipotent/pluripotent cells? (Sort of like the problem that the FDA faced in trying to distinguish between milk from a cloned cow and a cow born in the traditional manner, i.e., no difference.) So how can one be bad and the other be good? They're either both bad or both good, no?
Here are three views [2] as to why iPS cells may not be what President Bush advertised in his State-of-the-Union Address last week...

Geron Corp. is sticking with human Embryonic Stem Cells (hESC's) rather than iPS (induced Pluripotent Stem Cells). "Even if iPS cells can be grown without the aid of a potentially cancer- causing virus, these cells can't possibly be used for therapies. Starting with a skin cell that might have been altered by aging or with toxins instead of a pure 'crystal-clear' human embryo would add unpredictable risks."
--- Tom Okarma, M.D., Ph.D., CEO, Geron Corp. Menlo Park, CA

"Even if iPS cells eventually prove safe for use in humans, the notion of generating individually- tailored cell populations for every patient will still be 'a pipe dream'. Patient-specific therapy is totally impractical. You would need millions of cell lines. Furthermore, there is no time to generate [autologous] cells if they are needed rapidly, as after a heart attack or a spinal cord injury."
--- Robert Lanza, M.D., Chief Scientific Officer, Advanced Cell Technology, Worcester, MA

"The idea that you would use iPS cells for individual treatments is preposterous. It takes six months of really hard work to make a cell line."
--- Stephen Minger, Ph.D., King's College London, UK.
Refs.:

1. State of the Union Address (9:00 PM EDT; January 28, 2008).

2. Constance Holden and Gretchen Vogel, "A Seismic Shift for Stem Cell Research: The Development of Pluripotent Cells form Individual Skin Cells Has Opened Up a New World of Research, But Scientists Say They Still Need To Work with Embryonic Stem Cells," Science, Vol. 319, No. 5863, pp. 560-3 (February 1, 2008).
---
"Stemagen Reports Human Therapeutic Cloning in San Diego"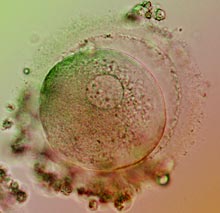 "Major Advancement Towards Creating Patient-Specific and Disease-Specific Stem Cells For Therapeutic Use"
January 17, 2008; La Jolla, CA - - Stemagen, a privately held embryonic stem-cell research company, announced today it has become the first in the world to create, and meticulously document, a cloned human embryo using Somatic Cell Nuclear Transfer (SCNT). Stemagen CEO, Samuel H. Wood, M.D., Ph.D., a co-author of the publication and a donor of the cells from which the embryos were cloned, terms this achievement "a critical milestone in the development of patient-specific embryonic stem cells for human therapeutic use, potentially including developing treatments for Parkinson's, Alzheimer's and other degenerative diseases." Stemagen's research is exhaustively detailed in a paper published in today's issue of the highly regarded peer-reviewed scientific journal Stem Cells.
"This is not merely a technical improvement on previous research in this area," said Andrew French, Ph.D., lead author on the paper, "Development of Human Cloned Blastocysts Following Somatic Cell Nuclear Transfer (SCNT) with Adult Fibroblasts." "No other scientific group has documented the cloning of an adult human cell, much less been able to grow it to the blastocyst stage, the stage at which it is the adult donor cell that is driving embryonic development, the stage that yields the cells (the inner cell mass) from which embryonic stem cell lines are made," said French, who is Stemagen's Chief Scientific Officer. [Embryonic stem cells hold great promise for developing treatments for many degenerative diseases like Alzheimer's, Parkinson's, and Muscular Dystrophy.]
Five blastocysts were developed from 25 donated mature oocytes. Three were confirmed to be clones based on DNA fingerprinting demonstrating the presence of the skin cell donor DNA in the blastocyst, while one was further confirmed to be a clone by an additional mitochondrial DNA (mtDNA) analysis which revealed the presence of oocyte donor mtDNA without any oocyte donor nuclear DNA. For technical reasons, the genetic material in the remaining two blastocysts did not amplify to the extent required for analysis, and so while it is likely they were clones, the evidence required to claim that with certainty was not present. Thus, in this study, cloned blastocysts were successfully created from approximately 10 percent of all mature donated oocytes, an unexpectedly high rate given past research in this field.
The oocytes used in this study were donated by egg donors and intended parents undergoing egg donation cycles for reproductive purposes at the Reproductive Sciences Center in La Jolla, a leading fertility center specializing in egg donation and other advanced assisted reproductive technologies. Stemagen and the Reproductive Sciences Center worked closely, over an extended period of time, with a leading independent Institutional Review Board (IRB) to develop procedures ensuring that all parties received comprehensive informed consent and that procedures were in place to protect their confidentiality in the process. All research procedures, including the culturing of the skin cells (fibroblasts) were performed under clinical laboratory conditions in close cooperation with the Assisted Reproductive Technologies (ART) Laboratory of the Reproductive Sciences Center, directed by Catharine Adams, Ph.D. French notes, "An important reason for the success of our SCNT procedures depended on the close coordination between our laboratory personnel and fertility center laboratory staff. Timing is a critical element in maximizing the probability of success in this type of procedure."
Wood points out that this research was exhaustively scrutinized by some of the world's most respected scientists and underwent an exceptionally rigorous process of verification, "This achievement was so critical to our field, we felt we should spare no effort in the process of establishing the validity of our work." DNA fingerprinting is the scientifically accepted method for determining if an embryo is a true clone. According to French, "All samples were subjected to this type of analysis to determine their true genetic makeup."
For that, the company turned to Genesis Genetics, a recognized worldwide leader in the field of reproductive embryonic analysis. Company founder and CEO, Mark Hughes, M.D., Ph.D., said "We were proud to collaborate with Stemagen in this important accomplishment. As the leading provider of genetic diagnosis of human embryos, it was important for an independent company like Genesis Genetics to be involved in the verification of this achievement."
Stemagen, Inc., is dedicated to the production of patient-specific embryonic stem cells for therapeutic use through SCNT and "uniparental" embryonic stem-cell technology.
_________________________
TECHNOLOGY DEVELOPMENT:
"Development of Human cloned Blastocysts Following Somatic Cell Nuclear Transfer (SCNT) with Adult Fibroblasts,"
Andrew J. French [1*], Catharine A. Adams [2], Linda S. Anderson [2], John R. Kitchen [3], Marcus R. Hughes [3], and Samuel H. Wood [4]
Stem Cells (on-line January 17, 2008).

1. Stemagen Corporation
La Jolla, CA; USA
2. The Reproductive Sciences Center
La Jolla, CA; USA
3. Genesis Genetics Institute, LLC
Detroit, MI; USA
4. Stemagen Corporation
La Jolla, CA; USA
The Reproductive Sciences Center
La Jolla, CA; USA
* To whom correspondence should be addressed. E-mail: afrench@stemagen.com

Submitted on April 4, 2007; Accepted on January 3, 2008
Abstract:
Nuclear Transfer Stem Cells (NTSC) holds considerable promise in the field of regenerative medicine and cell-based drug discovery. In this study, a total of 29 oocytes were obtained from three young ([20 24] yo) reproductive egg donors who had been successful in previous cycles. These oocytes, deemed by intended parents to be in excess of their reproductive needs, were donated for research without financial compensation by both the egg donor and intended parents after receiving informed consent. All intended parents successfully achieved ongoing pregnancies with the oocytes retained for reproductive purposes. Mature oocytes, obtained within 2 hours following transvaginal aspiration, were enucleated using one of two methods, extrusion or aspiration, after 45-min. incubation in Cytochalasin B. Rates of oocyte lysis or degeneration did not differ between the two methods. Somatic Cell Nuclear Transfer (SCNT) embryos were constructed using two established adult male fibroblast lines of normal karyotype. High rates of pronuclear formation (66%), early cleavage (47%) and blastocyst (23%) development were observed following incubation in standard IVF culture media. One cloned blastocyst was confirmed by DNA and mtDNA fingerprinting analyses and DNA fingerprinting of two other cloned blastocysts indicated they were also generated by SCNT. Blastocysts were also obtained from a limited number of parthenogenetically activated oocytes. This study demonstrates, for the first time, that SCNT can produce human blastocyst stage embryos using nuclei from a differentiated adult somatic cell, and provides new information on methods that may be needed for a higher level of efficiency for human therapeutic cloning.

_______________________________________
Key Words: egg donation, therapeutic cloning, human, embryo, somatic cell nuclear transfer, oocytes, blastocysts

Refs.:

1. Terri Somers, "Successful Embryo Cloning Documented: S.D. Firm's Work Major Step toward Creating Stem-Cell Lines," San Diego Union-Tribune (January 17, 2008).

2. AP, "Scientists Make Cloned Embryos from Skin Cells" CNN (January 17, 2008).

3. AP, "Lab Reproduces Cloned Human Embryo Research," The Los Angeles Times, p. A17 (January 18, 2008).

4. "Early-Stage Human Embryos Cloned from Adult Cells," Nature, Vol. 451, p. 386 (January 23, 2008).
---
"Complete Organs Grown from Stem Cells"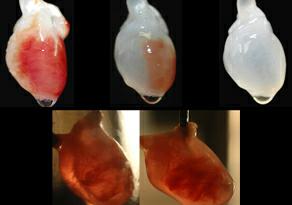 Researchers stripped cells from a rat heart and replaced them with fetal stem cells, getting them to grow into a beating "bioartificial" heart.
January 14, 2008; As published in Nature Medicine, researchers in at the University of Minnesota have fabricated a beating rat heart using fetal stem cells in an Extra Cellular Matrix [1].
Abstract:
About 3,000 individuals in the United States are awaiting a donor heart; worldwide, 22 million individuals are living with heart failure. A bioartificial heart is a theoretical alternative to transplantation or mechanical left ventricular support. Generating a bioartificial heart requires engineering of cardiac architecture, appropriate cellular constituents and pump function. We decellularized hearts by coronary perfusion with detergents, preserved the underlying extracellular matrix, and produced an acellular, perfusable vascular architecture, competent acellular valves and intact chamber geometry. To mimic cardiac cell composition, we reseeded these constructs with cardiac or endothelial cells. To establish function, we maintained eight constructs for up to 28 days by coronary perfusion in a bioreactor that simulated cardiac physiology. By day 4, we observed macroscopic contractions. By day 8, under physiological load and electrical stimulation, constructs could generate pump function (equivalent to about 2% of adult or 25% of 16-week fetal heart function) in a modified working heart preparation.
GRG Editorial: This work proves that the Extra Cellular Matrix (or ECM) is critical in establishing the growth boundaries and final dimensions of an organ. The contractility of this organ was only 2 percent of a normal rat heart for its size, so it would never function as a heart transplant for a rat in need of one. But we need to emphasize that, ultimately, our goal is not to grow complete autologous organs ex vivo, using iPS cells or whatever to populate a pig's Extra Cellular Matrix, and then implant them surgically back into the body, but to establish the rejuvenation of tissues in situ using chemokines to stimulate quiescent, pristine adult stem cells in each organ, as I speculated four years ago back in 2004. But there are also problems with this approach, as Dr. Chris Heward recently pointed out. "Adult stem cells may have knowledge of how to create a new car assuming an infrastructure of an assembly-line factory in place to manufacture cars but not the sort of exotic knowledge a classic car hobbyist uses to keep an old car in running order. Nature never had a need for that sort of knowledge, and it may not exist in natural biology, in the same sense as heart transplant surgery was never invented by Nature. Surgery is a truly exotic intervention from the point of view of evolutionary biology. But Chris's objection is only speculation as well. We'll have to try it out before we know the answer. In the mean time, any little bit of progress will be helpful toward achieving our long-term goal. - - L. Stephen Coles
Refs.:

1. Harald C. Ott, Thomas S. Matthiesen, Saik-Kia Goh, Lauren D. Black, Stefan M. Kren, Theoden I. Netoff, and Doris A. Taylor, "Perfusion-Decellularized Matrix: Using Nature's Platform to Engineer a Bioartificial Heart," Nature Medicine (January 13, 2008).

2. Lawrence K. Altman, "Researchers Create New Rat Heart in Lab" The New York Times (January 13, 2008).

3. BBC News, "'Spare-Part Heart' Beats in Lab: The stripped-out shell of a heart has been made to work again -- using brand new cells planted inside it. The new heart was grown on a basic tissue scaffold" (January 13, 2008).

4. CNN-TV (January 14, 2008; 8:55 AM PST; TRT= 2:18 min).

5. "Hearts of Dead Rats Revived," The Los Angeles Times, p. A10 (January 19, 2008).

6. Patrick Barry, "Phoenix Heart: Replacing a Heart's Cell Could Ease Transplants," Science News, Vol. 173, No. 3, pp., 35-6 (January 19, 2008).
---
"ACT Improves Yield of PGD-Derived Stem-Cell Lines"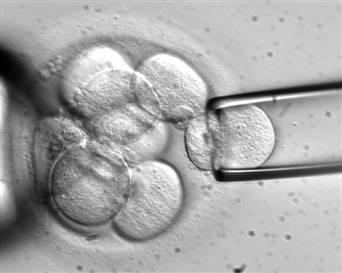 A photomicrograph shows a single cell being removed from an eight-cell-stage human embryo. The biopsied cell undergoes a procedure to make it act like an embryonic stem cell, while the rest of the embryo is allowed to continue normal development.
January 11, 2008; Extracting one out of eight cells from a Blastomere for genetic testing is called Pre-implantation Genetic Diagnosis or PGD. The remaining seven cells do just fine in producing a normal, healthy child providing that the parents decide, after the testing, to go forward with a pregnancy. According to the Society for Assisted Reproductive Technology (SART), about 5,000 IVF couples opt for PGD every year. Dr. Robert Lanza, M.D. Chief Scientific Officer of Advanced Cell Technology in Worcester, MA, reports that he has achieved an increase in efficiency of creating stem-cell lines by PGD from only 2 percent in August 2006 [1] to 50 percent today [2].
Even though this approach, in principle, does not destroy any embryos, bioethicists and politically conservative Christians still object on the grounds that this approach represents what they call the commodification of human embryos, a starting point for harvesting raw materials from young human beings. [4]
Refs:

1. I. Klimanskaya, Y. S. Chung, S. Becker, S. J. Lu, and Robert Lanza, "Human Embryonic Stem-Cell Lines Derived from Single Blastomeres," Nature, Vol. 444, No. 7118, pp. 481-5 (August 23, 2006).

2. Young Chung, Irina Klimanskaya, Sandy Becker, Tong Li, Marc Maserati, Shi-Jiang Lu, Tamara Zdravkovic, Dusko Ilic, Olga Genbacev, Susan Fisher, Ana Krtolica, and Robert Lanza "Human Embryonic Stem Cell Lines Generated without Embryo Destruction, Cell Stem Cell, Vol. 2, No. 1 (January 10, 2008).

3. Gautam Naik, "Scientists Create Stem-Cell Line," The Wall Street Journal, pp. A1, B4 (January 11, 2008).

4. Karen Kaplan, "Stem Cells Created, with Embryos intact," The Los Angeles Times, p. A15 (January 11, 2008).

5. "Embryos Survive Stem-Cell Harvest: Company Urges White House To Endorse Technique," MSNBC.COM . (January 10, 2008).

6. Colin Nickerson, "Firm Says It Can Get Stem Cells with No Harm to Embryos: Massachusetts Company Challenges Bush To Approve Lines," The Boston Globe (January 11, 2008).

7. "Stem Cells: Potent Alternative: Reverse-Engineered Human Stem Cells May Leapfrog the Embryonic Kind," Scientific American, Vol. 298, No. 2, pp. 16,18 (February 2008).

8. Masato Nakagawa, Michiyo Koyanagi, Koji Tanabe, Kazutoshi Takahashi, Tomoko Ichisaka, Takashi Aoi, Keisuke Okita, Yuji Mochiduki, Nanako Takizawa, and Shinya Yamanaka, "Generation of Induced Pluripotent Stem Cells without Myc from Mouse and Human Fibroblasts," Nature Biotechnology, Vol. 26, No. 1, pp. vii, 101-6 (January 2008).
---
"Chinese Piglets Glow Green in UV Light"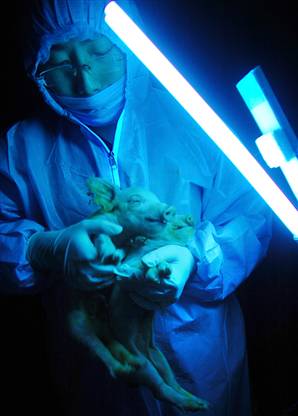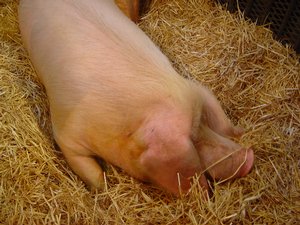 Two of eleven piglets show that they possess Green Fluorescent Pigment (GFP) under UV light in Harbin, China. "A transgenic pig gave birth to eleven piglets," China Daily said.
Wednesday, January 9, 2008; Beijing, CHINA (China Daily/Reuters) -- A cloned pig whose genes were altered to make it glow fluorescent green has passed on the trait to its young, a development that could "lead to the future breeding of pigs for human transplant organs," a Chinese University reported. "The glowing piglets' birth proves transgenic pigs are fertile and able to pass on their engineered traits to their offspring," according to Prof. Liu Zhonghua, who oversees the breeding program at Northeast Agricultural University.
Refs.:

1. MSNBC.

2. "Little Green Piglets Could Aid Humans," The Los Angeles Times, p. A15 (January 12, 2008).
---
Click for News Items from 2007.