Don Daniel Guzmán-Garcia [February 6, 1897 - May 21, 2008]
"Daniel Guzmán Garcia's Life, a 111-Year Legacy for Science" [*]
May 23, 2008; Bogota, COLOMBIA (El Tiempo) -- A medical scientist from the United States, with support from the Department of Pathology at the Universidad del Valle in Cali, performed a full autopsy in a continuing search for the secrets of longevity.
When his wife was dying back in December of 1994, Daniel Guzmán- Garcia told his nine children that he would live for other 13 years. He surprised them all when his prediction was exceeded, and he passed away at age 111 years, 5 months. And for all, he left an important legacy.
This Supercentenarian from the State of Tolima enjoyed wearing bow ties and was highly conservative. A full autopsy was performed in order to learn the basis for his extreme longevity. For this reason, an American doctor from Los Angeles, California; USA, Prof. L. Stephen Coles, M.D., Ph.D. flew to Cali, where Sr. Guzman lived during his last years. Coles, a physician with a specialty in Gynecology and Obstetrics, also has a doctorate in Mathematics. He came to Colombia as part of a team of scientists at the University of California in Los Angeles (UCLA) who travel around the world with the support of The Supercentenarian Research Foundation (SRF), whose charter it is to investigate the basis for extreme human longevity.
Don Daniel, born February 6, 1897 in Villa Hermosa, was officially validated as a Supercentenarian by the Gerontology Research Group (GRG) last year. Supercentenarians are persons who have reached or surpassed the age 110 years. For this reason, after his last birthday, they took blood samples that were sent to a university in the United States for genetic analysis.
His family, social, and medical history were reported by one of his Sons, Mr. Néstor Guzmán, of Scottsdale, Arizona; USA. It was remarkable that Little Dan, as he liked to be called, did not suffer from any major diseases; furthermore, he was capable of walking on his own without the need for a walker or a wheel chair. His only handicap was deafness, but his children were able to the answer all of the questions. This son of Villa Hermosa (in the State of Tolima) led a full life: He attended a theological seminary [as a student for the priesthood], was a Bull Fighter, a Billiard Player, a Lawyer, a Judge, a Councilman, and even the Mayor of his town.
He attributed his longevity to having grown up near the snowed-covered mountains of Ruiz, enjoying thick hot chocolate, taking long walks, and the gentle breezes from the South of Cali. But, mainly, not to speak poorly of anybody. "I walked a lot, and I never said bad things about people," he said.
Just ten days ago, he rose to have his breakfast and he fainted, according to one of his daughters, Beatriz. They took him by ambulance to a nearby hospital (Valley of the Lily Foundation). He apparently suffered a massive stroke -- a Cerebral Aneurism (an pathological expansion of a left artery in the brain). He was quickly placed in intensive care at the hospital. After a few days, he improved somewhat, but on Wednesday he passed away quietly.
Fulvio Guzmán said that, along with all his brothers, the family decided that his long life should go toward making a contribution to science and medicine. For that reason, the Department of Pathology of the Universidad del Valle took possession of the body, which was refrigerated.until Friday morning, when Dr. Coles, along with a local Chief of Anatomical Pathology, performed the autopsy with the help of three Pathology Residents and technicians. A total of 25 tissue samples were obtained (heart, lung, skin, brain, liver, etc.) for further microscopic analysis to ascertain the true cause of death.
Dr. Coles has performed a total of six autopsies on Supercentenarians so far. Another one of his patients came from South América [Maria Capovilla from Guayaquil, ECUADOR]. Dr. Coles expressed his belief that the secret of longevity lies in our genes.
At the funeral on Saturday, the family offered many thanks for all the years they had with Don Daniel while he was still healthy. They included his 9 children, 19 Grandchildren, and 20 Great-grandchildren. They will never forget this man with his white hair; in their view, he did not really die, but only remains asleep.
_______________________
* Translation from Spanish to English was carried out by Mr. José Salgado of Caracas, VENEZUELA. Click for this story in Spanish from El Tiempo.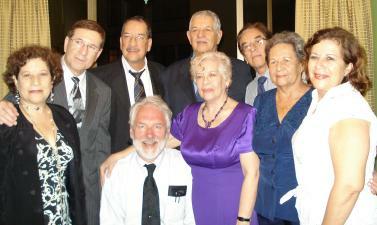 Four sons and four daughters of Don Daniel with Stephen Coles (seated).