The Turk, A Chess Automaton Recently Reconstructed and Exhibited in Los Angeles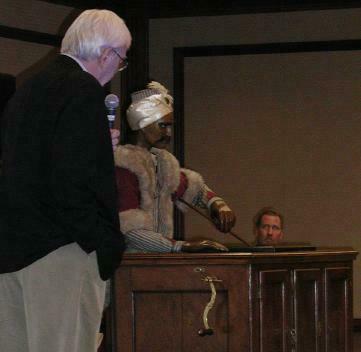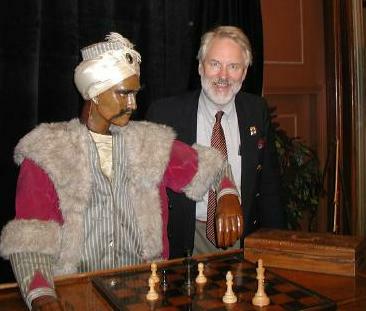 The Turk, the famous Chess Automaton was recently reconstructed and exhibited in Los Angeles by Mr. John Gaughan on Wednesday, August 6, 2003 at the Radisson Hotel near the LAX Airport. The Audience included players from The US Open in connection with its 104th Tournament ( uschess.org). On Thursday, Dr. Gerald M. Levitt of Florida gave a one-hour PowerPoint slide presentation describing all the excellent chess players who were recruited to surreptitiously direct The Turk. Contrary, to false information speculated about by others in various publications, the director of The Turk was never a midget or a dwarf. A normal-sized man could comfortably fit in the clockwork providing he was properly instructed in what to do.[2]
This ingenious deception, created in1769, has had a long and checkered past. The original Turk was built by a Hungarian engineer, Baron Wolfgang von Kempelen, and played all over Europe for decades. It arrived in the USA in 1840 and was purchased by Dr. John Mitchell, M.D., a Professor of Medicine and Surgery at Jefferson Medical College and President of the first Philadelphia Chess Club for $400. Mitchell assessed each of his members $10. Sadly, The Turk perished in a fire in 1854 where it was stored at a museum in Philadelphia. Since then, the details of its actual operation have remained a secret with lots of false speculation [4].
Mr. John Gaughan, whose company makes illusions for professional magicians, spent the last 20 years examining blue prints and photos from all over the world, restoring the Turk in his spare time [1]. The original Turk performed before Napoleon, Frederick The Great, Catherine The Great, Benjamin Franklin, Philidor, and Edgar Allan Poe.
References:

1. Sondra Farrell Bazrod, "The Sorcerer's Appliances" John Gaughan's Wizardry Will Make You Believe in Magic," The Los Angeles Times Sunday Magazine p. 10 (January 5, 2003).

2. Gerald M. Levitt, The Turk, Chess Automaton (McFarland & Company, 2000).

3. Tom Standage, The Turk: The Life and Times of the Famous Eighteenth-Century Chess- Playing Machine (Walker and Company; 2002).

4. Edgar Allan Poe, "Maelzel's Chess Player" The Works of Edgar Allan Poe in Eight Volumes, Vol VI, Miscellaneous Essays and Marginalia, etc., pp. 1-31 (J. B. Lippincott Company, Philadelphia, PA; the publication date was not printed; Owner's Note: This book was purchased in a second-hand book store in Massapequa, NY for 35 cents! in 1956, and it was already old at that time).
_________________________________________________
By the way, Mr. Garry Kasparov, the world's highest-ranked Grandmaster will play an exhibition match against Deep Fritz, a PC computer program, in New York in November 2003. Kasparov tied a match, 3-3 with a rival program known as Deep Junior in February. Deep Fritz's brief career includes a 4-4 tie against World Champion Valdimir Kramnik. These programs can be purchased over the Internet on CD-ROM for very reasonable prices on the order of $US 50. How would have thought that just ten years ago?