OBITUARY:
"Susie Potts Gibson, 115; One of Oldest U.S. Women Attributed Longevity to Vinegar and Pickles"
by
Mary Rourke, LA Times Staff Writer, p. B15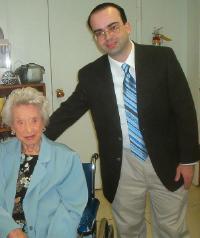 Mrs. Susie Gibson with
Mr. Robert Young, GRG Senior Claims Investigator [*]

February 18, 2006; Susie Potts Gibson, the youngest of three U.S. women verified to be 115, died Thursday, according to Nancy Paetz, a Granddaughter. Gibson died of natural causes at an assisted-living facility in Tuscumbia, AL, where she was a resident from about 106, Paetz said. For many years before that, Gibson lived alone in the house that had been her home for about 80 years.

She died three days after another 115-year-old woman, Bettie Wilson Elizabeth Bolden of Memphis, TN, the oldest of the three by one month, survives her younger peers.

With Gibson's death, Bolden becomes the second-oldest person in the world with documentation, according The Gerontology Research Group of Los Angeles. The oldest living person, also a woman, is 116-year-old Maria Capovilla of Ecuador.

Born Susan Potts, October 31, 1890, in Corinth, MI, Gibson was the child of a banker, Paetz said. Among her memorable experiences as a young woman was a cross-country trip she vividly recalled winning in 1912. She said she was in a movie theater in California when an announcer interrupted the show to tell the audience that the Titanic was sinking off the coast of Newfoundland.

She married James Gibson, a pharmacist, and the couple moved to Sheffield, Ala. Gibson outlived her husband as well as their son, James. When Gibson was 90, she still took her boat out alone to go fishing, Paetz said. She also enjoyed hosting bridge parties at her home and did all the cooking. She gardened and stayed active with the women's group at her church.

Asked the secret to a long life, Gibson recommended frequent doses of vinegar. She put it on turnip greens and nearly everything else, Paetz said. She also advised eating pickles. Paetz, however, said Gibson's longevity had to do with her basic rule about spending time. "My grandmother put things in two pots: what she had to do and what she wanted to do," Paetz said. "Most of the time, what she wanted to do took priority. As a result she was happy.

Gibson is survived by two grandchildren and four great-grandchildren.

__________________________
* Mr. Young writes, "I attended the funeral for Mrs. Susie Gibson, and the headstone made for her when her husband died in 1955 gave her year of birth as "1889." Social Security listed her as born in 1889 as well; Susie, herself, also said she was born in 1889. Unfortunately, the family couldn't provide a Birth Certificate and hasn't located the family Bible, though they insist it probably still exists in somebody's attic. 1890 comes from the 1900 and 1920 Census Records.

If Susie were born October 31, 1889, she would have been the 'Oldest Living American' since October 5, 2003 (the passing of Elena Slough, whose own claim to 1888 was belied by the 1900 Census listing of "1889."). That is, Susie would have been older than Charlotte Benkner [November 16, 1889 - May 14, 2004], Emma Verona Johnston [August 6, 1890 - December 1, 2004], and Elizabeth Bolden (born August 15, 1890), currently recognized as the Oldest Living American.

The Bottom Line: Even though Susie is listed as 115 yo, she may very well have been the 'Oldest-Living American' for more than two years, almost a year older than Elizabeth Bolden and Bettie Wilson. However, unless and until this "long-lost" family Bible is located, her age will remain 115 on paper; nevertheless, news stories should take note that she could well have been one year older if these inconsistencies could be resolved. [Editor's Note: It is the policy of the GRG that whenever there is an ambiguity in the documentation of any particular case regarding date of birth, we always go with the most conservative (recent) date, so as to be on the safe side.]
---
OBITUARY:
"Woman Listed as World's Third-Oldest Person Dead at 115 or 116"
February 17, 2006; Tuscumbia, AL (AP) Susie Gibson, a North Alabama woman widely recognized as the third-oldest person in the world, has died of heart failure at a nursing center. She was 116 years old by her count, or 115 yo by Census Records. Whichever, she said her secret to longevity was her craving for pickles; she claimed Sam Houston as her third cousin.
Gibson, who died early Thursday, was a popular resident at Sunbridge Care and Rehabilitation Center in Tuscumbia, where she offered vivid recollections of younger days and events. "She was an amazing person, and she lived a great life," Gibson's Granddaughter, Nancy Paetz, told the TimesDaily of nearby Florence that reported the death in a story Friday.
According to The Gerontology Research Group in Los Angeles, which listed her as 115 years old, Gibson was the third-oldest living person in the world at the time of her death, behind Ecuador's Maria Capovilla and Elizabeth "Lizzie" Bolden of Memphis, TN.
"There has been some dispute about Gibson's age among age researchers," The TimesDaily said. Gibson said she "was born October 31, 1889, but researchers officially recognize her birth as October 31, 1890, citing Census Data. So by her count, Gibson died at the age of 116, but researchers officially list her age as 115. Going by the date-of-birth she claimed, Gibson was the oldest person in America and the second-oldest person in the world at the time of her death.
"She loved the fact that she was close to being the world's oldest person," said Sunbridge Nursing Director Teresa Dailey. Dailey said Gibson, who was from nearby Sheffield, was delighted when Sheffield Mayor Billy Don Anderson visited her and when she was mentioned in the book, " Earth Elders: The Wisdom of the World's Oldest People."
Bill Bedsole, Gibson's Minister, said she often told him that "the secret to her long life was that she ate dill pickles." She took extra care of the five-gallon jars of pickles Bedsole often bought her as a gift. Teddy Roosevelt was her favorite President. She said her third cousin was Sam Houston, who fought for Texas independence in the 1830's and was Governor of two states. She said his bed was one of her prized possessions.
Once, The TimesDaily recounted, she was on the same train as former first lady Eleanor Roosevelt. A man on the train, who'd had a little too much to drink, took one look at Roosevelt and said, "You're the ugliest woman I've ever seen." Gibson said that Roosevelt looked at the man and said, "You're the drunkest man I've ever seen."
Gibson had one Son, who predeceased her. Her Daughter-in-law, two Granddaughters, and four Great-Grandchildren survive her.
______________________________
Ref.: TimesDaily.