NEW GRG SUPERCENTENARIAN RESEARCH AND DATABASE DIVISION HOME PAGE
By definition, a supercentenarian is anyone who has been validated to have lived to be 110 years or older. Verified supercentenarians have multiple documents throughout their life course to prove their age, including, at minimum, one early-life document; one mid-life document; and one late-life document. Further, the documents must be reviewed to show sufficient matching points in order for the case to be determined to be "validated." SSA Study cases, for example, were validated by early-life census matches, mid-life social security records, and late-life NDI (National Death Index) records. Less than one-third of supercentenarian claims to age 110+ are validated and less than 2% of claims to 115+ are validated.
---
Please click here to find the GRG World Supercentenarian Rankings List.
---
The formerly named Table EE has been renamed as GRG Pending Cases List, so please find the updated link here:
GRG Pending Cases
---
Other recognized scientific authorities in the field of extreme age validation include Guinness World Records, the Max Planck Institute for Demographic Research, and the International Database on Longevity (IDL). The Gerontology Research Group is credited as a contributor to the IDL.
If you would like to see the historical supercentenarians page, you can still find this page HERE.
---
Please click here to find the GRG Admin Team.
---
SUPERCENTENARIANS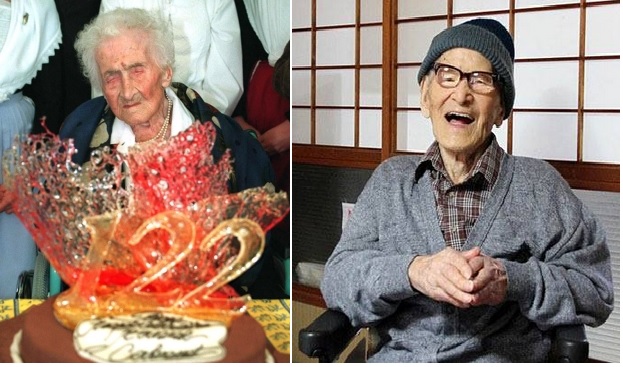 ---
Jeanne Calment, 122, World's Oldest Person (and Woman) Ever
Jeanne Calment at age 122, at a French film shoot with a "clap board."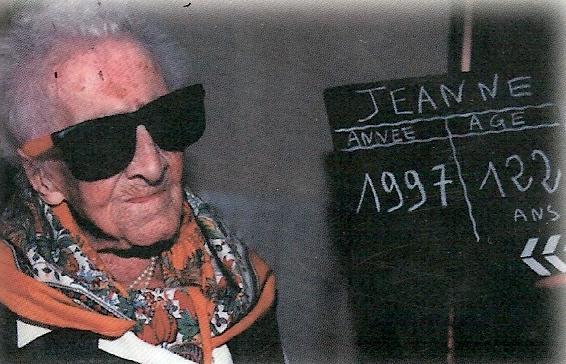 Link to the Jeanne Calment validation: www.demogr.mpg.de/books/odense/6/09.htm
Jeanne Louise Calment was born in Arles, Provence-Alpes-Cote d'Azur, France on February 21, 1875 and died in the same place on August 4, 1997 at the phenomenal and unrivalled age of 122 years, 164 days. She became the oldest living person in France on June 20, 1986, following the death of Eugenie Roux. On July 18, 1987, she passed the final age of Eugenie Roux and became the oldest French person ever. On January 11, 1988, she became the oldest verified living person in the world, following the death of Florence Knapp. On May 12, 1990, she passed the final age of Augusta Holtz and became the oldest verified person ever. On October 17, 1995, she passed the then accepted final claimed age of the now disputed Shigechiyo Izumi and was recognised by Guinness as the oldest person ever. Calment was the first fully verified person to reach the ages of 116, 117, 118, 119, 120, 121 and 122. She was the last living verified person born in the 1870s and also outlived everyone born in 1881. In the two decades since her death, no one has come within three years of her final age and just one person has come within four and a half years.
Calment's reign as the World's Oldest Person lasted a record nine years and six months. Since 1964, no one else has held this title for three and a half years. She was a member of the top 10 oldest living people for a record 11 years, 195 days. No one else who entered the top ten in their supercentenarian years has lived for seven years among the top 10 oldest living people. Calment broke the record for longest confirmed lifespan by over seven years. Before Calment, the only person who had surpassed a former longest confirmed lifespan by more than one year was Delina Filkins, who passed away in 1928 after surpassing the then longest confirmed lifespan by just over two years.
Exceeding what scientists had long considered to be the absolute limit of human longevity, Calment establishes the record as the most-verified supercentenarian ever recorded. Beginning with the 1876 census in which Calment is listed as a one-year-old, she was indexed within sixteen census documents until 1975, and seven further documents were identified to corroborate her claim.
Calment was the daughter of a wealthy shipbuilder. She attended school between the ages of seven and sixteen, passing the Brevet in her final year. Calment learned piano from the age of seven and went to Marseilles for advanced lessons after discovering she had an aptitude for it. In about 1885, her father named one of his ships "La Jeanne" after his daughter. In 1888, at the age of 13, Calment met Vincent van Gogh when he visited her father's fabric shop to buy canvas. She described him as "dirty, badly dressed and disagreeable", and "very ugly, ungracious, impolite, sick." In 1896, at the age of 21, she married her double second cousin, Fernand Calment, a affluent store owner. Their only child, a daughter named Yvonne Calment, was born in 1898. Their wealth ensured Calment never had to work. Instead, she pursued an active and leisurely lifestyle incorporating hobbies such as tennis, cycling, swimming, mountain excursions, piano and opera.
After her daughter died from pneumonia in 1934 at the age of just 35, she raised her only grandchild, Frederic Billiot, who subsequently became a doctor. Her husband passed away in 1942 at the age of 73 after eating a dessert prepared with spoiled cherries. Her grandson died in an car accident in 1963 at the age of 36.
In 1965, aged 90 and with no heirs, Calment signed a deal to sell her apartment to lawyer Andre-Francois Raffray. Raffray, then aged 47, agreed to pay her 2,500 francs per month in return for ownership of the apartment upon her death. By the time Raffray died in 1995 at the age of 77, he had ended up paying Calment the equivalent of over $180,000 (more than double the value of the property) for an apartment he never got to live in. When asked about this deal in 1995, Calment commented "In life, one sometimes makes bad deals."
Calment remained in spectacular health for her age throughout her entire life. In 1960, at the age of 85, she took up fencing. She was still running and riding her bicycle at the age of 100. She continued to do gymnastics and play the piano until at least the age of 109. Calment lived independently until shortly before her 110th birthday, when she moved into a retirement home after a cooking accident started a small fire in her house. However, Calment was still in incredible shape, and continued to walk until she fractured her femur during a fall at age 114 years 11 months, which required surgery. In doing so, she became the oldest person ever to undergo and survive an operation. After her operation, Calment needed to use a wheelchair. A woman of very strong character, she refused to accept the timetables imposed upon her and succeeded in adapting the retirement home to her wishes. Calment smoked cigarettes from the ages of 21 to 117, although she was believed to consume no more than two cigarettes per day towards the end of her life.
In 1988, aged 113, Calment's international fame escalated when reporters descended upon Arles to commemorate the centenary of Vincent van Gogh's visit. Calment recalled selling coloured pencils to Van Gogh, and seeing the Eiffel Tower being built. At the age of 114, she played herself in the 1990 film Vincent and Me, becoming the oldest person ever to appear in a film. In 1992, at the age of 117, she conducted a two and a half hour interview with the lucidity of a healthy octogenarian. At the age of 118, a Mental Status Examination and CT Scan showed her performance on tests of verbal memory and language fluency to be comparable to that of persons with the same level of education in their 80's or 90's. On her 120th birthday in 1995, when asked about her vision of the future, she replied: "Very brief." 1995 also saw the release of Beyond 120 Years with Jeanne Calment, a documentary film about her life. In 1996, Time's Mistress, a four-track CD featuring Calment reminiscing over a background of rap and dance music, was released. On her 122nd birthday on February 21, 1997, it was announced that she would make no more public appearances, as her health had seriously deteriorated. Jean-Marie Robine, the French demographer and gerontologist who helped verify her age, said that this "allowed her to die, as the attention had kept her alive." Calment died on August 4, 1997, at 22:45 Central European Time. She remained mentally intact until her very end.
Calment ascribed her longevity and amazingly youthful appearance for her age to a diet rich in olive oil (which she also rubbed onto her skin) "All my life I've put olive oil on my skin and then just a puff of powder. I could never wear mascara, I cried too often when I laughed." Calment also recommended laughter as a recipe for longevity and joked that she had "never had but one wrinkle, and I'm sitting on it," and "God must have forgotten about me." She further credited her calmness, saying, "That's why they call me Calment." She once said "If you can't do anything about it, don't worry about it." She also recommended a diet of port wine, and ate nearly one kilogram of chocolate every week. Please visit here for her Photo Gallery.
Link to the Jeanne Calment validation: www.demogr.mpg.de/books/odense/6/09.htm
Jiroemon Kimura, 116, World's Oldest Man Ever
Jiroemon Kimura at age 115, (pictured right) living with the 59-year-old wife of his grandson in Kyotango, Kyoto Prefecture on Dec. 9, 2012.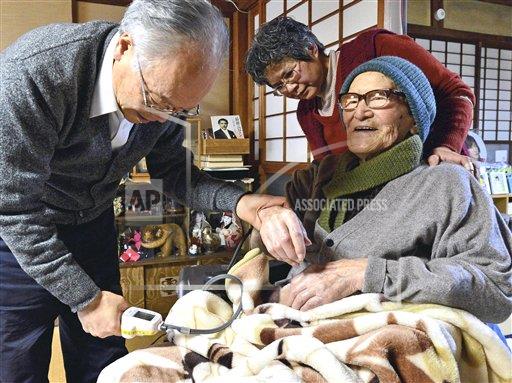 Jiroemon Kimura was born on April 19, 1897 and died on June 12, 2013 at the age of 116 years, 54 days. On June 19, 2009, he became the oldest living man in Japan, following the death of Tomoji Tanabe. On April 14, 2011, he became the oldest living man in the world, following the death of Walter Breuning. On October 26, 2011, he passed the final age of Yukichi Chuganji and became the oldest Japanese and Asian man ever. On December 2, 2011, he became the oldest living person in Japan following the death of Chiyono Hasegawa. On December 17, 2012, he became the oldest verified living person in the world, following the death of Dina Manfredini. On December 28, 2012, he surpassed the final age of Christian Mortensen and became the oldest verified man ever. On April 19, 2013, he became the first verified man to reach the age of 116. On May 23, 2013, he became the last known living man born in the 19th century, following the death of James Sisnett.
As the oldest man ever recorded, Jiroemon Kimura's case was verified by Hamish Todd, Ken Matsuoka and the Japanese Ministry of Health, Labour and Welfare. His case was subsequently double checked by the Supercentenarian Research Foundation who found the case to be fully verifiable.
Kimura was born as Kinjiro Miyake in the fishing village of Kamiukawa. At the age of 14, he left school after coming second in his class. At the age of 17, he began working in the local post office. In the 1920s, Kimura worked for some time as a government communications officer in Korea under Japanese rule. Upon his return from Korea, Kimura married Yae Kimura, with whom he was to have seven children. As his wife's family lacked a male heir, he changed his name to Jiroemon Kimura, becoming the ninth member of the family to bear that name. In 1927 Kimura survived the 7.6 magnitude Kita Tango earthquake that hit Kyoto and killed over 3,000 people.
Kimura retired in 1962 at the age of 65, after 45 years as a post office worker. He then helped his son farm until the age of 90. In the 1960s, Kimura built a two-story wooden house in Kyotango, Kyoto Prefecture. He was to live in this house for the rest of his life. His wife died in 1978 at the age of 74.
In his supercentenarian years, Kimura lived with and was cared for by Eiko Kimura, his grandson's widow. He woke up early in the morning and read newspapers with a magnifying glass. He also enjoyed chatting to guests and watching live parliamentary debates on television. He enjoyed a good appetite into extreme old age and was particularly fond of red bean cake and rice. Eiko Kimura described him as "positive and optimistic".
On his 115th birthday, when asked for the secret to his longevity, Kimura said "Maybe it's all thanks to the sun above me. I am always looking up towards the sky, that is how I am." By October 2012, when Kimura was aged 115 years, 6 months, he remained lucid and could communicate clearly but spent most of his time in bed. When Kimura broke the male longevity world record in December 2012, his nephew Tamotsu Miyake said in an interview "He has an amazingly strong will to live. He is strongly confident that he lives right and well." At this time, he still enjoyed a regular breakfast consisting of porridge and miso soup with potatoes and vegetables. On his 116th and final birthday, Kimura received a video message from Shinzo Abe, the Prime Minister of Japan. He was hospitalized for pneumonia on May 11, 2013.
Kimura died from natural causes at 2:08 AM on June 12, 2013, in a hospital in his hometown of Kyotango, Kyoto Prefecture, Japan. He was survived by five of his seven children, 13 grandchildren, 25 great-grandchildren and 15 great-great-grandchildren. His youngest brother, Tetsuo, reached the age of 100.
According to a family member, Kimura was actually born on March 19, 1897 but his birthday was recorded as April 19, 1897 by mistake in 1955 when records from neighboring towns were consolidated and re-done. This claim is not supported by any of the research outlined in the second paragraph above.
Kimura gave ten recommendations for a long life, namely: regular exercise, eating small portions of food, let adversity make you strong, read the news everyday, eliminate strong preferences, live without attachment, stay close to nature, have gratitude, laugh often and break life up into small parts. Please visit here for his Photo Gallery.
This Web Page and its contents are Copyright 1996-2019 by GRG Interactive. Use of this material for educational purposes or for public awareness is encouraged with the written consent of GRG Interactive. GRG Interactive complies with the US Federal Trade Commission (FTC) Policy Guidelines regarding the privacy of individuals who visit this site.