"OBITUARY: Hendrikje Van Andel-Schipper, 115; Held Title of the World's Oldest Person for 15 Months"
by
Myrna Oliver, LA Times Staff Writer, p. B11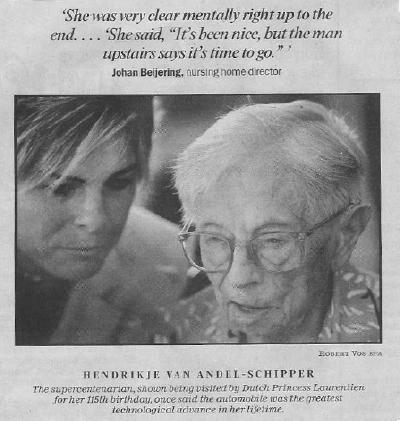 Hendrikje van Andel-Schipper, the world's oldest person, died Tuesday at a home for the elderly in Hoogeveen, Netherlands. She was 115. Louis Epstein of The Los Angeles-based Gerontology Research Group, which verifies age claims for Guinness World Records, confirmed her death for The Times and said she had held the "world's oldest" title for 15 months. Mr. Johan Beijering, Director of the Westerkim home for the elderly, told Associated Press that van Andel-Schipper died peacefully in her sleep. She had lived in the facility since she turned 106 and in the city of Hoogeveen since World War II.
"She was very clear mentally right up to the end, but the physical ailments were increasing," Beijering said. "She said, 'It's been nice, but the man upstairs says it's time to go.'" Born June 29, 1890, the woman known as Aunt Henny, "had the 15th-longest lifespan ever validated," said Epstein, who is based in New York. On her 115th birthday, she received visits from Dutch Queen Beatrix's Daughter-in-Law, Princess Laurentien [*], and a delegation from the Amsterdam Ajax Soccer Club, which Van Andel-Schipper supported for 87 years. She once complained that "other residents at the home for the elderly were hicks, who don't understand soccer."
In 2001, when she was 111, van Andel-Schipper was invited to tea with the Queen, which she considered a highlight of her life. "She was really nice," the elderly guest told the Hoogeveensche Courant newspaper afterward. "I let her ask the questions. I thought that would be best."
Epstein said "Van Andel-Schipper had agreed to be autopsied by the University of Groningen to help scientists learn more about longevity." Sickly and underweight as a child, Van Andel-Schipper was robustly healthy as an adult, and at age 100 she survived breast cancer that required a mastectomy.
Her personal advice on how to live a long life was "to eat pickled herring, drink orange juice, and keep breathing." Although she preferred riding her bicycle and never learned to drive, she once told Time Magazine that she considered the invention of the automobile the greatest technological advance in her long lifetime.
Born in Smilde, Netherlands, she taught needlework and lived with her parents until she was 47. Two years later she moved to Amsterdam and married Dick van Andel, who died of cancer in 1959. She had no children or other immediate family.
Van Andel-Schipper ascended to the longevity title after the death Ramona Trinidad Iglesias-Jordan of San Juan, Puerto Rico, on May 29, 2004. Iglesias-Jordan was thought to have been the planet's last person to die of all those born in 1889.[**]
Now the title of world's oldest person has been bestowed on Elizabeth Jones Bolden of Memphis, TN, who is 115. Her birth date of August 15, 1890, was verified for Guinness in April by Robert Young, the Atlanta-based Senior Claims Investigator of the Gerontology Research Group.
The Gerontology Research Group tracks what it calls Supercentenarians, or those over 110, to learn more about human longevity. As of Tuesday, Epstein reported, the group had verified the age of 66 [68] such persons worldwide. Only four [six] are men.
The gerontologists said it was unusual for one 115-year-old to succeed another to the title. Young told The Times last year that Van Andel-Schipper inherited the longevity title "at a mere 113," after a string of six who had been named at age 114. He said 114 is the most common maximum human lifespan.
The longest-living person on record was France's Jeanne Calment, who died in 1997 at the age of 122 years, 164 days. The world's oldest man currently is Emiliano Mercado del Toro, 114, of Puerto Rico. His birth date of August 21, 1891, was validated last year.
Although many families claim a certain relative is of a triple-digit age, Young and his fellow demography detectives are sticklers about validation. Birth Certificates for those born in the 19th century are usually rare, but the researchers use whatever records can be found such as Baptismal Certificates, Marriage Certificates, Census Data, and Military Records.
---
* She was the last person in The Netherlands born in the reign of King William III, Queen Beatrix's Great-Grandfather; all people there now have been born in the reigns of Queens (Wilhelmina, Juliana, and Beatrix).
** As I pointed out to Myrna Oliver, once I saw the story (finding that she was out for the week), the more pertinent distinction that I drew attention to was that Ramona Trinidad Iglesias-Jordan was the last survivor of THE ENTIRE DECADE OF THE 1880's, a last-of-decade survivor being one expects ten times as rare as a last-year survivor. Although less than seven years separated the deaths of Jeanne Calment (last of the 1870's) and Iglesias Jordan. I hope those born in the 1890's will be with us for a decade yet. – Louis Epstein
---
"World's Oldest Person Killed by Cancer"
September 2, 2005; Amsterdam, NETHERLANDS ( Abbey International) – -- Dutchwoman Hendrikje van Andel-Schipper, who held the title of the oldest person in the world, died this week as the result of stomach cancer. She passed away peacefully at the age of 115 years and two months in a elderly-care home in the North-Eastern town of Hoogeveen on Tuesday morning.
Van Andel-Schipper decided to leave her body to science when she was 82. Prof. Gert Holstege of the UMC University Hospital in Groningen has carried out a preliminary examination of the body. He revealed on Friday that she had not died of a "typical older-person's sickness," but apparently as a result of a stomach tumor.