Friday, July 4, 2014:
GRG Names Gertrude Weaver, 116, the New 'Oldest Living American' Titleholder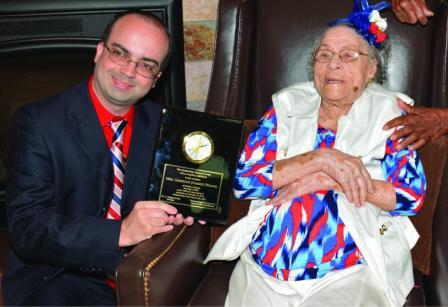 Source of photo: Camden Arkansas News (article link here)
The Gerontology Research Group of Los Angeles, California has awarded Mrs. Gertrude Weaver, 116, the title of "Oldest Living American," retroactive to December 17, 2012, when Dina Manfredini of Iowa passed away at age 115. Jeralean Talley, 115, of Inkster, Michigan, was previously thought to be the titleholder. An investigation into Mrs. Weaver's case showed that she was listed as age 2 in the 1900 census, age 17 in a 1915 marriage record, and born July 4, 1898, according to her Social Security documentation, thus meeting the three requirements of case validation: original proof of birth issued within 20 years of the birth event; proof of identification; proof of name change/proof that the person in the birth document is the person in the recent ID records.
The acceptance of Gertrude Weaver's claim to birth July 4, 1898 also displaced Mamie Rearden (114) and Elsie Thompson (113), who were briefly recognized as the GRG "Oldest Living American" titleholders in 2012-2013. While rare for an older claimant to emerge with sufficient proof of age, it should be noted that the government of the United States currently has no central registry listing this nation's oldest living citizens. Birth registration in the United States was not compulsory until 1933. Social Security records began in 1935, but these offer mid-life proof of age and later, not original proof of birth. Social Security records, while covering 95% of the current U.S. population, are also confidential until the death of the recipient. Thus, the GRG relies upon families to apply for the "Oldest Living American" title. While the GRG was aware of media reports of Gertrude Weaver from 2010, it was not until March 28, 2014 that we received an application from the family. The GRG understands that titles are "until otherwise proven".
How This Case Was Validated:
The Gerontology Research Group, via Robert Young, learned about the case of Gertrude Weaver when she celebrated her 112th birthday on July 4, 2010, stating that she was born July 4, 1898. After her 113th birthday in July 2011, we located family-tree information that allowed us to identify the potential 1900 through 1930 Census matches, located by Mark Muir. Though the census matches were not clear-cut or consistent in their report especially when a nickname was used for Gertrude Weaver (and some other family members) in the 1900 Census, it was clear as to the identity of Ms. Weaver in the 1910, 1920, and 1930 census records. However, because the oldest record, closest to the birth event, is most-likely to be correct, we wanted to focus on the potential 1900 census match. The 1900 Census was the only census to record the month of birth as well as year of birth; in her case, it said "Apr 1898", requiring further investigation as well. Comparing the 1900 and 1910 censuses, we also had evidence that her mother did not have any more children and that Gertrude was the last child. With help of others, we located her marriage record in 2012, which showed that she was listed as age "17" on her marriage application on July 17, 1915, supporting her birth year of 1898. We also located her parents' marriage record in 2013.
Ultimately, we needed to tie all of the documentation together to prove that Gertrude Weaver of 2014 was the child listed in June 1900 Census (enumerator visited on July 4, 1900) as a 2-year-old with an "Apr 1898" birth having a nickname. With help of other outside researchers, Robert Young was able to interview a family member of Gertrude Weaver in March 2014, and the information shared strongly provided sufficient evidence that Gertrude Weaver was the child listed in question on the June 1900 Census. While these earlier interviews were unrecorded, when the GRG visited Ms. Weaver's 116th birthday party in July 2014, GRG Tech Support Admin Mark Muir was able to record an interview with Ms. Weaver's 93-year-old son, Joe Weaver, and her 78-year-old granddaughter, Gracie Welch. These oral history records help to confirm that the 1900 census listing of "Touhon" Gaines was indeed Gertrude Weaver. When comparing the 1910 census, the same number of children are listed (6 living, 1 deceased), showing that the nicknames used in the 1900 census referred to the same children.
Another issue concerned whether Gertrude was, in fact, born in April or July 1898. The family, when I spoke to them, said that they heard that Gertrude was born in April 1898, as the 1900 census stated. A Social Security document (from 1961) indicated that Gertrude Weaver was recorded as being born on July 4, 1898, most likely because of the date written on the June 1900 Census ("July 4, 1900") and the fact that she was a 2-year-old girl. Another hypothesis is that the July 4 birthdate was a "manufactured" birthdate. It was common practice in the 1950s-1960s for the Social Security Administration to assign birthdates such as "January 1" (New Year's Day), "July 4" (Independence Day), and "December 25" (Christmas Day) to persons who could not provide proof of birth. Remember that the census records were then confidential (the US Census Bureau releases the records after 72 years of privacy protection). It is possible that the July 4 birthdate was assigned. To investigate this angle, the GRG contacted the Social Security Administration. While we were supplied with Social Security documents dating to as early as 1961, the original SS-5 Numident application form could not be located. We were told that the record may have been discarded as it was practice in the 1960s to throw out earlier records when modifications were made. However, it remains a hypothetical possibility that the original document might still exist. This is an area of potential further research. For the time being, the family was happy to go with July 4, 1898 as the date of birth that "could be proven true," even though it is possible that Ms. Weaver is older by about two months. That said, GRG do acknowledge that it's likely possible that Gertrude Weaver was born in April 1898 based on the 1900 Census along with family memories of her having a birthday in April. If future evidence can be found to support an exact birth date, we will investigate this further.
Even the issue of "what day in April" remains a mystery. The family has stated that the original family Bible burned in a house fire and other early-life evidence could not be located. Is there a baptismal record still out there somewhere? When dealing with a case that stretches back so far in time…in 1898, the US annexed Hawaii and Puerto Rico and fought the Spanish-American War, among other events…all the pieces of the puzzle may not be located. However, we at the GRG feel that there is sufficient remaining evidence to conclude that Ms. Gertrude Weaver is the "Oldest Living American". The 1900 census record alone is 114 years old. Mrs. Weaver was married 99 years ago. If her oldest son, Cab Weaver, were still alive, he would be 98 years of age. Since the family celebrates the July 4, 1898 birth date and the fact that Gertrude Weaver's current documentation shows that birth date, the Gerontology Research Group, concluded to validate Mrs. Gertrude Weaver as the oldest living American on her 116th birthday on July 4, 2014. Robert Young and Mark Muir were honored to be present for her 116th birthday celebration. Robert Young had the honor of awarding Ms. Weaver the "Oldest Living American" title. Mrs. Jeralean Talley[<![if !supportFootnotes]>*<![endif]>], 115, of Inkster, Michigan remains alive and though it was bittersweet to have to retract her title, we felt that the GRG's database of validated supercentenarians is about what the evidence shows.
For more details, please visit the GRG.org photo gallery on Ms. Gertrude Weaver here:
<![if !supportFootnotes]>
---
<![endif]>