GRG News for 2020
---
Robert "Bob" Weighton of the UK, 112, recognised as World's Oldest Man by the Guinness World Records
Robert Weighton carrying the official GWR certificate (Mar. 30, 2020):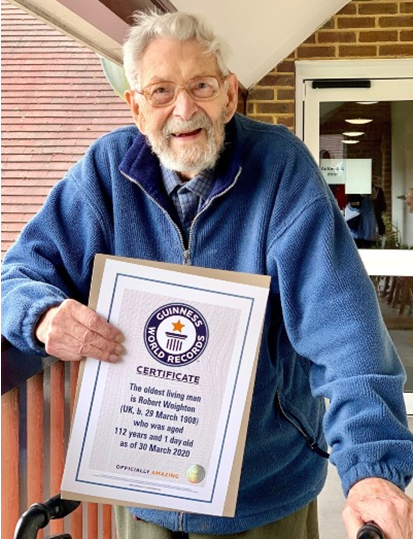 By Oliver Thorpe, Waclaw Jan Kroczek, and Robert Young
Apr. 4, 2020: Guinness World Records has officially awarded the "oldest living man" title to 112-year-old Robert "Bob" Weighton of England, UK. Due to the COVID-19 pandemic, Mr. Weighton, who lives in Alton, Hampshire, was not able to receive a visit from a GWR official. Instead, he was presented with his certificate by the staff at the assisted living facility where he resides. He was also given a rendition of "Happy Birthday" to celebrate turning 112 the previous day. Mr Weighton, was born in Kingston-upon-Hull, Yorkshire, England, UK, on March 29, 1908. After graduating, he took up a marine engineering apprenticeship. After qualifying, Weighton moved to Taiwan to teach at a missionary school, although he first had to spend two years in Japan learning the language. In 1937, Weighton married his wife, Agnes, a teacher he had known since they studied together in England. After marrying in Hong Kong, they returned to Taiwan, where their first child, David, was born. The family decided to return to the United Kingdom in 1939, but were diverted to Toronto, Canada, due to the onset of the Second World War. While in Canada, the couple had two more children, Peter and Dorothy. Weighton later moved to Connecticut, United States, and worked in a factory that made aeroplanes for Britain to help them fight the war. He also worked closely with the American Secret Service. He later moved to Washington, and then back to England after the war had ended, eventually taking on a teaching position at City University, London. Weighton and his wife moved to Alton, Hampshire, England in 1973. Agnes died in 1995, and their son, Peter, died in 2014. Robert Weighton apparently became the world's oldest living man following the death of 112-year-old Chitetsu Watanabe of Niigata Prefecture, Japan, on February 23, 2020. This was confirmed March 30, 2020 by Guinness World Records, after an investigation.
The GRG considers the Robert Weighton case validated as of Apr. 4, 2020. However, the case is not yet ranked because there are several months' worth of older female cases in process and to prematurely add this case to the GRG World Rankings due to gender alone would be selection bias, and not what the scientific method supports. Therefore, the case is considered individually validated but not yet among the GRG World Rankings. In short, he is currently too young at the moment to be ranked within the context of the GRG WSRL. If Mr. Weighton is still alive when his proper case processing turn comes, he will then be put on the GRG World Rankings at the appropriate time.
The current GWR and GRG Oldest Living Person is Kane Tanaka, 117, of Japan. The GWR and GRG Oldest Man Ever was Jiroemon Kimura of Japan (age 116 in 2013) and the GWR and GRG Oldest Person ever was Jeanne Calment of France (age 122 in 1997).
---
Chitetsu Watanabe, GWR and GRG-validated World's Oldest Man, dies at 112
Chitetsu Watanabe during the official GWR recognition (Feb. 12, 2020):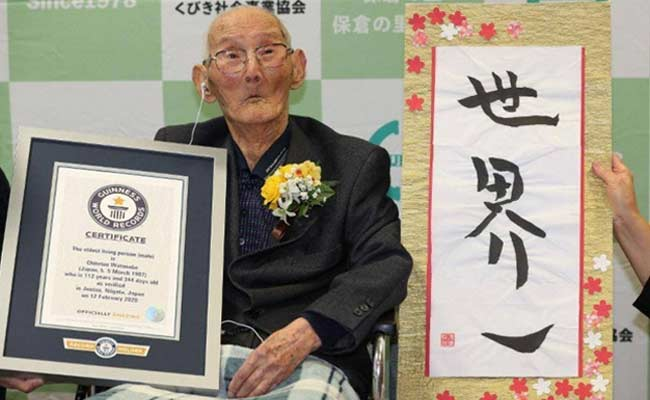 Feb. 25, 2020; The Gerontology Research Group is saddened to inform that the world's oldest living man, Chitetsu Watanabe, has passed away in Japan on February 23, 2020 at the age of 112, as reported by the Niigata prefecture government. Watanabe, who was residing at a nursing home in Niigata, was born on March 5, 1907. He was officially confirmed by the Guinness World Record as the oldest living man on February 12, 2020. According to the Guinness World Records, he was born in Niigata and later moved to Taiwan in order to work on a sugar cane plantation. After his return to Japan he worked as an employee at an agricultural office in Niigata until his retirement. Watanabe died before he could claim the title of the oldest man ever. That record is held by Jiroemon Kimura of Japan (1897-2013) aged 116 years and 54 days. In an interview for a local newspaper in January 2019, Watanabe said his secret to longevity was "not to get angry and keep a smile on your face."
---
---
Click here to return to the GRG News page