GRG News for 2019
---
Jeanne Calment "rehabilitated" as world's oldest person ever
Jeanne Calment passed away in August 1997 at the verified age of 122 years and 164 days. The Guinness Book of World Records recognised her feat. Michel Allard, a French doctor with the Ipsen Foundation, and Jean-Marie Robine, a demographer and research director for the French life sciences institute Inserm, interviewed Calment 30 times in the early 1990s. After years of research, they published their first article on Calment, titled The Oldest Human, in Science magazine. Their article set the Gold Standard in supercentenarian validation, with Calment establishing the record as the most-verified supercentenarian ever recorded. Beginning with the 1876 census in which Calment is listed as a one-year-old, she was indexed within sixteen census documents until 1975, and seven further documents were identified to corroborate her claim.
Then in December 2018, Valery Novoselov, a Russian gerontologist, and his compatriot Nikolay Zak, a mathematician who worked as a glass-blower in a chemical laboratory, challenged Calment's claim to the title in an article in the US review Rejuvenation Research. Jeanne Calment was a fraud, the Russians asserted. The woman who died in 1997 was in fact Calment's daughter, Yvonne, who would nonetheless have been 99 years old.
Civil records showed that Yvonne Billot, nee Calment, died in 1934. The Russians said it was Jeanne who died, but that Yvonne assumed her identity to avoid paying inheritance tax. Zak said it was statistically impossible for Calment to have lived 122 years, particularly in such good condition. One official record listed the colour of her eyes as black. Another said they were grey. They thought it suspicious that she had not wanted to celebrate her 100th birthday, and that the 1934 death certificate was signed by a single witness.
The burghers of Arles were horrified by the Russian allegations. In a town of 25,000 people, where the Calments were well known, it would have been impossible for the daughter, who was 23 years younger than her mother, to assume her mother's identity without anyone noticing, they said.
Allard and Robine, the French doctor and scientist, struck back on Monday. Along with the Swiss gerontologist Bernard Jeune and the Danish scientist Francois Herrmann, they published an article in the Oxford University Press's Journal of Gerontology in which they debunked the Russian thesis, point by point. Using several mathematical models, the four scientists concluded there was "a significant probability that Jeanne Calment reached the age of 122". She was genetically prone to long life, since her two parents and four grandparents reached a combined age of 477 years, compared to an average of 289 years for most people.
Allard and Robine had based their findings on an unusually complete set of civil and religious archives, including personal documents, parish registries, census lists and school and military records. When Allard listened again to the interviews that he and Robine taped with Calment in the 1990s, he heard her say that Yvonne had lived in a sanatorium, possibly for tuberculosis, though the disease was considered too shameful to be named then. Jeanne said Yvonne came home to die in Arles in 1934.
Allard and his colleagues found evidence that Yvonne was treated for pulmonary illness in Leysin, Switzerland, from 1931 until 1934. They researched the military record of her husband, Col Joseph Billot, and found he had been given five years leave to care for his ailing wife. The article published on Monday seems to settle what is known in the scientific community as the JC Case, once and for all. A DNA test could provide absolute proof that the woman buried in Arles really was Jeanne Calment, and not her daughter. Calment's distant relatives refuse to see her disinterred, on the grounds the dead must be left in peace.
To read a more detailed article, please click click here.
Jeanne Calment at age 122: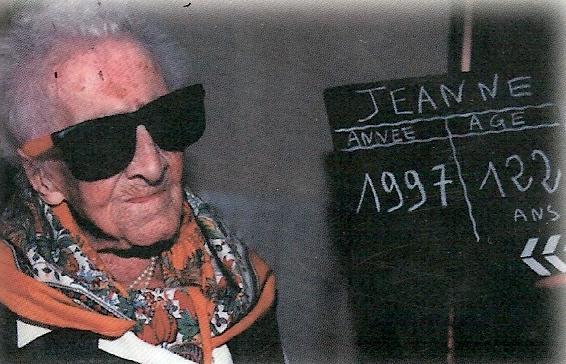 Note: "rehabilitated" was a media choice of words and in the view of the GRG, the case was never in doubt as no evidence calling the case into question had been presented. The GRG News Team are sharing this news report update on the Jeanne Calment case. In our view, the Jeanne Calment case is the best validated case with over 30+ documents and over 30 years of scientific research by multiple investigators supporting it, including those from the Max Planck Institute for Demographic Research, Rostock, Germany.
See also:
The original publication on Jeanne Calment (by Jean-Marie Robine and Michel Allard): https://www.demogr.mpg.de/books/odense/6/09.htm
The Real Facts Supporting Jeanne Calment as the Oldest Ever Human (Sept. 2019 publication): https://www.ncbi.nlm.nih.gov/pubmed/31529019
---
Tekla Juniewicz, oldest validated person ever to live in Poland, celebrates 113th birthday
By Waclaw Jan Kroczek
June 28, 2019; The Gerontology Research Group is honored to announce the 113th birthday of the Doyenne of Poland, Mrs. Tekla Juniewicz.
Tekla Juniewicz on her 113th birthday: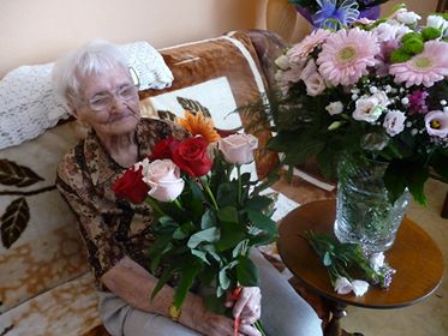 Tekla Juniewicz was born as Tekla Dadak, the daughter of Jan Dadak (son of Bazyli and Eufrozyna) and Katarzyna of the home of Szkwyrko (daughter of Bazyli and Ewa), on June 10, 1906 in the town of Krupsko. This town then was located in the Austria-Hungary; Mrs. Tekla was born, therefore, as the subject of Emperor Franz Joseph. After regaining independence (1918), Krupsko was part of Rozdol Commune, Zydaczow County, Stanislawow Voivodeship of the Second Republic of Poland. In 1945, it was joined to the USSR, and after 1991 it is in the Lviv region of the independent Ukraine.
In Krupsko, Mrs. Tekla spent the first years of her life, and two younger sisters, Rozalia and Katarzyna, were born there. Her father worked for Count Lanckoronski, mother took care of the house. Mrs. Tekla mentions her as a very beautiful woman. Unfortunately, she died during the First World War. At that time, little Tekla went to the school of Szarytki Sisters in Przeworsk, where she learned to sew, embroider, and help in the kitchen. The sisters used to call Mrs. Tekla "Kluska"; they were very good to her and replaced her mother, who she lost prematurely. After many years, she often visited them with her own daughters. In Przeworsk she also met her future husband, Jan Juniewicz, whom she married on February 28, 1927.
After the wedding, they moved to Boryslaw, where Juniewicz took a job in the earth wax mine. Despite the 22 years of difference between spouses, the marriage was very happy. In 1928 and 1929, two daughters came into the world: Janina and Urszula. Mrs. Tekla often visited Warsaw, having the opportunity to participate in parades with the participation of Jozef Pilsudski. She did not like stagnation, she was always on the move. She liked cinema, playing cards and social life. She also read a lot and practiced her own garden. A happy family life was interrupted by the outbreak of World War II. Mrs. Tekla mentioned that both wars were terrible, but the second was incomparably more, because in the first there was not the ruthlessness and mass destruction on such scale. She left her home in November 1945 when, together with her first repatriation, she and her family came to the regained territories.
Initially, they planned to settle in Walbrzych, but at the instigation of friends, they got off in Gliwice, where Jan Juniewicz got a job at the Sosnica mine. Mrs. Tekla took care of the home and raising her daughters. Her husband died in 1980 at the age of 96. Mrs. Tekla lived alone until she was 103 years old. Then her grandson Adam moved in to help her with her daily activities.
On June 10, 2016, Tekla Juniewicz turned 110, becoming the first supercentenarian in the contemporary history of Silesia Voivodship. The birthday party, in which the jubilate took part with full commitment, took place in a local restaurant in Sosnica. In June 2017, she turned 111. On July 20, 2017 111-year old Jadwiga Szubartowicz of Lublin died and Tekla Juniewicz became the oldest living person in Poland. On April 22, 2018, Tekla Juniewicz broke the national record of longevity in Poland, which belonged to Wanda Wierzchleyska of Warsaw (1900-2012), also from the Lviv region. Her age has been validated by the Gerontology Research Group on May 16, 2018. According to modern standards, the date of birth was confirmed by sources from different periods of her life. The action to find the original birth certificate from 1906 was undertaken in cooperation with the family of Mrs. Juniewicz, through the mediation of the General Consulate of the Republic of Poland in Lviv. In the document, the given name of Tekla was written in Latin as "Tecla". On June 10, 2018, Tekla Juniewicz turned 112, becoming the first person in the history of Poland to have achieved this milestone. Having passed the 113 mark, Tekla Juniewicz became the oldest person ever living in the Baltic Sea region.
Mrs. Juniewicz is a person of an unusually strong, sincere character and vitality. At 100, she traveled by bus alone to the Upper Silesian Rehabilitation Center in Tarnowskie Gory. At the age of 106, she brought coal to the first floor of the house to make fire in the oven. She watched documentary and historical films, actively participated in family life. In April, following the advice of the Silesian geriatric consultant, Dr. Jaroslaw Derejczyk, she underwent a successful bile duct operation at the Starkiewicz Zaglebie Oncology Hospital in Dabrowa Gornicza, becoming the oldest patient who underwent this procedure in full anaesthesia. In her daily diet she did not avoid greasy dishes and a large number of eggs. Nevertheless, when asked about her secret of longevity during her 111th birthday, she answered "hunger and poverty.", meaning the broad sense of moderation in every aspect of life. Specially strong bonds of love connect her with her family; for the grandson Adam, the beloved grandmother Tekla Juniewicz has always been a hero and a role model.
---
Robert Young, Director of GRG Supercentenarian Division, named as a "Top 100 longevity leader"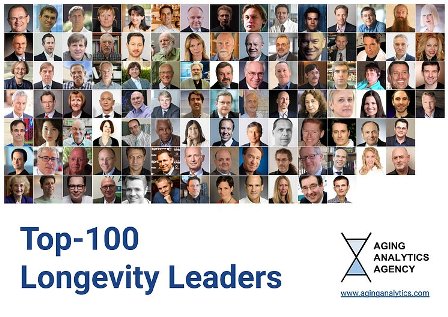 June 26, 2019; Robert Young, Director of the Supercentenarian and Database Division at the Gerontology Research Group, has been named by Aging Analytics Agency as one of the Top 100 Longevity Leaders in the world. Aging Analytics Agency's "Top-100 Longevity Leaders" is a 140-page open-access report that identifies and categorizes 100 public and private-sector professionals working to grow the Longevity landscape through their efforts in business, science, policy and media outreach, and features infographics that classify these Longevity Leaders by industry, region, sector, and primary activity.
The report presents its list of the Top 100 Longevity Leaders as categorized according to several core subcategories: Investors and Donors, Research and Academia, Entrepreneurs, Politics, Policy and Governance, and Media Influencers. These Leaders are additionally classified by the type of activity in which each spends the majority of their time and efforts: Entrepreneurship, Research and Academia, or Publicity. Mr. Young was one of 40 leaders included in the Research and Academia section.
Aging Analytics Agency is the world's premier provider of industry analytics on the topics of Longevity, Precision Preventive Medicine and Economics of Aging, and the convergence of technologies such as AI, Blockchain, Digital Health, and their impact on the healthcare industry. The company provides strategic consulting services in fields relating to Longevity, and currently serves as the primary source of analytics and data for the UK All-Party Parliamentary Group for Longevity.
The official announcement can be found here.
Robert Young with former World's Oldest Person Bessie Cooper in 2012: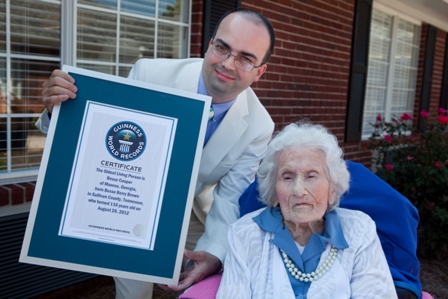 ---
Giuseppina Robucci-Nargiso, oldest person in Europe, dies at 116
June 19, 2019; Maria Giuseppa Robucci-Nargiso, the oldest person in Italy and Europe, died on Tuesday June 18, 2019 in the southern Italian town of Poggio Imperiale, where she was born on March 20, 1903. She lived 116 years and 90 days. Robucci was the last European born in 1903, and the second oldest living person in the world, after Kane Tanaka of Japan who was born on January 2, 1903.
Known locally as Nonna Peppa, Robucci had five children, nine grandchildren and 16 great-grandchildren. She ran a coffee bar with her husband for many years. The town's mayor, Alfonso D'Aloisio, said "We are saddened by her death, but at the same time we are honored to have had her as a fellow citizen".
On obituary article can be found here.
Maria Giuseppa Robucci-Nargiso, aged 115: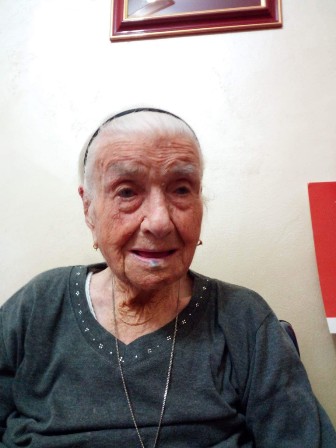 ---
Grace Jones, oldest person in UK, dies at 112
June 14, 2019; Grace Catherine Jones, the oldest person in the UK, died at her home in Broadway, Worcestershire, England on Friday June 7, 2019 at the age of 112 years, 264 days.
According to the Gerontology Research Group, Gibb was the oldest person in the United Kingdom, and 27th oldest person in the world. She was also the 22nd oldest British person ever. When asked for the secret to her longevity, Jones said "I have a little drop of whiskey with a drop of water every night. Whisky is very good for you. I started having a nightly tot of it when I turned 50 so I've been having it every night for the last 60 years and I certainly have no intention of stopping now. My doctor said "keep up with the whisky Grace, it's good for your heart". I don't worry, I think that's the worst thing you can do."
Grace Catherine Rich was born in Liverpool, England, on September 16, 1906. The youngest of eight children, one of her brothers died in WWI. She married Leonard Jones in 1933 and they had one daughter, Deirdre. Grace and her husband spent their marriage moving around the country. They moved a total of 28 times, living in places such as Devon, Cheshire, and North Wales. Leonard died in 1986, at the age of 79. In 2005, Jones moved to the Broadway care home in Worcestershire. She became the oldest living person in the United Kingdom following the death of Olive Boar on August 28, 2018.
Her daughter, Deirdre McCarthy, 80, said her mum was very fit and active right up until the very end. She said: "Only last Wednesday we were playing carpet bowls. She got tired, as she would at her age, but she never grumbled and she was always active. She was her usual self last week."
According to the Oldest in Britain website maintained by Gerontology Research Group correspondent Dr. Andrew Holmes, the title of the oldest person in the UK has now passed to 111-year-old Dorothy Payne, of Sevenoaks, Kent, who was born on August 5, 1907.
On obituary article can be found here.
Grace Jones, aged 112: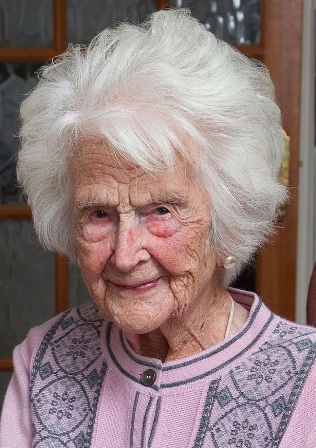 ---
Ellen 'Dolly' Gibb, Canada's oldest person, dies at 114
June 14, 2019; Ellen "Dolly" Gibb, Canada's oldest person, died on Wednesday June 5, 2019 at a long term care home in North Bay, Ontario, Canada at the age of 114 years, 40 days.
According to the Gerontology Research Group, Gibb was the oldest person in North America, and 9th oldest person in the world. She was also the 5th oldest Canadian of all time. Her family credits genetics, regular walks and a love of family for her longevity. In her obituary, the family said Gibb remained "serene, content, grateful and positive to the end."
Gibb was born Ellen Box in 1905 to Virginia Beauvette and John Box, a Scottish-Canadian prospector in the Klondike gold rush. After Virginia's death when Dolly was 5 years old, John moved the family to a farm in St. Vital, now part of Winnipeg. Dolly's five siblings also lived into their nineties, the obituary says.
Ellen Box married Dave Gibb in 1928 and had two daughters, Eleanor (1928-1991) and Sue (1939-present). Dave was a talented metalsmith who worked for the railways in Winnipeg. In 1941, the family moved to the Westfort area of Fort William (now part of Thunder Bay). Her husband passed away in 1968 at the age of 62. In 2005, aged 100, Gibb moved to North Bay to live with her daughter and son-in-law.
Dave Crozier, Gibb's grandson, said Dolly did not reflect on her age. "She was always just amazed," Crozier said. "When she became the oldest Canadian in 2016, then when she kind of made the list of top 50 in the world, she was just always saying 'oh no that can't be true.' There was a humility to her for sure."
Gibb is survived by a daughter, 9 grandchildren, 22 great-grandchildren and 12 great-great grandchildren.
On obituary article can be found here.
Ellen 'Dolly' Gibb, on her 114th birthday: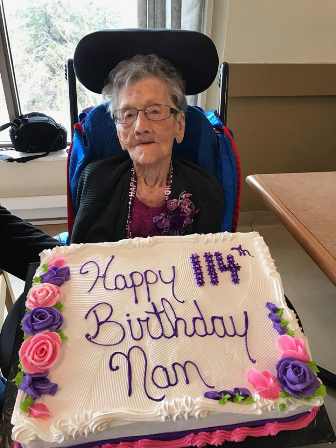 ---
Kane Tanaka, 116, Confirmed as World's Oldest Person
March 9, 2019; Kane Tanaka from Fukuoka, Japan, has been officially confirmed as the oldest living person at 116 years 66 days old as of 9 March 2019.
The supercentenarian was confirmed as the oldest person alive on 30 January 2019 (when she was 116 years 28 days), and was presented with her certificates for that record and oldest living woman in a ceremony at her home. Kane was born prematurely on 2 January 1903, the same year the Wright brothers became the first to achieve powered flight!
The seventh child of Kumakichi and Kuma Ota, Kane went on to marry Hideo Tanaka on 6 January 1922, four days after her 19th birthday. Despite not meeting before their wedding day (something that was not unusual in Japan at the time), Kane and Hideo went on to have four children and adopt a fifth. Hideo ran a family business called Tanaka Mochiya, which made and sold sticky rice, Zenzai (a type of Japanese sweets), and Udon noodles. After Hideo was called for military in 1937 during the Second Sino-Japanese War, Kane became more involved in the family business, polishing rice and making rice cakes while looking after her children as well as Kane's mother in law. Kane's first son Nobuo also joined the military in 1943 and was held captive by the Soviet Union after the Second World War, returning to Japan in 1947.
Despite having several operations - including one for cataracts and another for colorectal cancer - Kane now lives a peaceful life at a rest home in Fukuoka. She normally wakes up at 6 a.m., and in the afternoon often studies subjects such as maths. One of Kane's favourite pastimes is a game of Othello and she's become an expert at the classic board game, often beating rest-home staff.
The official GWR report can be found here.
Kane Tanaka, 116, at the GWR recognition ceremony on March 9, 2019.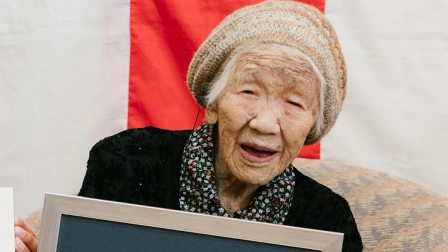 ---
Masazo Nonaka, 113, GWR-validated World's Oldest Man, Passes away
January 25, 2019; The Gerontology Research Group informs that the World's Oldest Man, Masazo Nonaka of the northern town of Ashoro, Hokkaido Prefecture, Japan, died peacefully in his sleep on January 20, 2019 at the age of 113 years, 179 days.
Masazo Nonaka was born in Kamitoshibetsu, Ashoro, Hokkaido on July 25, 1905 as the eldest son of Masujiro and Kiyo Nonaka. He had five younger siblings: two brothers and three sisters. His mother was founder of hot spring's inn "Nonaka". Young Masazo took over the family inn in 1925. He married Hatsuno Nonaka in 1931. The couple had five children.
Nonaka was the oldest living person in the Hokkaido Prefecture since the death of Teru Hatakeyama April 3, 2016 and the oldest living man in Japan since the death of Masamitsu Yoshida of Tokyo on October 29, 2016.
Following the death of 113-year old Francisco Nunez Olivera of Spain (1904-2018) on January 29, 2018, Masazo Nonaka became the World's Oldest Man. He was recognized as such by the Giunness World Records on April 10, 2018 aged 112 years 259 days in a ceremony at his home where he was presented with his official GWR certificate. Three months later he celebrated his 113th birthday.
When asked about the secret of his longevity, Nonaka mentioned taking regular hot springs baths and eating sweets.
The Oldest person ever is Jeanne Calment (France), who lived to 122 years and 164 days, while the oldest man ever is Jiroemon Kimura (Japan), who was born on April 19, 1897 and passed away aged 116 years 54 days on June 12, 2013.
The official GWR report can be found here.
Masazo Nonaka, 112, at the GWR recognition ceremony on April 10, 2018.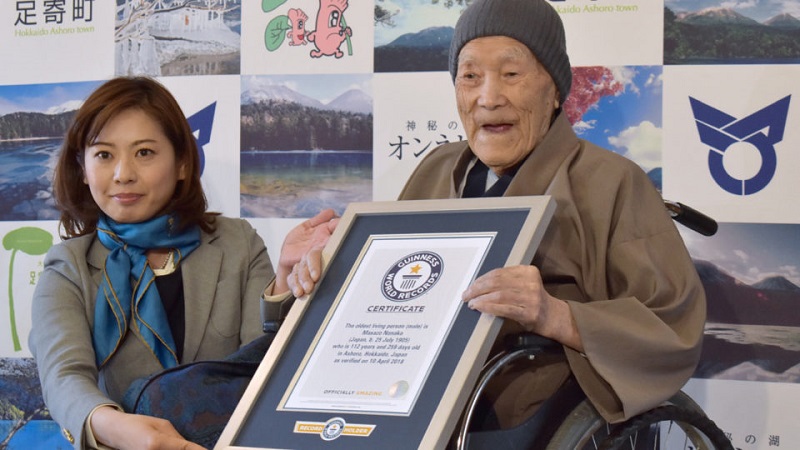 ---
Scientists refute the Russian conspiracy theory on Jeanne Calment's alleged identity theft.
January 12, 2019; The world's oldest person record stood for decades. Then came a Russian conspiracy theory. (Report by Washington Post)
Read the whole article here.
Disclaimer: Robert's private comments on a password-protected private message board were not intended for public distribution. How they ended up on the Facebook page of another entity is under investigation.
---
Lessie Brown, 114, Oldest Living American, Passes away
January 11, 2019; The Gerontology Research Group informs that the oldest person in the USA, Lessie Brown, died on January 8, 2019 at the age of 114 years, 108 days.
Lessie Brown was born as Lessie Barnes in Stockbridge, Georgia. She left school after the eighth grade, working full time on her parents' farm. In 1921, the family moved to Cleveland, Ohio. Lessie met her future husband Robert Brown at a Halloween party in 1924. They married the following year, and had five children - three girls and two boys. Robert died in 1991. Three of their children were still alive at the time of Lessie Brown's 110th birthday: Verline Wilson, Vivian Hatchern and Robert Brown, along with 29 grandchildren, 34 great-grandchildren and 24 great-great-grandchildren.
During her life in Cleveland, Brown worked at the Statler Hotel and Mount Sinai Hospital. After her husband's death, she moved to live with her daughter Verline in University Heights. Later on, the two moved to the Concord Apartments in 1996.
Brown avoided alcohol, according to her family. Instead they attributed her long life to regular consumption of sweet potatoes, which she ate nearly every day until well after her 100th birthday, and to her belief in God. According to her family, she inspired all her children and grandchildren how to pray, and she even prayed on her knees at the side of her bed until she could couldn't kneel anymore.
On her 112th birthday, she received a letter from President Barack Obama and First Lady Michelle Obama. She voted for him twice in the 2008 and 2012 US Presidential Election.
Lessie Brown became the oldest known living person in the United States upon the death of 114-year old Delphine Gibson on 9 May 2018. Following Mrs. Brown's passing, the oldest validated living person in the United States is 113-year old Alelia Murphy of New York.
A more detailed article can be found here.
Lessie Brown on her 114th birthday with her daughters: Verline and Vivian.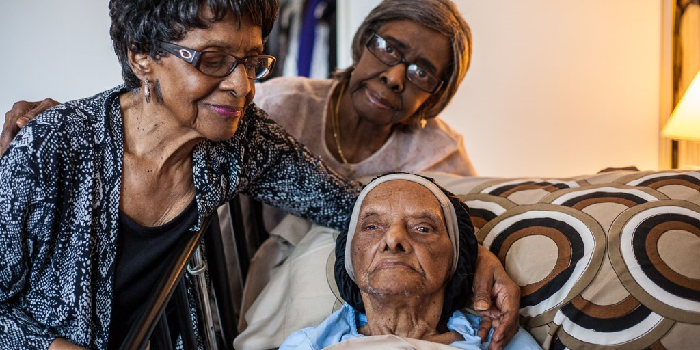 ---
Kane Tanaka, World`s Oldest Person, Celebrates her 116th birthday
January 6, 2019; The Gerontology Research Group informs that the world`s oldest person, Kane Tanaka of Japan, celebrated her 116th birthday on January 2, 2019.
Kane Tanaka was born in the village of Kazuki, Fukuoka Prefecture, Japan. During World War II, she worked in a store selling rice cakes, together with her husband Hideo Tanaka. After Hideo and her son died during the war, she continued to work in the store before retiring at the age of 63. In the 1970s, she visited the United States, where she has several nieces and nephews. Since 2005, she has lived in a care home in Fukuoka City.
According to her family, Mrs. Tanaka attributes her longevity to her faith in God and eating foods such as rice, small fish and soup, as well as drinking lots of water. She also credited a strong appetite and her liking of sweets, plus drinking three canned coffees a day, carbonated drinks, and various nutritional drinks for her longevity.
Kane Tanaka became the oldest living person in Japan, as well as the world`s oldest person, after the death of 117-year old Chiyo Miyako of Kanagawa Prefecture on July 22, 2018. She said then she would like to live another five years to the age of 120.
A more detailed article can be found here.
Kane Tanaka with Fukuoka City mayor in September 2018.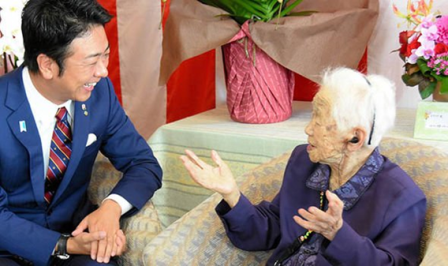 ---
Click here to return to the GRG News page