GRG News for 2018
---
Richard Overton, America's oldest man, dies at 112
December 28, 2018; Richard Overton, a World War II veteran who was America's oldest man, died in Austin, Texas on Thursday December 27, at the age of 112 years, 230 days. He had been hospitalized earlier this month with pneumonia.
Overton was born on May 11, 1906 in Texas. He served in the US Army in the Pacific from 1942 to 1945. After returning home, Overton worked in furniture stores and for the office of the state treasurer. Overton spent his later years sitting on his porch smoking cigars and sipping coffee or Coca-Cola with a dash of whiskey. He was married twice but had no children.
Lessie Brown, 114, remains the oldest living American.
A more detailed article can be found here.
Overton on his 110th birthday: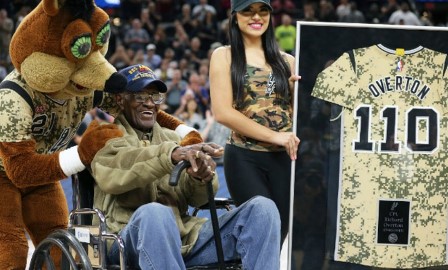 ---
Masazou Nonaka, World's Oldest Man, Celebrates 113th Birthday
July 31, 2018; The world's oldest man, Masazou Nonaka, celebrated his 113th birthday on July 25.
Masazou Nonaka celebrated the milestone with his family in his hometown of Ashoro, on the Japanese island of Hokkaido. Nonaka blew out the cake and ate some of it like he does every birthday, but this year the cake had a "113" candle on top, his granddaughter Yuko Nonaka said.
He enjoys eating cakes, watching sumo wrestling on television and reading newspapers. Mr. Nonaka attributes his longevity to soaking in hot springs and eating sweets. His granddaughter believes the secret to his longevity is his "free lifestyle," she told ABC News. "Freedom is important to Masazo. He's lived the way he wanted to live and has always done what he wanted to do," she said.
A more detailed article can be found here.
Masazou aged 112: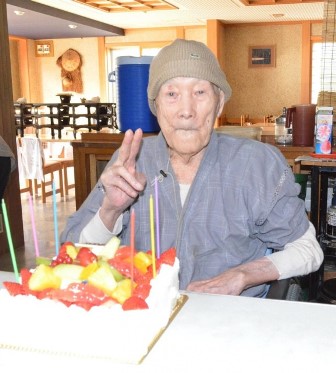 ---
Chiyo Miyako, World's Oldest Person, Dies Aged 117
July 31, 2018; The world's oldest verified person, Chiyo Miyako, died on July 22, 2018, at the age of 117 years, 81 days. She became the oldest verified living person in the world on April 21, 2018, following the death of fellow Japanese woman Nabi Tajima.
Chiyo was born in Wakayama, Kansai, Japan, on 2 May 1901. Chiyo's husband, Shoji, worked for Japanese National Railways, so she was able to travel.
Her love was calligraphy, something she started learning during childhood, and had been creating calligraphic works until recently. Her other pastime was eating delicious food, with sushi and eels being her regular favourite.
According to her family, Chiyo was very chatty. Referring to her as "the goddess", they described her as a patient and kind person who brought happiness to those who met her.
A more detailed article can be found here.
Chiyo aged 114: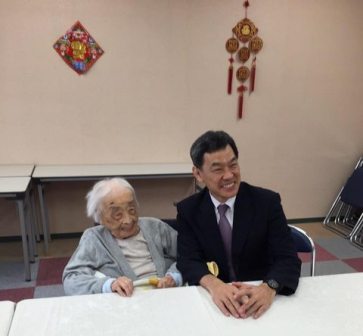 ---
Lessie Brown, 113, Becomes Oldest Living American
May 14, 2018; Lessie Brown, of Cleveland Heights, Ohio, 113, is now believed to be the oldest living American citizen. She took the title following the death of Delphine Gibson on May 9 at the age of 114 years, 265 days. Brown's daughter, Verline Wilson, 88, received the news on Friday morning and said her mother, who lives with her and spends most of her days sleeping, said "that's good," when she told her the news. "Even though it's no big deal to her...to us it's a big deal," her grandson Ronald said. "That's Big Mommy."
Vivian Hatcher, 90, another of Brown's daughters, said that her mother believed she lived this long because it was God's plan. Brown was a member of the Emmanuel Baptist Church in Cleveland for more than 70 years. She continued going to church even past the age of 100. Other family members attributed her longevity to her faith and devotion to Christianity, coupled with her passion for reading.
Lessie Brown was born in Stockbridge, Georgia on September 22, 1904. She grew up on a farm. In 1921, her parents moved to Cleveland, Ohio. In 1925, Brown got married. Brown and her husband had five children. During her life in Cleveland, Brown worked at the Statler Hotel and Mount Sinai Hospital. Her husband died in 1991. After her husband's death, Brown moved to live with her daughter Veerline in University Heights. Later on, the two moved to the Concord Apartments in 1996.
"She's always been a good woman," her grandson Ronald said. "Always." One thing he remembers most is when Lessie would bake a cake for him. "Of all her grandkids, she knew our birthdays and knew our favorite cakes," he reminisced. "She baked our favorite cakes for everybody. Every single one of us. That's a memory I'll never forget."
An news article can be found here.
Lessie aged 113: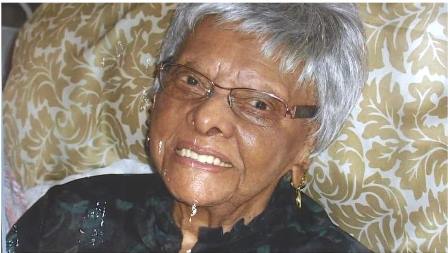 ---
Delphine Gibson, 114, Oldest Living American, dies
May 13, 2018; The oldest person in America, Delphine Gibson, died on May 9 at the age of 114 years, 265 days. Gibson became the oldest living person in the United States following the death of 114-year old Adele Dunlap on 5 February 2017 and the oldest living American citizen following the death of American emigrant Marie-Josephine Gaudette, who lived in Rome, Italy, on 13 July 2017.
Gibson was born as Delphine Tucker in Ridgeway, South Carolina on a family farm on August 17, 1903. She helped on her family's farm until she married Taylor Gibson in 1928. The couple had three children. They would eventually move to Mount Union, Pennsylvannia to work in the area's now-historic brickyards. Taylor Gibson died in 1980.
Gibson, who had been living at a Huntingdon nursing home since the age of 100, attributed her long life to good food, her faith in God, and her church. "She has an amazing spirit," nursing home manager Miranda Glover said. "She always singing to us or sharing the gospel. She is a treasure to the nation."
Lessie Brown, of Cleveland Heights, Ohio, 113, is now believed to be the oldest American
An obituary article can be found here.
Delphine aged 114: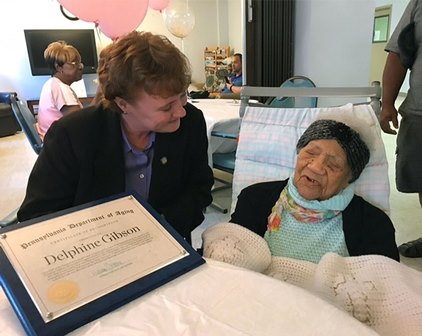 ---
Nabi Tajima, of Japan, 117, Oldest Living Person, dies
April 22, 2018; The world's oldest person, Nabi Tajima, died on April 21 at the age of 117 years, 260 days. Tajima had been recognized as the world's oldest person since the death of Jamaican woman Violet Brown in September 2017. She had been hospitalized since January.
Born in Araki, Japan on August 4, 1900, she had nine children and 160 descendants, including great-great-great grandchildren. At the time of her death, she was living in the town of Kikai on Kikaijima island, Kagoshima Prefecture, Japan.
Nabi Tajima's secret to longevity was "eating delicious things and sleeping well". She danced with her hands at the sound of a samisen, a traditional three-string instrument. "She passed away as if falling asleep. As she had been a hard worker, I want to tell her 'rest well,'" said Tajima's 65-year-old grandson Hiroyuki.
At the time of her death, Tajima was the oldest Japanese person ever, the third oldest verified person ever and the oldest person to live in the 21st century.
An obituary article can be found here.
Nabi Tajima aged 117: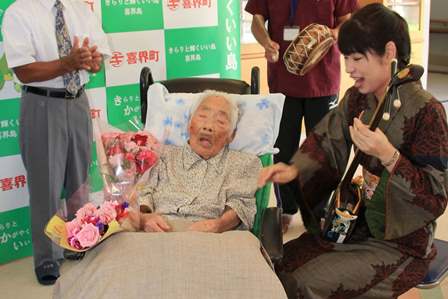 ---
Masazo Nonaka, 112 confirmed as world's oldest living man
April 11, 2018; Guinness World Records has officially awarded Japan's Masazo Nonaka the title of Oldest person living (male), at the age of 112 years and 259 days. Mr. Nonaka was born on 25 July 1905 and lives in the town of Ashoro on the island of Hokkaido, Japan.
Masazo Nonaka married Hatsuno in 1931, with whom he had five children. He now spends his time watching TV, reading newspapers and indulging in sweets and cakes. He also likes to spend time with his family, either at home or in their B&B, and their two cats called Kuro and Haru.
Mr Nonaka believes his longevity is down to soaking in hot springs and eating sweets, while his daughter says it is because he lives his life in a way that doesn't bring him stress.
Masazo's record was confirmed following an extensive research and evidence review process by Robert Young, Guinness World Records senior consultant for gerontology and the co-director for the Gerontology Research Group.
To read the announcement in full, here.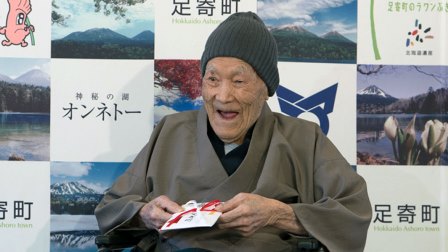 ---
Francisco Nunez Olivera, 113, was world's oldest man
February 16, 2018; Guinness World Records have now officially confirmed that, prior to his death on January 29, Francisco Nunez-Olivera of Spain was the world's oldest man. Nunez-Olivera was born in Bienvenida, Extremadura, Spain on December 13, 1904. He spent most of his life working as a farmer and leaves four children, nine grandchildren and 15 great-grandchildren.
Nunez-Olivera became known locally as "Marchena" after a young child mistook him for the Spanish flamenco singer Pepe Marchena. He enjoyed going for walks around his village of Bienvenida and was able to do so until he was 107 years old. Speaking to Spanish newspaper El Mundo in 2015, he said: "I know I'm old, but I don't feel old."
The verification of this case proved problematic as a number of highly important documents are believed to have been lost or destroyed in wartime. The case was eventually accepted based on proxy validation methods, including finding military enlistment records that referenced the original birth records.
To read the announcement in full, here.
---
Click here to return to the GRG News page