"George Johnson -- State's Oldest Person"
by
Charles Burress, San Francisco Chronicle Staff Writer, p. C6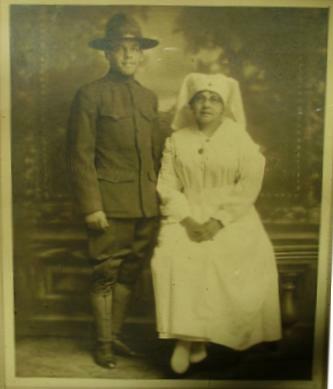 George in his World War I Uniform with his Mother, a Red Cross Nurse in 1918.

George Johnson holds up a 1918 photo of himself and his Mother, a Red Cross Nurse.
Saturday, September 2, 2006; He was known for shunning doctors and what the modern world considers a healthy diet. And when George Johnson died at his Richmond home Wednesday at age 112, he was the oldest person in California, according to the UCLA-affiliated Gerontology Research Group. An autopsy Thursday found he "had the body of a very healthy 50-year-old," said his Great-Nephew Brian Johnson of Naples, FL.
            "He ate a very poor diet," said Dr. L. Stephen Coles, Co-Founder of the Gerontology Research Group. "He ate sausages and waffles every day. Somehow all that cholesterol never accumulated as plaque in his vessels," said Coles, who attended the autopsy and who will try to analyze Mr. Johnson's genes. "He had some magical genes that are very important that we'd like to know more about." Before he died, Mr. Johnson agreed to the Autopsy and genetic study for scientific purposes. "The tentative cause of death was pneumonia," Coles said.
            Mr. Johnson was also the state's last surviving veteran to have served during World War I, said Retired Air Force Lt. Col. Robert Johnson (no relation), California adjutant for the Veterans of World War I of the USA. "Drafted in August 1918, he was in the Army only a few months and was still in training in the United States when the war ended," Robert Johnson said.
Mr. Johnson died in the three-story home that he and his late wife, Ida Delaney Johnson, built with their own hands after moving to Richmond around 1935, said his Great-Nephew.
           "He was proudly independent, and though blind and hard-of-hearing in the last few years, he insisted on living alone," Brian Johnson said. It was only in the last three months that a live-in caretaker was allowed to be brought in. "He said he had never seen a doctor," Brian Johnson said. His favorite meal, which he often ate twice a day, was "an Oscar Mayer wiener and an Eggo waffle." His mind, too, remained intact, and as a devoted San Francisco Giants fan, he followed the team with keen interest. Brian Johnson recalled his Great-Uncle's comments on the alleged use of performance-enhancing drugs by slugger Barry Bonds: "They ought to let him play ball. The next thing you know, they'll be taking away records from people because they had an extra bowl of Cheerios." "The Giants rewarded Mr. Johnson's devotion, putting his name on the stadium message board on his birthday, May 1st, and sending him caps and jerseys," Brian Johnson said. A native of Philadelphia, Mr. Johnson became a baseball fan 100 years ago. He belonged to the "Knothole Gang" that punched out holes in the fence to watch Connie Mack's Philadelphia Athletics, long before their eventual migration to Oakland, his Great-Nephew said.
Mr. Johnson got part of his education on the high seas, by accident. At age 15, he had gone to a Philadelphia shipyard to see a newly finished Argentine battleship, The Mariano Moreno. Invited aboard, he got stuck on the ship when it left port and ended up working on the vessel, and then several others, over the next three years before returning home," Brian Johnson said. As a boy, he once met Henry Ford and John D. Rockefeller in the office of his Father, a manager of the main Philadelphia railroad station. He was born into what was then unusual: a racially-mixed family, his Great-Nephew said. He was working for the U.S. Post Office when drafted in World War I. He and his wife moved to the Fresno area in 1919 before settling in what was then unincorporated Richmond. "He used to hunt deer in the Oakland hills and was a friend of former California Governor Earl Warren," Brian Johnson said.
           "He worked in the Kaiser Shipyards during World War II, outfitting cargo vessels and then worked many years at the Naval Hospital in Oakland, where he retired as manager of the heating plant," said Robert Johnson of the veterans group.
            "He was California's only known Supercentenarian, a person who has reached age 110," Coles said. "There are 73 others who have been verified worldwide," he said.
            Mr. Johnson outlived all the family members of his generation and the following generation. He had no children. He is survived by two Great-nephews and two Great-nieces.
            A private memorial service will be held Thursday, and he will be interred next to his wife at the Sunset View Cemetery and Mortuary in El Cerrito, CA. The family requests that donations be given to a local hospice or Meals on Wheels program.