Women Supercentenarian Photos (Cont'd.) File No. 15 of 15 for the year 2014,
as of September 27, 2014.
---
Elisabeth Collot at age 107: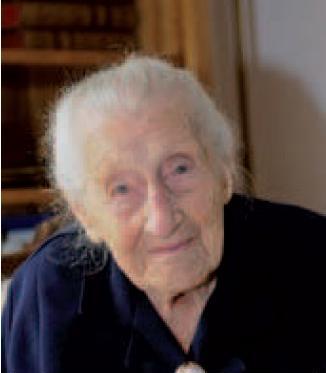 Elisabeth Collot at her 110th birthday celebration: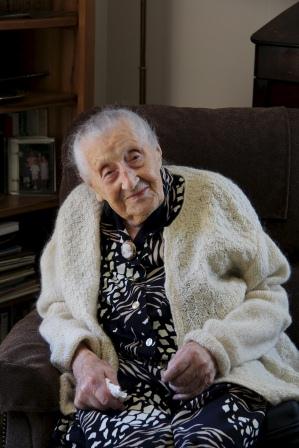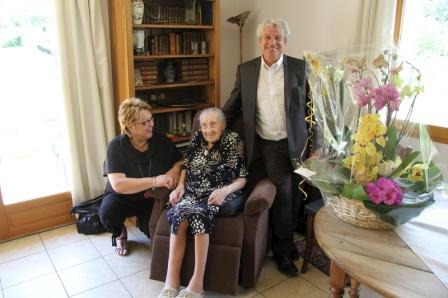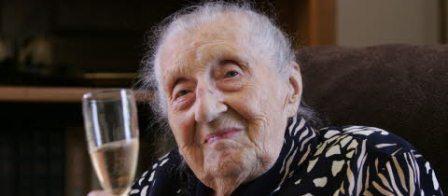 July 18, 2014; Elisabeth Collot was born on June 21, 1903, in the commune of Andelot-Blancheville, Haute-Marne department, France. She moved to Echirolles, Isère department, France, at her marriage in 1925. She still lives in Echirolles.
---
Picture of Saki Kanda: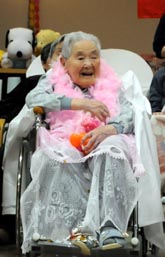 July 21, 2014; Saki Kanda (Japanese: 神田サキ) was born on March 26, 1903, in Esashi City (now Esashi Ward of Ōshū City), Iwate Prefecture, Japan. She became the oldest person of Iwate Prefecture on December 23, 2011. She died on December 26, 2013, in Ōshū City, Iwate Prefecture, at the age of 110 years 275 days.
---
Undated pictures of Violet Brown: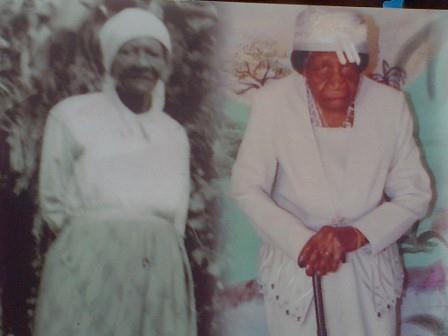 Violet Brown at age 110: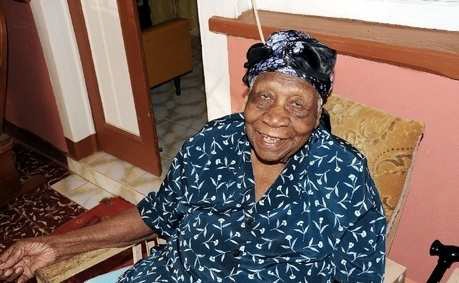 Violet Brown at age 113: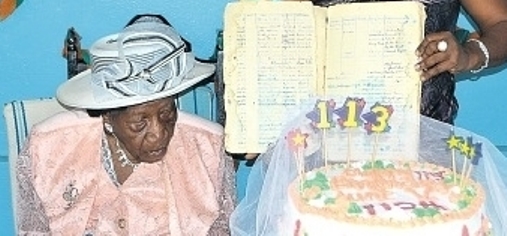 Violet Brown at age 114: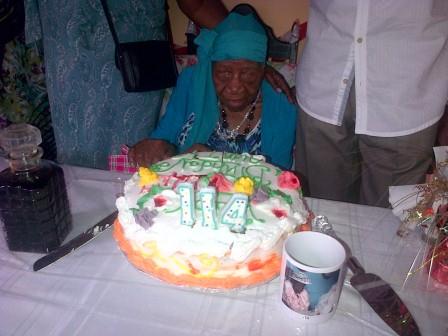 July 26, 2014; Violet Brown was born on March 10, 1900, in Duanvale, Trelawny Parish, Jamaica, according to a birth record registered on March 29, 1900. She continues to live in Duanvale, Jamaica. She is the first validated Jamaican supercentenarian case, and at this time, is the 7th oldest living validated person in the world.
---
Picture of Andree Fehr-de Boulay: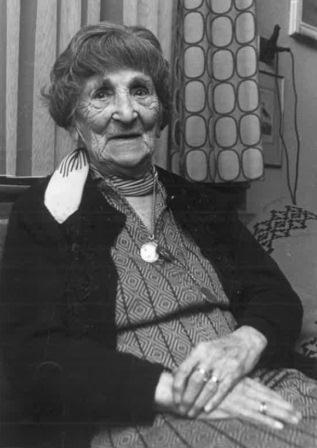 July 29, 2014; Andree Fehr-de Boulay (French: Andrée Fehr-de Boulay) was born on February 7, 1882, in Nancy, a city in Meurthe-et-Moselle Department, France. After she married in France, she resided in Switzerland (municipality of Niederlenz in the canton of Aargau). She died on May 19, 1993 in the nearby municipality of Villmergen in the same canton of Aargau at the age of 111 years 101 days.
---
Iso Nakamura's 111th birthday: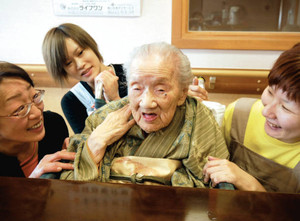 August 1, 2014; Iso Nakamura (Japanese: 中村イソ) was born on April 23, 1903, in Kanazawa, capital of Ishikawa Prefecture, Japan. She is currently the oldest person of Ishikawa Prefecture and resides in Kanazawa.
---
Georgette Leveille's 111th birthday: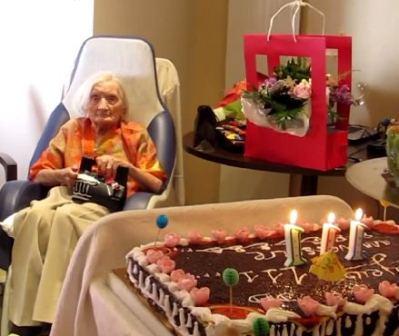 August 7, 2014; Georgette Leveille was born on June 28, 1903, in the 14th arrondissement of Paris, capital city of France. A few years ago, she moved from the commune of Cabourg (Calvados Department) to the commune of Bois-Colombes, Hauts-de-Seine Department (suburb of Paris).
---
Picture of Ila Jones at age 110: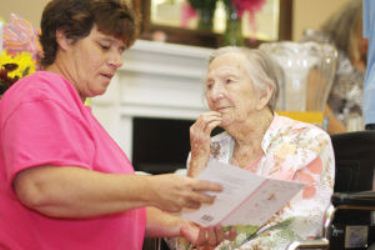 August 13, 2014; Ila Jones was born as Ila Stargel on August 21, 1903, in Georgia, United States. She married John Sewell and had two sons, then married Frank Jones. She currently lives in Rome, Floyd County, Georgia.
---
Maria de los Bueis-Rodriguez, 110
Maria de los Bueis-Rodriguez's 106th birthday: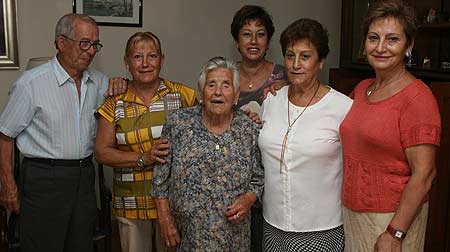 Pictures of Maria de los Bueis-Rodriguez at age 109: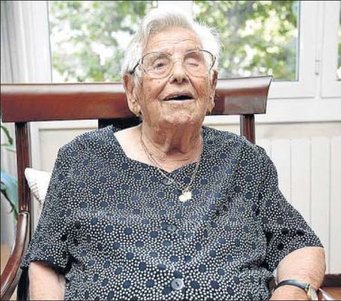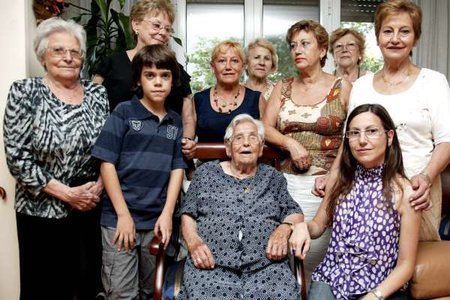 August 18, 2014; Maria de los Bueis-Rodriguez was born in Castile and León on July 6, 1900 and died in Catalonia on July 8, 2010 at the age of 110 years, 2 days.
---
From 1924: Theresa Bernstein-Meyerowitz at age 34.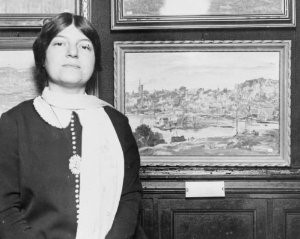 Undated picture of Theresa Bernstein-Meyerowitz in her younger years.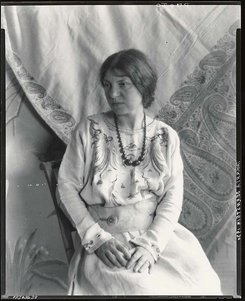 A couple of paintings by Theresa Bernstein-Meyerowitz, both from the 1920s: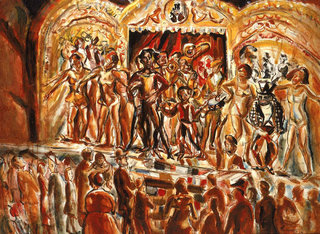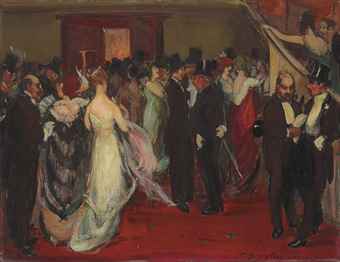 From 1980: Theresa Bernstein-Meyerowitz (centre right) aged 90 with her husband William Meyerowitz [1887-1981] (centre left) and their friends: Jackie and J.J. Bell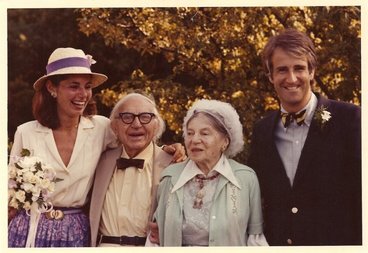 Theresa Bernstein-Meyerowitz with her great-nephew Mr. Keith Carlson in the early 1980s.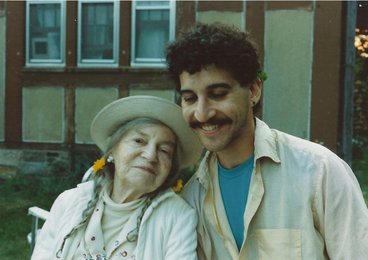 From 1995: Theresa Bernstein-Meyerowitz (105; left) with her friend and art historian, Mrs. Patricia Burnham (right) at the Philadelphia Museum of Judaica.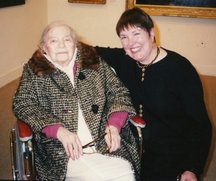 February 25, 1998: Theresa Bernstein-Meyerowitz (108; left) at the "Theresa Bernstein: A Seventy-Year Retrospective" art exhibition, with Mr. Jerry Jackson (center) and Mrs. Joan Whalen (right), fine art director.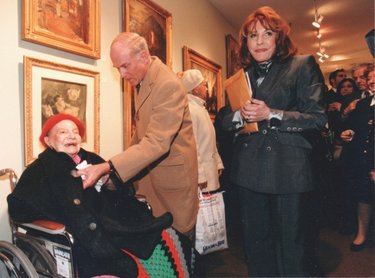 From 1999: Theresa Bernstein-Meyerowitz (109; right) at her art exhibition.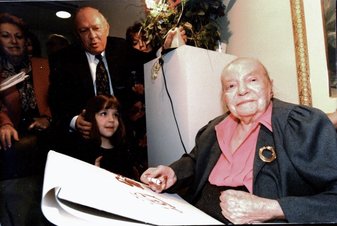 April 25, 2000: Theresa Bernstein-Meyerowitz (110; center) at the opening of "Theresa Bernstein: An Early Modernist" art exhibition.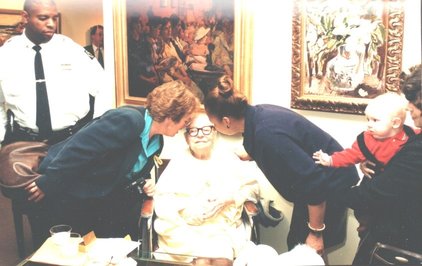 August 24, 2014; Theresa Bernstein-Meyerowitz was born on March 1, 1890 in Kraków, Austria-Hungary (now the capital city of Lesser Poland Voivodeship, Poland) and passed away on February 13, 2002 being aged 111 years, 349 days. She was a famous artist, painter and writer. Her age was once a mystery (with guesstimates of her birth anywhere from 1886 to 1895) but eventually the evidence was located to show that she was, in fact, born in 1890. The documents for validation can be found online here:
Theresa Bernstein-Meyerowitz migrated to the United States in the early 1890s. She studied at the Philadelphia School of Design for Women, now Moore College of Art & Design. She graduated in 1911 with an award for general achievement and later studied at the Art Students League in New York City. In 1912, she settled in Manhattan. In 1919, she married William Meyerowitz. The couple were married for 62 years. Bernstein was a member of the National Association of Women Artists, New York Society of Women Artists and the North Shore Art Association. Her works were exhibited extensively with the National Academy of Design and the Society of Independent Artists and have gradually made their way into important museums including the Metropolitan Museum of Art, the Art Institute of Chicago, the Philips Collection, and the Smithsonian Museum of American Art, among many others. For more information about the life and art of Mrs. Bernstein-Meyerowitz, visit her website run by her family.
Theresa Bernstein-Meyerowitz Website
---
Honorine Rondello in 2008, aged 105: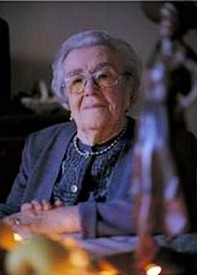 Picture of Honorine Rondello at age 110: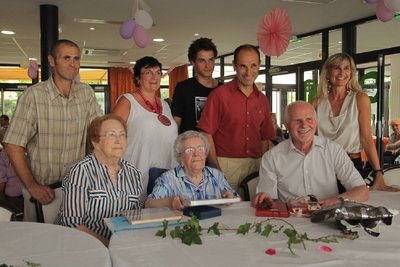 August 27, 2014; Honorine Rondello was on July 28, 1903, in Brittany, France. She currently lives in Alpes Côte d'Azur, France.
---
Moto Yamada at the age of 111: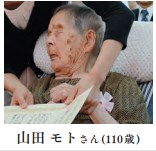 September 2, 2014; Moto Yamada was on July 4, 1903. She currently lives in Fukuoka, Japan.
---
Lea Revault on her 110th birthday: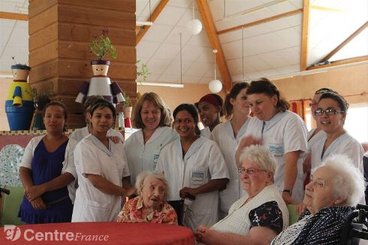 Lea Revault on her 111th birthday: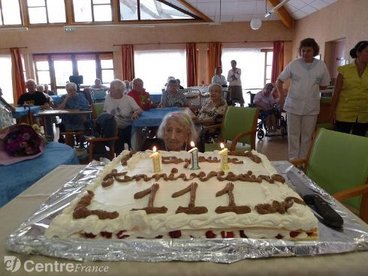 September 14, 2014; Lea Revault was born on August 7, 1903 in Engenville, Loiret, France. She married Mr Robert Ernest Revault in Engenville on August 28, 1926 and went on to have three children. Mrs Revault managed several bakeries with her husband over a period of 40 years, including two in Seine- et-Marne and one in Paris. Her husband died in 1970. She currently resides at St. Martin's residence in Malesherbes, Loiret, France, where she has lived since 1998.
---
An undated photo of Frances Street:

September 18, 2014; Frances Street was born on March 28, 1897 in Greenville County, South Carolina. She was the youngest of seven children born to the Newton and Manzy Berry. After graduating from high school, she worked as a licensed practical nurse in Asheville, where she was to live for most of her life. In 1928, she married Charles Street in Buncombe County, North Carolina. They had no children.
Frances and her husband loved to exercise and enjoyed long walks in the country. Frances also enjoyed looking good and always wore pretty clothes lots of jewelry. She also enjoyed reading but in her own words ''I hate to cook and couldn't cook water.''
In her final years, Frances Street lost both legs due to poor circulation, but maintained good health otherwise. Carers at her nursing home said ''There's just something special about this lady. She is just full of joy and happiness.'' Frances loved to tell humorous stories about her life and would often understate her age when asked. She enjoyed an evening cocktail of gin and tonic. Frances Street died on August 24, 2010 at the age of 113 years, 149 days. At the time of her death, she was the oldest person ever born in South Carolina, although this record was subsequently broken by Mamie Rearden.
Her Find A Grave entry can be found here:
---
At age 106: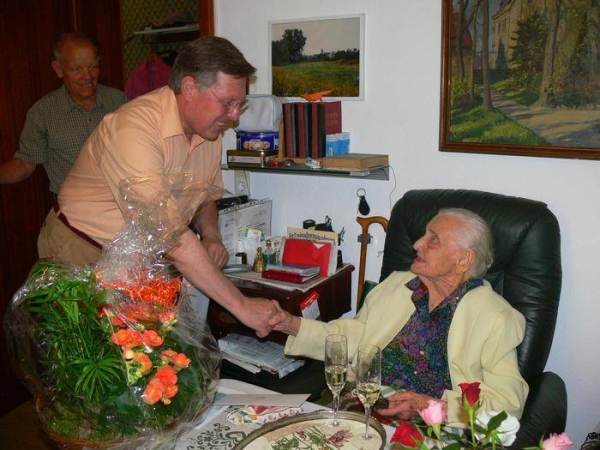 At age 110: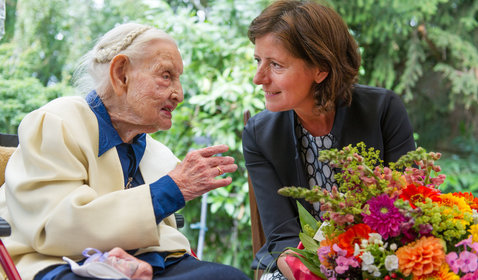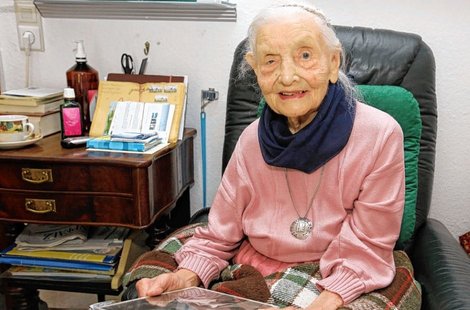 Sept. 21, 2014: Charlotte Klamroth was born on August 18, 1903 in Krottorf, Germany. She currently lives in Ludwigshafen, Free State of Rheinland-Pfalz, Germany.
---
Louise Bilon, 110
An undated photo of Louise Bilon:

September 24, 2014; Louise Bilon was born in Martinique (an overseas Department of France) on August 15, 1896 and died in Martinique on January 25, 2007 at age 110 years, 163 days.
---
Sina Hayes, 111
Photos from Sina Hayes 110th birthday party: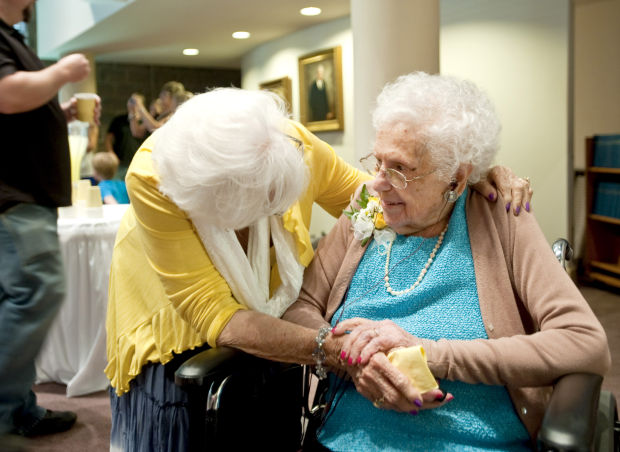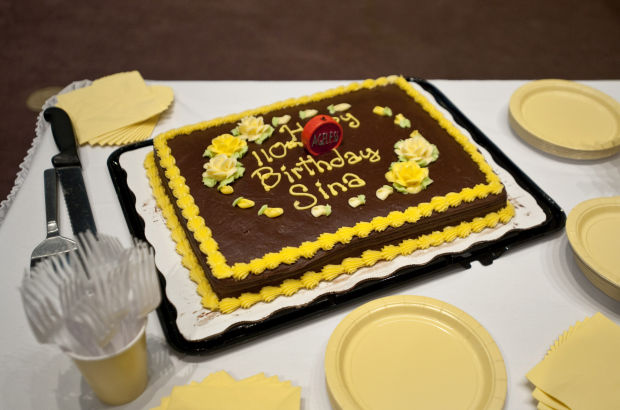 September 27, 2014; Sina Hayes was born in Iredell County, North Carolina on June 27, 1903. One of 10 children, she married Raleigh Hayes in 1924 and had two sons, Harold and Carlyle. After moving to Winston-Salem when her husband found a new job, Hayes worked at Hanes Knitting Mill in Winston-Salem for more than 30 years, primarily making infant sleepwear. One of her quilts won an award at a local fair. After Raleigh retired in 1966, the couple travelled extensively, visiting every American state except Alaska, as well as several European countries. Sina enjoyed 70 years of happy marriage until Raleigh died in 1994, aged 92. Shortly after his death, Sina moved into Brookridge Retirement Community where she has lived ever since.
Now a great-great grandmother, Hayes puts her longevity down to "exhibiting a "Pollyanna" attitude and keeping happy thoughts on the mind." Faith has been the bedrock of her life. She has been a member of Northwest Baptist Church for 75 years, and spent several decades serving in Sunday school and with the Women's Missionary Union. "She's been a living example of a Godly woman her whole long life," her son Carlyle Hayes said.
---
This is the last of the GRG Supercentenarian Files containing photos of Women Supercentenarians (No. 15 of 15) begun in 2014.