OBITUARY:
"Bettie Wilson, 115; One of Three Oldest Americans"
by
Mary Rourke, LA Times Staff Writer, p. B9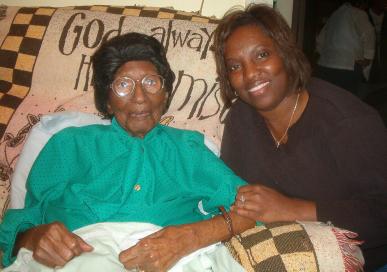 Bettie Wilson, with her Great Granddaughter Della Shorter,
liked to pray and go to church more than anything else.
Wilson referred to it all as 'living right.'
Photo by Robert Young

February 16, 2006; Bettie Wilson, the daughter of freed slaves who was one of the three oldest people in America, died Monday at her home in New Albany, MS, of complications from congestive heart failure, according to her Great-granddaughter Della Shorter. Wilson was 115.

Three people, all women, celebrated their 115th birthdays last Summer. Two are still living, one in Tennessee and the other in Alabama. Wilson was the second oldest of the group.

A 116-year-old woman in Ecuador is documented as the oldest person in the world, according to The Gerontology Research Group based at UCLA, which studies people older than 110. Longevity researcher Louis Epstein of Putnam County, NY, told The Times that 90 percent of people who live to be 110 or older are women. "If you make it to age 110, you have about a [2 - 3] percent chance of making it to 115," he said, in emphasizing the rarity of Wilson's age.

"Bettie Wilson was amazing," said Robert Young, a longevity researcher in Atlanta who documented Wilson's biographical data. "At 114, she was still able to read the newspaper and sign her name," he said. She celebrated her last five birthdays with parties for several hundred relatives and friends. Her most recent was a picnic on her front lawn.

Wilson was never hospitalized for an illness until 100. At 106 she had gallstones removed. She recovered well enough to return to her home, which she shared with Shorter, her caretaker for the last 16 years.

Born Bettie Rutherford, September 13, 1890, in Benton County, MS, she was the youngest of nine siblings. She worked in the cotton fields from a young age and had little formal education, but taught herself to read and write. She married Rufus Rogers and the couple had a son before Rogers died. She married the Rev. Dewey Wilson in 1922. They had two children, both girls, and remained married for 72 years until her husband died at the age of 95.

Last year, when her old house was falling apart, Wilson and Shorter moved into a new one built for them with a government grant and contributions from local churches and businesses. It was painted pink to set it apart from the others in the neighborhood. "All of her adult life, Wilson liked to pray and go to church more than anything else," Shorter said. She also enjoyed gardening and cooking. Wilson referred to it all as "living right."

She is survived by her son, Willie Rogers, age 96. Other surviving relatives include five Grandchildren, 46 Great-Grandchildren, 95 Great-Great-Grandchildren, and 38 Great-Great-Great Grandchildren.
---
November 28, 2004; Click on the photo below for the details of Mr. Robert Young's visit to Mrs. Bettie Wilson's home over the Thanksgiving weekend when she read the newspaper aloud.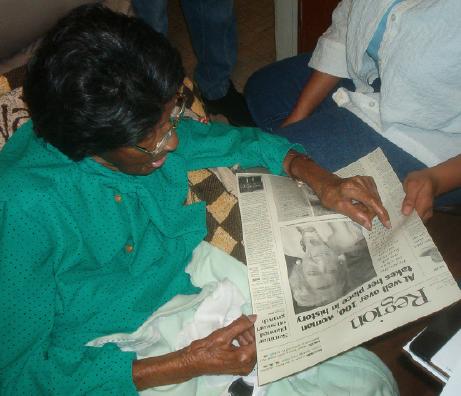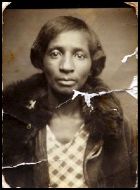 The two last photos are reproduced with permission from The Memphis Commercial Appeal .
---
News Obituary:
"Bettie Rutherford Wilson; at 115 She Was World's Third Oldest Person"
by
Kay Powell
February 17, 2006; New Albany, MS -- The world's third oldest person, Supercentenarian Bettie Rutherford Wilson of Mississippi, died Monday at age 115. Mrs. Wilson drew a lot of attention for living so long but didn't care much for the intrusions. "She wished somebody else was getting that attention," said her caregiver and Great-Granddaughter, Della Shorter of New Albany, MS. Mrs. Wilson died of congestive heart failure at her New Albany residence. The funeral is at 1 PM Saturday at Victory Life Center Church of the Lord Jesus Christ. Serenity Funeral Home of New Albany is in charge of arrangements. Mrs. Wilson, born to freed slaves on September 13, 1890, was the widow of a Pentecostal preacher and mother of 96-year-old Willie Rogers of New Albany. The other generations which survive her include five Grandchildren, 46 Great-Grandchildren, 95 Great-Great-Grandchildren, and 38 Great-Great-Great Grandchildren. "She read the newspaper and her Bible every day," Ms. Shorter said. "The TV bothered her, what was going on in the world. She would watch TBN, though, the gospel station. "She was a very Godly woman. She loved the Lord and her family and worried about people's salvation." "She's the most amazing person I've met in that age category,"said Georgia State University researcher Robert Young, noting that she appears on the front cover of the book, " The Wisdom of the World's Oldest People."
Mrs. Wilson was featured in a January 31st Atlanta Journal-Constitution article about Mr. Young's research. He specializes in confirming or disproving claims of advanced age from around the world for Guinness World Records and for Gerontology Research Centers. Only about 1 American in 5 million lives to be a Supercentenarian, 110 or older, he said. The average life expectancy in the United States in 2000 was 76. He offers these tips for longevity: stay lean and healthy; be happy and keep a positive attitude; and pick the right parents because much of how people age seems to be genetic. The oldest known person living in metro Atlanta is Dr. Leila Denmark, 108, a Pediatrician who practiced past her 100th birthday. "Georgia's oldest residents are thought to be Alberta Davis of Thomson, indicated by research to be 109; Eliza Bazemore of Savannah may be 114 or 115; and Anne Christopher of Rome, probably 109 or 110," Mr. Young said. "The oldest person in the United States is 115-year old Elizabeth Bolden of Memphis, TN who was born August 15, 1890," he said. Ecuadorean Maria Capovilla is believed to be the world's oldest person, with her birth recorded in the Baptismal Book of her Catholic Church as September 14, 1889.
________________________________
Ref.: Atlanta Journal-Constitution.
---
As noted above, Mrs. Wilson passed away on Monday, February 13, 2006 at age 115 years, 153 days.