President Bush Announces $7.1 Billion Emergency Plan for Avian Flu Pandemic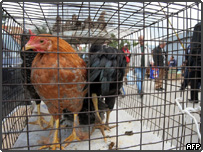 To advise Americans on the details of the US Emergency Plan in the event of an Avian Flu Pandemic, the government unveiled a pandemicflu.gov website today.
Several elements of the President's plan have been discussed in our own E-mails over the last several days, although I confess that the GRG was never invited to the table to give its own opinions before the Plan was officially presented. Generally speaking, however, we believe that the plan is a good one. Although I, for one, was somewhat embarrassed by the President's delivery style. It seems that he gave the speech off-the-cuff without sufficient preparation or rehearsal with the people at NIH who actually wrote it. He stumbled over many of the technical terms and had numerous hesitations throughout the speech confirming that he was clearly not comfortable with it. Obviously, medicine and science are not his forte.
On the other hand, no one has yet "connected the dots" about how Swiss drug maker Novartis sweetened its offer to $5.1 billion for Chiron, who accepted the acquisition this time around, exactly one day before the President's speech. Chiron Corp. of Emeryville, CA has 5,332 employees and sales of $1.7 billion; while Novatis has over 81,392 employees and sales of $28.2 billion [1,2]. The true beneficiaries of this deal are going to be shareholders of Novartis and "Friends of Bush" who will be given a licence to print money without having to advance medical science themselves one iota. Essentially, the acquisition will be financed with borrowed money and stock, as it usually done. I guess this is what Steven Harris was musing about earlier when he speculated that the wealthy of this country, not the scientists, are the ones who control the pace of science, even though they know nothing about how to do it themselves. Their well-paid lawyers tell them what's hot and what's not. If the lawyers turn out to be wrong, they fire them and hire new ones. They don't hire scientists, since scientists don't speak their language. Doctors, scientists, and engineers are merely the pawns in the infrastructure that generates more wealth.
Refs.:

1. Lisa Girion, "Novartis to Buy Rest of Chiron: The Flu Vaccine Maker Accepts a Sweetened Offer of $5.1 billion from the Swiss Drug Company," The Los Angeles Times, pp. C1, 8 (November 1, 2005).
2. David P. Hamilton, "Novartis Agrees to Acquire the Rest of Chiron for 5.1 Billion," The Wall Street Journal, pp. A1, 6 (November 1, 2005).
3. The New York Times (November 1, 2005).
4. The Los Angeles Times (November 2, 2005).
---
Bush Requests $7.1 Billion To Prepare for Flu Pandemic
by
Sarah Lueck and Anna Wilde Mathews, Staff Reporters for
The Wall Street Journal
November 1, 2005; Washington, D.C. ( WSJ and AP) -- The Bush Administration proposed spending $7.1 billion over five years to prepare for the threat of pandemic influenza, with most of the funding directed at increasing domestic vaccine production and stockpiles. The plan, which President Bush announced in a speech this morning at NIH, would devote $4.7 billion to vaccine-related efforts, including speeding up the switch to a more advanced technique for making flu vaccine.
President Bush asked Congress for $7.1 billion to prepare the U.S. for a flu pandemic in a televised speech at the NIH. Mr. Bush said the current manufacturing process, in which vaccine is cultivated in chicken eggs is "antiquated" and "would not allow us to produce enough vaccine for every American" if a pandemic strikes. "We must fund a crash program," Mr. Bush said. He proposed spending $1.6 billion on accelerating the newer technique, called cell- based, with a goal of being able to produce vaccine for 300 million people on a six-month timetable by 2010. He also urged Congress to pass liability protections for vaccine manufacturers, which he said would help increase the number of companies based in the U.S.
The Administration's plan also includes $1 billion for increasing stockpiles of antiviral drugs Tamiflu, made by Roche Holding AG, and Relenza, made by GlaxoSmithKline PLC. The goal is to have enough for one-quarter of the population, though with heavy global demand, it's unclear when the supplies would be available. In addition, states could buy antiviral drugs for their own emergency plans, with the federal government paying 25 percent of the cost.
Mr. Bush's plan raised the profile of a threat that has long worried public-health experts -- the possibility of a widespread outbreak of deadly flu that the U.S. isn't prepared to combat. Recently, the continuing spread of avian flu has focused greater global attention on the need to prepare for a flu pandemic. That strain doesn't yet spread easily between humans, but it could spark widespread disease if it did.
The Senate has indicated support for funding a flu initiative at the level Mr. Bush proposed, and it could become part of spending bills being negotiated with the House. There could be some sticking points on Capitol Hill. Some Democrats said there should be greater emphasis on stocking antiviral drugs, and there's bipartisan worry about focusing too much on avian flu instead of the broad threat of a pandemic.
The Administration plan has three basic parts: (1) improving international monitoring of flu in animals and humans; (2) increasing stockpiles of vaccines and antiviral drugs; and (3) beefing up state and local preparations for a pandemic. All of the initiatives will take time, officials said.
For example, it could take several years for the more advanced form of vaccine production, called cell-based, is used to produce flu shots. Chiron Corp. and Aventis Pasteur, a unit of Sanofi-Aventis SA, and Solvay SA are among the companies working on cell-based vaccines, which rely on cells that can grow the virus that is the vaccine's active ingredient.
In a meeting November 16th, the FDA plans to examine safety concerns raised by the cell-based method, which is used to make other U.S. vaccines, but not flu vaccine. "It's a completely new manufacturing process," said Jesse Goodman, director of the FDA's Biologics Center, which oversees vaccines. FDA is concerned about the possibility that cells could carry viruses or other infections that might survive in the vaccine or that the cells may hold a risk of generating tumors.
Focusing on a process that uses canine kidney cells, the FDA will ask an Advisory Committee for recommendations on what testing should take place to verify the safety of the vaccine and what purification processes would be needed to remove the potential risks. Dr. Goodman said the issues are "addressable."
The Administration's flu plan calls for $583 million to state and local communities, including $100 million for states to complete and exercise pandemic plans. More details about the duties of state and local health officials are expected Wednesday, with the release of the Department of HHS's plan for medical response to a flu pandemic.
The $7.1 billion pandemic-preparedness plan includes:

* $1.2 billion for the government to buy enough doses of the vaccine against the current strain of bird flu to protect 20 million Americans;

* $1 billion to stockpile more antiviral drugs that lessen the severity of the flu symptoms;

* $2.8 billion to speed the development of vaccines as new strains emerge, a process that now takes months;

* $583 million for states and local governments to prepare emergency plans to respond to an outbreak.
President Bush said that global transparency is necessary and that countries must immediately share information when cases develop and provide samples to the World Health Organization. The U.S. set up a new Web site pandemicflu.gov on pandemic flu and avian influenza.
Earlier, Health and Human Services Secretary Michael Leavitt said that "there is a possibility that a pandemic would force restrictions on international travel and commerce" -- one reason the President's plan stresses improved vaccine manufacturing in the U.S. Today, most of the world's vaccine against regular Winter flu, including much of that used by Americans each flu season, is manufactured in factories in Britain and Europe.
The U.S. has signed contracts with Sanofi-Aventis and Chiron Corp. to produce vaccines based on the H5N1 avian strain. The U.S. hopes to have enough vaccines to protect 20 million Americans and enough antivirals for another 20 million. Mr. Bush said vaccine makers would have to perfect the cell-culture process in order to produce enough vaccine to protect all Americans, or roughly 300 million people.
China Pledges Openness
Meanwhile, China said it has learned from its mistakes in the SARS outbreak and pledged complete openness to help prevent a global outbreak of bird flu. China was heavily criticized during the 2003 outbreak of Severe Acute Respiratory Syndrome for initially covering up the illness. Now Beijing says it is committed to quickly investigating and reporting possible bird-flu cases to the public and world-health groups. "From SARS, we see that no information can be hidden," China's disease-control director Qi Xiaoqiu said Monday through a translator while visiting the U.S. "We have policies to encourage farmers to report possible outbreaks." Mr. Qi said "China has provided subsidies for farmers who quickly report sick birds to authorities."
Chinese health officials have also signed a memo of understanding on U.S.-China cooperation with U.S. Health chief Mike Leavitt. China's biggest drug maker,
Shanghai Pharmaceutical Group, has also contacted Roche Holding AG about sublicensing the right to make Tamiflu. China has reported three bird-flu outbreaks in poultry over the past month. No human cases have been reported.
Fighting Bird Flu Could Cost $102 Million
Meanwhile, Pacific Rim health officials met in Australia for a second day Tuesday to discuss ways to fight the virus. In Brisbane, a United Nations official said fighting bird flu in impoverished Southeast Asian nations could cost US$102 million over the next two to three years.
"If the disease spreads from eastern Europe into Africa, then just for emergency support we'll require an additional US$75 million," said Subhash Morvaria from the U.N. Food and Agriculture Organization's regional office in Bangkok, THAILAND.
Mr. Morvaria urged nations to fight the disease in birds as a first line of defense against it mutating into a human flu virus that could trigger a deadly global pandemic. "As long as the disease remains in the domestic poultry sector, there is going to be a threat to humans. So the focus has to be in the animals. Even if a pandemic occurs, the problem will not go away as long as the disease remains in domestic poultry," he said.
Meanwhile, signs of bird flu were detected at a duck farm in western JAPAN. Tests on ten ducks suspected of bird flu showed they were infected with an H4 strain of the virus, which has no history of human transmission, according to Katsunori Tanaka, an Osaka livestock farming official. However, officials were still testing another 47 ducks at the same farm, after preliminary tests showed some of the birds may be infected, Mr. Tanaka said. The latest case follows the announcement Monday that authorities detected signs of bird flu at a farm in northern JAPAN and planned to kill 82,000 chickens.
In CANADA, senior government officials said Monday that "nearly three dozen wild ducks from the provinces of Quebec and Manitoba have tested positive for H5 influenza, though further tests will be required to determine if it is the deadly H5N1 strain of the virus." "None of the ducks are ill," said Jim Clark, of the Canadian Food Inspection Agency, at a news conference.
-- The Associated Press contributed to this article.
Write to: Sarah Lueck at sarah.lueck@wsj.com or Anna Wilde Mathews at anna.mathews@wsj.com.
---
Experts: Bush Plan Good But Resources President Bush Announces His Pandemic Emergency Plan This Morning at the NIH.

Tuesday, November 1, 2005; Washington, D.C. ( Time.com and CNN) -- Dr. Nils Daulaire, President of the Global Health Council, said Tuesday at the TIME Global Health Summit that he was encouraged by President Bush's "ringing call for action" to combat the threat of a flu pandemic, but there "needs to be a whole lot more than plans." "We need an investment in U.S. and global public health infrastructures that will build the ability to respond in action not just words," Daulaire said at a news conference at the Summit. "New Orleans had a plan, too," referring to the recent evacuation problems in New Orleans in the aftermath of Hurricane Katrina.
The three-day summit, sponsored by Time magazine and the Bill and Melinda Gates Foundation, has gathered national and international leaders in medicine, government, business, public policy and the arts to develop actions and solutions to world health crises. Daulaire said "the plans are there," but resources also must be put in place to implement them. He called for more training and a broader infrastructure at the local level.
Dr. Allan Rosenfield, Dean of the Mailman School of Public Health at Columbia University, said he, too, "was pleased with Bush's plan." But he added that "it was long overdue." "Many of us were delighted with today's announcement, but it should have happened five years ago," Rosenfield said. "We are way behind in protection against the flu."
Daulaire said he was especially heartened by the President's emphasis on research for a new vaccine, adding, "We are using 1950s technology for problems of the 21st-Century." Both of the experts praised the President's call for liability protection for manufacturers of flu vaccine, saying the speed with which a vaccine must be developed did not allow for years of testing before being used. They also said that drug companies are not able to make a profit on flu vaccine and need government financial guarantees if they are to produce adequate supplies.
Daulaire said that a global avian flu pandemic was not likely in the next year or two but could happen within the next decade. He did not see the need to stockpile the vaccine called Tamiflu, which Rosenfield said may not be effective against avian flu. They said the four million doses available should be used to inoculate first responders, such as public health workers and police officers.
Rosenfield closed by saying a better surveillance system overseas that can identify an outbreak of flu quickly is needed but missing from the President's plan.