Our Mission: Slow and ultimately reverse age related decline
---
For information on GRG's action items to slow and ultimately reverse age related decline,
visit the Aging Solutions Division CLICK HERE
---
By definition, a supercentenarian is anyone who has been validated to have lived to be 110 years or older.
Our GRG World Supercentenarian Rankings List is now autoupdated in real time. We have changed the path to the GRG World Supercentenarian Rankings List ("WSRL") on our website. Please observe the new path below:
World Supercentenarian Rankings List
The previous path to the GRG World Supercentenarian Rankings List (http://www.grg.org/Adams/TableE.html) is being discontinued and will be removed at a later date. Please update your bookmarks accordingly.
OFFICIAL TABLES on the GRG website will continue to be updated on a regular basis by Messrs. Mark Muir of Arizona, United States, Chris Law of Harrogate, England, and Robert Young of Georgia, United States.
---
Please note that the legacy Table E is an historical archive ONLY (data as of January 1, 2015):
---
Emma Morano, 116, becomes World's Oldest Person
May 13, 2016; After the death of Mrs. Susannah Mushatt Jones, who passed away on 12 May 2016, the Gerontology Research Group regards Mrs. Emma Morano as the new World's Oldest Person. Mrs. Morano, aged 116, now receives the symbolic status of "last surviving link to the 1800s".
Mrs. Emma Morano was born in Civiasco, Italy, to parents Giovanni Morano and Matilde Bresciani as the oldest of eight children on 29 November 1899. Growing up, Mrs. Morano struggled with health issues such as anaemia. On doctor's advice, she would start eating one raw egg a day - a diet she has maintained ever since. In 1926, Mrs. Morano was married to Giovanni Martinuzzi, a marriage she would rather not talk about. The marriage produced one son, born in 1937, but unfortunately he died after a couple of months. Having separated - but not divorced - from her husband in 1938, Mrs. Morano has lived alone ever since, and accredits this as one of the key secrets to her longevity. The third secret of her longevity, Mrs. Morano has revealed, is her daily glass of homemade brandy. During her life, Mrs. Morano worked several jobs, until she retired at the age of 75.
Living independently in Verbania, a town in Northern Italy situated on the shore of Lago Maggiore, Mrs. Morano is helped by her niece and regularly visited by her physician, who both report her to be doing incredibly well for her age; she can still walk around, enjoy the occasional nocturnal biscuit, and laments about her passion for singing and music. She has gained increasing media coverage over the last couple of years, when her age became increasingly remarkable in her country; last year, she became the oldest Italian ever, passing the previous record set by Mrs. Dina Manfredini. Moreover, she also became the second-oldest European person ever, trailing only Mrs. Jeanne Calment, who died at the age of 122 years old.
Even though the GRG regards Mrs. Morano as the World's Oldest Person, this record is not yet official. For official confirmation, her age must first be authenticated by Guinness World Records. On top of that, there is always a small possibility that older claimants turn out to exist, only emerging now. However, the GRG is confident that Mrs. Morano will be officially pronounced as the World's Oldest Person in a matter of weeks.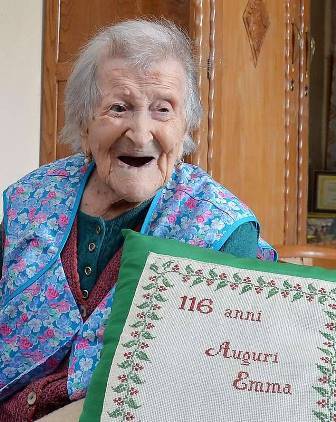 ---
Susannah Mushatt Jones, 116, world's oldest person, dies
May 13, 2016; Susannah Mushatt Jones, the oldest verified person in the world and the last living American born in the 1800s, has died in New York at the age of 116 years, 311 days.
Born in an Alabama farm on July 6, 1899, Susannah Mushatt Jones was the daughter of crop pickers and the granddaughter of slaves. On March 4, 1922, she graduated from the Calhoun Boarding High School and the graduation roster recognized her for studying "Negro Music in France". After graduation, Mushatt Jones wanted to become a teacher and was accepted to Tuskegee Institute's Teacher's Program. However, her parents were unable to afford the tuition, so in 1923 she moved to New York to further her ambitions.
In 1928, she married Henry Jones; but they divorced after five years, with no children. She subsequently worked as a childminder for wealthy families and supported many of her relatives as they moved to New York. She also used some of her salary to help establish The Calhoun Club, a college scholarship fund for African American women. In 1965, she retired and moved in with her niece, Lavilla Watson, helping to care for Watson's baby son.
Despite becoming legally blind at the age of 100, Ms Jones remained active well into her centenarian years, serving as a member of the tenant patrol of her nursing home until she was 106. She claimed that the secrets to her longevity included plenty of sleep and no smoking, in addition to the less healthy practice of eating four strips of bacon with scrambled egg every day.
In her final years, Mushatt Jones was blind and partially deaf; she retained limited lucidity and used a wheelchair. At the age of 111, Mushatt Jones moved into the Vandalia Senior Center in Brooklyn. On her 112th birthday, she received tribute letters from the mayor of New York City and the governor of New York. After the celebration, she said, "I wish it could be like this all the time." On her 115th, her niece, Lois Judge, told WABC-TV that Jones "gets tired easily these days, but it has been a good day today."
Mushatt Jones became the world's oldest living person and one of two remaining people verified to have been born in the 1800s upon the death of Jeralean Talley on June 17, 2015. On July 3, 2015, three days before her 116th birthday, she was presented with a certificate from Guinness World Records recognizing her as the oldest person alive.
Mushatt Jones received tributes from the United States House of Representatives and from the Alabama House of Representatives "for a remarkable lifetime of exceptional achievement lived during three centuries."
An Italian woman, Emma Morano, now takes on the title of oldest person in the world, and is thought to be the last living person to have been born in the 1890s.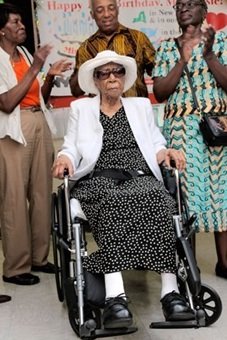 Click here to see our photo gallery entry for Susannah Mushatt Jones.
---
Guinness World Records recognises Polish-born Israeli Israel Kristal as the current World's Oldest Living Man
The GRG is pleased to announce that Israel Kristal (born Sept. 15, 1903) has been recognised by Guinness World Records as the World's Oldest Man. Mr. Kristal's life tells a most remarkable story, with being a Holocaust survivor only one of the many hardships he has had to face. Israel Kristal was born as Izrael Icek Krysztal to Mojzesz Dawid Krysztal and Brucha Krysztal (nee Rojt) in the Polish village of Malenie (then part of the Russian Empire) on September 15, 1903; his mother would die only ten years later in 1913. As his father was drafted during the First World War, Kristal was forced to work hard on a farm to earn his living as a teenager. In 1920, he was reunited with his father and siblings in Lodz, where the family opened a confectionary. Israel Kristal became a candy maker, which would remain his lifelong profession; later, this would prompt reporters world-wide to refer to his story as a "bittersweet long life" in articles devoted to him. In 1928, at the age of 25, Israel Kristal married Chaja Fajga Frucht in Wegleszyn, Poland. The couple had two children. The Kristal family ran a local chocolate and candy business until the outbreak of the Second World War, when Lodz was occupied by Nazi-Germany. The Nazis forced the Jewish population of Lodz, including the Kristal family, to move to a district called the "Litzmannstadt Ghetto"; Israel Kristal would live there for four years, until he was deported to Auschwitz in August 1944, where he would remain for another three months. Subsequently, he would be a prisoner in the labour camps of Wuestegiersdorf, Doernau, and Schottenwerk, where he would regain his freedom in May 1945 by the hands of allied forces. Although his wife and children had been killed in the Holocaust, Israel Kristal did not lose his will to live after this devastating loss. Instead, he returned to Lodz, where he would restart the confectionary and marry his second wife, Szejwa (nee Chuda). Together, they had a son: Chaim Dawid. In 1950, Mr. Kristal and his family decided to leave Poland to settle in Haifa, Israel, where he has lived ever since.
Due to the hardships Mr. Kristal had to face in his early life, the validation of his age proved to be extremely difficult; even though the first attempts to validate Mr. Kristal's age had started in early 2014, a breakthrough was only realised in January 2016. In order to validate his age, the Gerontology Research Group not only contacted Mr. Kristal's family, but also international institutions specializing in genealogical research; therefore, a special word of appreciation should go to the Jewish Records Indexing in Poland. As a result of this international cooperation, sufficient early-life, middle-life, and late-life evidence was obtained to meet modern validation standards. As a result of this, Mr. Kristal has now been recognised as the oldest living man in the world.
As of today, Mr. Israel Kristal is the second validated supercentenarian in the history of Israel, after Dr. Maria Pogonowska (1897-2009), who was also born in Poland. On top of that, he is the new longevity record-holder of Israel.
Written by: GRG Poland Correspondent, Waclaw Jan Kroczek
---
World's Oldest Man, Yasutaro Koide, of Nagoya Prefecture, Japan, dies at age 112
World's Oldest Man, Yasutaro Koide, of Nagoya Prefecture, Japan, previously of Tsuruga, Fukui Prefecture, has died of heart failure and pneumonia in Nagoya on January 19, 2016.
Here's an article about his death:
http://edition.cnn.com/2016/01/19/asia/japan-oldest-man-dies/index.html?eref=edition
Here's an article about about him, written when he was confirmed as the World's Oldest Man:
http://www.guinnessworldrecords.com/news/2015/8/guinness-world-records-introduces-yasutaro-koide-the-new-oldest-living-man-393200
His Photo Gallery can be found here:
http://www.grg.org/Gallery/1903Gallery.html#Yasutaro_Koide
---